Movie Review
The Best Man Holiday
Times change. Friendship doesn't.
US Release Date: 11-15-2013
Directed by: Malcolm D. Lee
Starring
▸
▾
Taye Diggs

,

as

Harper Stewart
Sanaa Lathan

,

as

Robin Stewart
Nia Long

,

as

Jordan Armstrong
Morris Chestnut

,

as

Lance Sullivan
Harold Perrineau

,

as

Julian Murch
Terrence Howard

,

as

Quentin Spivey
Monica Calhoun

,

as

Mia Sullivan
Melissa De Sousa

,

as

Shelby Taylor
Regina Hall

,

as

Candace "Candy" Sparks
Eddie Cibrian

,

as

Brian McDonald
Isis Moore

,

as

Kennedy
Riele Downs

,

as

Faith Sullivan
Catherine Bruhier

,

as

Dr. Perkins
John Michael Higgins

as

Stan

Reviewed on:
December 22nd, 2014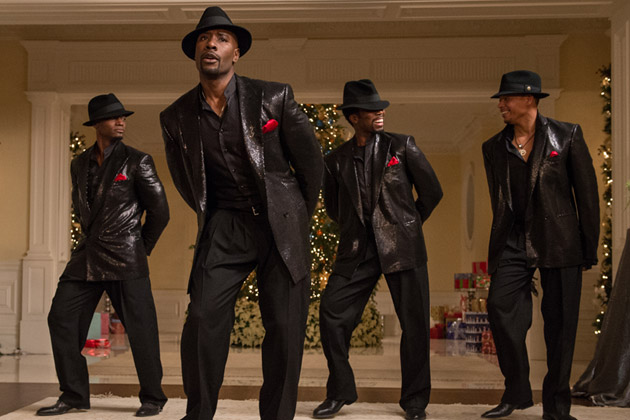 Taye Diggs, Morris Chestnut, Harold Perrineau and Terrence Howard in The Best Man Holiday.
The Best Man Holiday is writer/director Malcolm D. Lee's sequel to his 1999 film The Best Man. That earlier film dealt with a group of college friends reuniting for a wedding wherein complications ensued. Now it's 14 years later and these same characters reunite for Christmas. Tragedy and comedy ensue and all of the emotional baggage they've been dealing with comes to a head over an eventful holiday weekend. While it isn't absolutely necessary to have seen The Best Man first, it certainly helps as these characters share a complicated history.
Taye Diggs plays writer Harper Stewart. He has been unable to match the success of his first novel and as the movie opens he has just been let go from his teaching job. His wife Robin (Sanaa Lathan) is a successful chef and she is nine months pregnant. It has taken them years of expensive fertility treatments but they are looking forward to finally becoming parents.
Lance Sullivan (Morris Chestnut) is a football star in the final season of his hall of fame career. His wife Mia (Monica Calhoun) has invited all the old gang to their mansion for Christmas, her goal being to heal the rift that began in The Best Man and has festered for these 14 years between Lance and Harper. During college they were best friends but Lance has never been able to forgive Harper for sleeping with Mia once a long time ago (all of which was dealt with in The Best Man).
The other friends all arrive with baggage of their own. Julian Murch (Harold Perrineau) has just discovered an old YouTube video of his wife Candy (Regina Hall) stripping and accepting cash from a man at a party back in the 90s. They have two daughters and have opened a school together. Unfortunately the surfacing of this old video has caused the school's biggest donor to cancel his annual two million dollar gift. Meanwhile Julian's high maintenance ex Shelby (Melissa De Sousa) arrives with her young daughter. Shelby is now a notorious bitch on one of those Real Housewives shows. The final guests are Jordan Armstrong (Nia Long) Mia's best friend from college. She brings her white boyfriend Brian McDonald ( Eddie Cibrian) along to finally meet her friends. And then there's Quentin Spivey (a scene stealing Terrence Howard), he's the wisecracking, perpetually single, pot smoking, horn dog of the group.
The set-up is very familiar but the cast rises above the mundane plot. These are old friends who know each other very well. Nothing will remain a secret for long. The script deftly mixes humor with tragedy. I wasn't expected it to be as sad as it is but I must warn potential viewers to have some tissue handy during the second half of the movie. The Best Man Holiday is at times heartwarming and festive, at times funny, and at other times downright heartbreaking. It's a treat revisiting these characters all these years later.
The original The Best Man grossed 34 million dollars in 1999, while this sequel made more than twice that amount. So it's no surprise that a third film called The Best Man Wedding is set for release in 2016. I'm certainly looking forward to seeing where Malcolm D. Lee takes these characters next.

Reviewed on:
August 27th, 2015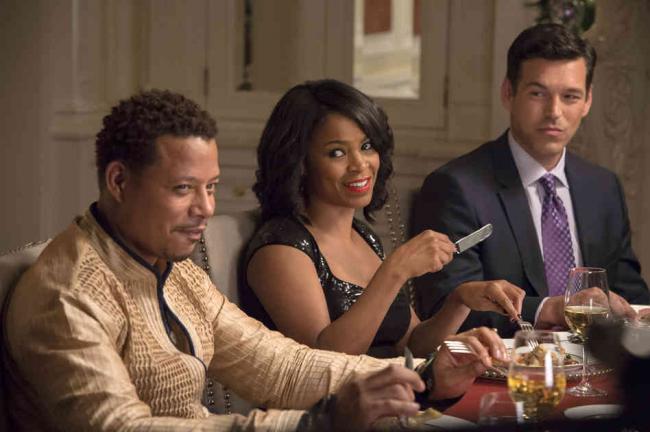 Terrence Howard, Nia Long and Eddie Cibrian in The Best Man Wedding
I agree that while it isn't absolutely necessary to have seen The Best Man first, I would recommend you do because, as Patrick explained, these characters share a complicated history. Having never seen the first film, it took me a bit to get to know the characters and more importantly, their relationship to each other. In fact, the more I got to know these people, the more complicated they became.
Although these characters all interact, it felt to me like about three or four movies all crammed into one. That's fine as everyone has a story to tell and these folks definitely have plenty of things to talk about. They share embarrassing secrets and past sexual relationships. They get mad at each other and occasionally even fight. Several times I wondered why these folks have stayed friends.
This film reminded me of Jumping the Broom (2011). Not only do both movies have nearly all-black casts but they also both take place mostly over a few days period at someone's very nice home. Both films also contain several plots playing out at once that contain plenty of melodrama and some laughs.
One notable difference is that Jumping the Broom was color blind while The Best Man Holiday is not. One of the girls, Jordan, has a white boyfriend, Brian, and one of the guys, Harper, mockingly imitates him, "Brian McDaniels... I like to ski in Vermont. I like to date chocolate girls." Another of the guys, Quentin, teases him during a game of pool. Meanwhile, one of the girls, Candace, calls him, "…iconic. Mmm. If I went that way, that's what I'd get. A tall, vanilla swagger latte. I like, I like, I like." Then there is the scene where the girls toast "Big black cock." Seriously.
The performances are all good. As Patrick wrote, the movie runs the gamut of emotions. The cast is up for it all but so much of the soap opera plot is cliché after cliché. My favorite character and performance was by Terrence Howard because he brought the most levity and was not afraid to say and do what he wanted. I am not so thrilled for a sequel or all that interested in seeing the first film.
Photos © Copyright Universal Pictures (2013)