Movie Review
The Best Exotic Marigold Hotel
Everything will turn out alright in the end and if it is not alright, then it is not yet the end.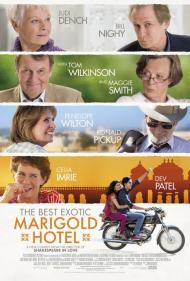 US Release Date: 05-04-2012
Directed by: John Madden
Starring
▸
▾
Bill Nighy

,

as

Douglas
Maggie Smith

,

as

Muriel
Judi Dench

,

as

Evelyn
Tom Wilkinson

,

as

Graham
Dev Patel

,

as

Sonny
Celia Imrie

,

as

Madge
Penelope Wilton

,

as

Jean
Tena Desae

,

as

Sunaina
Ronald Pickup

,

as

Norman
Diana Hardcastle

,

as

Carol
Ramona Marquez

,

as

Grandchild
Liza Tarbuck

as

Head Nurse Karen

Reviewed on:
April 21st, 2012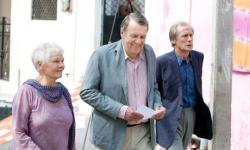 Judi Dench, Tom Wilkinson and Bill Nighy in The Best Exotic Marigold Hotel.
The Best Exotic Marigold Hotel is a genuine delight. It's funny, touching and leaves you feeling good. Featuring a cast of talented elderly British actors, it's a movie that builds up such a surfeit of good will over its run that it's easy to forgive its overly schmaltzy ending and predictability.
The plot is a simple one. A diverse group of British senior citizens decide, for various reasons, to retire to India at the titular hotel where they learn some life lessons. Some find love, others find a purpose, while some settle things from the past. Although there are some dramatic moments and real depth to the characters, it is in the humor and the many laugh out loud moments where the movie shines.
As far as this hotel is concerned, Britain really does have a talent. A veritable who's who of older British character actors check in for the duration of the film. It is their interactions and their decades of acting experience and spot on comic timing that really make the story work and keeps you invested in each character's story.
Tom Wilkinson plays a retired judge who grew up and fell in love with a young Indian man, but when their love was discovered, they were forced apart and he has always felt as though he abandoned the man to his fate. He is here to see if he can discover what befell the first love of his life.
Judi Dench is a recently widowed housewife, who lands her very first job in life acting as a cultural consultant at a large Indian telecom company. Dench is at the heart of the film and narrates much of it in the form of a blog she writes.
Bill Nighy and Penelope Wilton (who also played a married couple in Shaun of the Dead) are an unhappily married pair who react completely differently towards India. He loves it and she hates it. He also finds himself developing a strong friendship with Judi Dench's character.
Providing much of the humor is Maggie Smith. She is completely and unashamedly racist in an old school English manner. Her lines are entirely un-politically correct and also quite hilarious. She only goes to India because it is the cheapest and fastest way for her to get her hip replaced. She packs her luggage with English food because as she says, "If I can't pronounce it, I don't want to eat it." She's a scene stealer right up until the end where she has one of the two out of place and too easy change of hearts that mars an otherwise delightful story.
Dev Patel, of Slumdog Millionaire and BBC's Skins, plays the young owner of the Hotel. He's eager and a bit of dreamer. His constant optimism provides some laughs and it is he who utters the film's tagline of, "Everything will be all right in the end... if it is not all right then it is not yet the end. " in response to any complaint.
Along with the comedy, the film does a good job of showing off India in all its riotous noise and color. While it doesn't sanitize it, it does romanticize it. With the crowds, the flowers, the colorful clothing and ancient buildings, it presents the country as a fascinating place to visit.
By the end of the film, everything is all right and exactly how you expect it to be. It's overtly sentimental and unabashedly schmaltzy, but in such a good natured and humorous manner that it's impossible to resist. Truly feel good comedies don't come along often enough and this one is impossible to resist.
Reviewed on:
July 22nd, 2012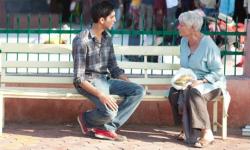 Dev Patel and Judi Dench in The Best Exotic Marigold Hotel.
Yes it's all a bit sentimental and schmaltzy but I thoroughly enjoyed this colorful and enchanting movie. As Scott said, the veteran cast is terrific. It's easy to get caught up in the lives of these various seniors and their motives for moving to India. While the entire ensemble is good, Dench, Smith and Wilkinson all manage to stand out.
As a gay man my favorite storyline belonged to Tom Wilkinson. His search for the lover of his youth is poignant and wistful. It's the least maudlin section of the movie. Unlike aspects of the other's stories his isn't overly romanticized. Nothing about it feels fake.
I disagree with Scott only about Maggie Smith's change of heart. It made sense to me as her racism was based on ignorance rather than snobbishness. She spent her life as a domestic worker and therefore is able to relate to the poor people she meets once she gets over her fear of cultural differences, which she overcompensated for with a false sense of superiority.
She most certainly gets some of the funniest dialogue. In one scene she rants about how Indians roam the streets in packs so as to more easily rob tourists. The Caucasian orderly accompanying her from the hospital suddenly drops her belongings on the sidewalk and storms off after announcing, "My wife is from Mumbai." Completely remorseless, she replies, "Well don't blame me, you married her!"
Dev Patel has his best role since Slumdog Millionaire, although his accent seems a bit exaggerated at times. His struggle to earn his domineering mother's respect and her acceptance of his girlfriend gives the audience a pair of young lovers to root for. He's a dreamer and his optimistic mantra is not only infectious, but it foreshadows the sunny ending.
I agree wholeheartedly with Scott's line that The Best Exotic Marigold Hotel romanticizes India without sanitizing it. It's a place that assaults the senses with noise, smells and colors of dizzying intensity and variety. It's not a place for the meek to survive. But as Judi Dench's Evelyn says in narration, it's a place where it's better to dive in headfirst than to slowly wade into. I enjoy a feel-good comedy as much as anyone, especially when it features a cast as impressive as this one. It's the kind of movie that puts a smile on your face as you leave the theater.

Reviewed on:
January 8th, 2013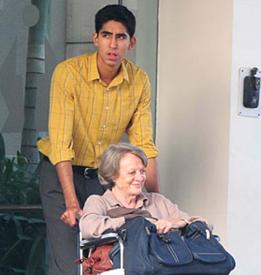 Dev Patel and Maggie Smith in The Best Exotic Marigold Hotel
Although I did not find The Best Exotic Marigold Hotel as entertaining as my brothers, they are right about the cast making this film work. As Scott wrote, their acting experience and comic timing are impeccable. No one over plays their role or misses a beat. I side with Patrick about Maggie Smith's change of heart. It makes complete sense that as a former servant, she would sympathize with another.
What I enjoy about the British sense of humor are those lines that seem to make little to no sense. Everyone in this film gets plenty of good ones. My brothers mentioned some and I will as well. After Norman collapses, Sonny pushes his way to him saying, "Let me through, my brother is a doctor."
There are also some pearls of wisdom in the script. Scott mentioned the one about things being alright in the end. I also liked when Evelyn narrates, "Initially you're overwhelmed. But gradually you realize it's like a wave. Resist, and you'll be knocked over. Dive into it, and you'll swim out the other side." That little piece of advice applies to most things in life.
Maggie Smith and Judi Dench were both born in 1934. Both began their acting careers on British television in the 1950s. At the age when most people are thinking of retirement, these two grand old thespians found themselves becoming part of contemporary pop culture. To a younger generation, Maggie Smith is a teacher at Hogwarts, while Judi Dench is James Bond's boss.
The Best Exotic Marigold Hotel has charm but also too many storylines that slow things down and drag things out. Tom Wilkinson's part should have been trimmed. All we need is his motive and then the reunion. Everything in between, playing cricket and making enquiries, is filler. I also felt it could have done without Norman and Madge. The rest of the cast has enough going on to keep us entertained, and it would have kept the running time under two hours.
Photos © Copyright Fox Searchlight (2012)