Movie Review
Ben-Hur
The Entertainment Experience of a Lifetime!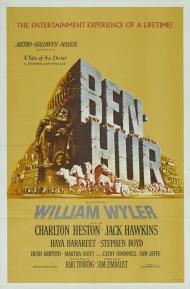 US Release Date: 11-18-1959
Directed by: William Wyler
Starring
▸
▾
Charlton Heston

,

as

Judah Ben-Hur
Jack Hawkins

,

as

Quintus Arrius
Haya Harareet

,

as

Esther
Stephen Boyd

,

as

Messala
Hugh Griffith

,

as

Sheik Ilderim
Martha Scott

,

as

Miriam
Cathy O'Donnell

,

as

Tirzah
Sam Jaffe

,

as

Simonides
Finlay Currie

,

as

Balthasar / Narrator
Frank Thring

,

as

Pontius Pilate
Terence Longdon

,

as

Drusus
George Relph

,

as

Tiberius Caesar
Andre Morell

,

as

Sextus
Laurence Payne

,

as

Joseph
Jose Greci

,

as

Mary
Claude Heater

,

as

Jesus - The Christ
May McAvoy

as

Woman in crowd
Reviewed on:
December 27th, 2012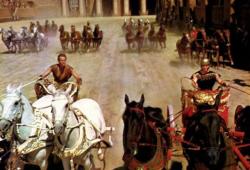 Charlton Heston and Stephen Boyd in the famous chariot race scene in Ben-Hur.
On January 21, 1959 Cecil B. DeMille died in Hollywood and a movie era truly ended. Fittingly, later that same year, William Wyler's attempt at making a Cecil B. DeMille picture (those are his words spoken in an interview near the end of his life) was released and became one of the greatest epics and most celebrated movies of all time. Based on Lew Wallace's hugely popular 1880 novel, this remake of the 1925 silent movie (which I still prefer) won a record 11 Academy Awards including Best Picture of 1959. As of 2012 only two other movies have equaled this record, Titanic in 1997 and The Lord of the Rings: The Return of the King in 2003. Ben-Hur is the only movie of the three to win Oscars for acting.
In many ways William Wyler outdid DeMille in terms of sheer scope and grandeur. Ben-Hur was the most expensive movie ever made up to that point. Its sets were the largest ever built. The highly influential score by Miklós Rózsa remains to this day the longest ever composed for a movie. The screenplay was credited to Karl Tunberg, however it was doctored by several other writers including Maxwell Anderson, S. N. Behrman, Gore Vidal, and Christopher Fry. A dispute over who should receive onscreen credit most likely cost the movie its only Oscar. A loss in the Best Adapted Screenplay category.
The famous chariot race scene (see photo) copies the wonderful silent version, adding not only sound but also a widescreen aspect ratio and Technicolor. It was shot on 65 mm film. This nine minute sequence in a movie that runs more than 3½ hours is one of the most celebrated scenes in all of movie history. And deservedly so. It is filled with excitement and danger and is absolutely stunning to watch.
Charlton Heston stars as Ben-Hur, an aristocratic Jew living in Jerusalem whose life parallels the life of Christ. His childhood friend Messala (Stephen Boyd), now a powerful Roman tribune, condemns Ben-Hur to the galleys when he refuses to give up the names of Jewish citizens that have vocally criticized Rome. The next several hours of screen-time follows the rising and falling fortunes of the title character as his path crosses that of Jesus of Nazareth several times.
The beauty of this movie cannot be exaggerated. It should be seen on the big screen or at least in high definition on a large widescreen television to be truly appreciated. Nearly every shot is composed like an oil painting by one of the masters. It is quite simply one of the most gorgeous films ever made.
Gore Vidal added a famous gay subtext to the relationship between Ben-Hur and Messala suggesting they had been lovers as youths. This helps explain just why their very passionate friendship so quickly turns to hatred. Legend has it that Wyler had Vidal discuss this subtext with Stephen Boyd but instructed him not to mention it to Charlton Heston, as he would most likely not have agreed to go along with it. At any rate it is there in the finished product for those who wish to see it and easily dismissed by those who don't.
With his roles of Moses in The Ten Commandments and Judah Ben-Hur in this movie, Charlton Heston clinched his status as the greatest star of the biblical epic in Hollywood history. This movie proves to be his finest hour (actually it's closer to 4 hours). He deservedly won his only Oscar for Best Actor and he really seems more human and less wooden here than in some of his other work.
One interesting bit of trivia concerns the actress May McAvoy. She played Esther in the 1925 version and is the only person to also appear in this 1959 adaptation, although she was uncredited as a woman in a crowd scene.
Ben-Hur takes quite a commitment to sit through but it remains one of Hollywood's greatest spectacles and it's a movie of which Cecil B. DeMille himself would have been proud to make.
Photos © Copyright Metro-Goldwyn-Mayer (MGM) (1959)
Related Review