Movie Review
Bella
One Person Can Change Your Life Forever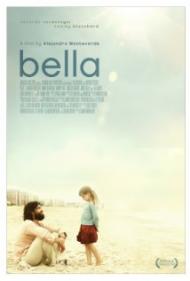 US Release Date: 04-30-2008
Directed by: Alejandro Monteverde
Starring
▸
▾
Eduardo Verastegui

,

as

Jose
Tammy Blanchard

,

as

Nina
Manny Perez

,

as

Manny
Angelica Aragon

,

as

Mother
Jaime Tirelli

,

as

Father
Ramon Rodriguez

,

as

Eduardo
Armando Riesco

,

as

Francisco
Sophie Nyweide

,

as

Bella
Ali Landry

,

as

Celia
Ewa Da Cruz

as

Veronica

Reviewed on:
April 22nd, 2015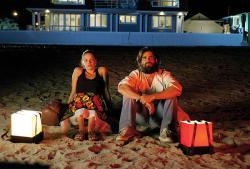 Tammy Blanchard and Eduardo Verastegui in Bella
Eduardo Verástegui spent a decade as a member of the Mexican boy band "Kairo" and later had a solo recording career. He starred on Spanish television shows and was voted one of the 50 Most Beautiful People in People En Español magazine. In 2001, he made his Hollywood film debut in the 20th Century Fox film Chasing Papi. Although the world seemed at his feet, Verástegui fell into a depression over the superficial life he found himself living. In 2004 he rediscovered his Catholic roots and teamed with director Alejandro Monteverde and producer Leo Severino to form Metanoia Films, a company committed to inspirational entertainment.
Their first project together was the indie film, Bella. It was finished in 2006 but not given a wide release until 2008. It begins with Verástegui narrating, "My grandmother used to say, "If you want to make God laugh, tell him your plans."" Verástegui stars as Jose, a soccer star on the cusp of stardom. We first meet him as he and his brother/manager are driving off to a press conference as well as apparent fortune and glory.
The movie then skips years ahead where we now discover Jose working as a cook in his brother's restaurant, sporting a beard and long hair that is very reminiscent of depictions of Jesus Christ. He walks off the job when his brother fires a waitress, Nina, that we just learned is pregnant. Jose and Nina spend the entire day together meeting family and friends, having meals, visiting the beach and most of all, doing lots and lots of talking. Even though the film only runs 90 minutes, the methodical pace makes it seem a tad longer than it needs to be.
Jose and Nina are both emotional wrecks and divulge their personal baggage as the day moves on. They lean on each other, with Nina revealing her unexpected pregnancy to Jose and her desire to have an abortion. Later, Jose explains to Nina why he no longer plays soccer. It is predictable but the flashback scene, where it is explained, remains very sadly anguishing. The ending is foreseeable but a bit unclear. Like much of the film, it is sweetly touching.
Religion is depicted throughout the movie in subtle and not so subtle ways. Characters pray and refer to God randomly. It is never overly intrusive but we know exactly what the film's point is from the start. The abortion issue is the film's theme but it never becomes a lecture or something the filmmakers beat over the audience's head. Nina is left with a choice to make but we are never in doubt what her decision will be.
As so many other religious based films have shown, there is a legitimate fan base for Christian themed movies. Although Bella received much praise and some good reviews, Metanoia Films have not been very prolific. It was not until 2015 that they released their next feature film, Little Boy, in which Verástegui plays a priest.
Photos © Copyright Metanoia Films (2008)