Movie Review
Before the Fall
Men Make History. We Make The Men.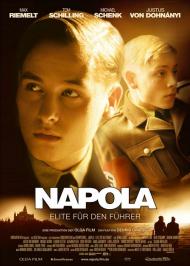 Germany Release Date: 01-13-2005
Directed by: Dennis Gansel
Starring
▸
▾
Max Riemelt

,

as

Friedrich Weimer
Tom Schilling

,

as

Albrecht Stein
Devid Striesow

,

as

Vogler
Justus von Dohnanyi

,

as

Gauleiter Heinrich Stein
Martin Goeres

,

as

Siegfried Gladen
Julie Engelbrecht

,

as

Katharina
Michael Schenk

,

as

Sportlehrer
Dennis Gansel

as

Boxing Trainer

Reviewed on:
March 9th, 2011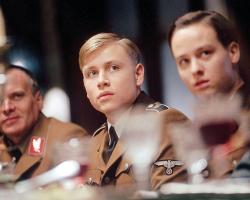 Max Riemelt and Tom Schilling in Before the Fall (Napola)
A sub genre of the "coming of age" film is that of a boy coming of age in an all boys boarding school, such as in School Ties (1992). This setting is particularly common in European films. Au Revoir Les Enfants (1987) from France, Evil (2003) from Sweden and the British Another Country (1984) all feature teenage boys coming into their own in a private boarding school.
Before the Fall (NaPolA) tells the story of a working class teen who sees a way to better himself by attending an elite all boys school. It is 1942, and young Friedrich Weimer is a boxing enthusiast. He spars in a local gym. His father wants him to work at a factory with him, but Friedrich has higher hopes in the form of a boxing scholarship to a Nazi school, National Political Academy (NaPolA). It is a military high school that produces Nazi elite. Although his father objects, Friedrich runs away to the school.
Upon reporting to the school, Friedrich is given a physical. This is not a traditional physical, as it includes a determination of how Aryan he is based on eye and hair color, shape of face...etc. At the school he learns all kinds of military things like guns and hand grenades, but also Nazi propaganda. Friedrich is in short, taught to not have compassion. As he comes from humble beginnings he is swayed by the luxuries of the school.
He becomes best friends with another new student, Albrecht. He is the son of a local high ranking Nazi. He is a wannabe writer and is as sensitive as Friedrich is athletic. Although their friendship could have been better explored, it is clear that their strengths and weaknesses balance each other.
Friedrich spends a weekend with Albrecht at his family's mansion. Here we learn that Albrecht's father came from humble beginnings as well, and only rose to prominence because of his political ties. Albrecht's father and mother generally ignore their own son but take to the dashing, Aryan looking Friedrich.
One night the boys of the NaPolA are awaken and handed guns. They are instructed to help find and kill some escaped POWs. Things do not turn out very well. Friedrich has a bright future in the Nazi party by merely going with the flow, but Albrecht sees the hate being taught and his influence may disrupt Friedrich's plans.
Dennis Gansel wrote and directed some very good scenes, as well as gave himself a small part. In one scene, to establish the boys heterosexuality, Friedrich holds Albrecht up so he can stare into a window at a girl bathing. Albrecht tells Friedrich that he cannot see anyone, but Friedrich later tells him he knew he was lying because Albrecht stopped breathing. One scene filmed on a frozen lake looked very authentic, as if these actors actually swam in an ice covered lake.
This is going to give a bit of the end away but the final scene has a great bit of symbolism. When Friedrich leaves the school he is first stripped of his uniform and forced to wear the clothes he had on when he arrived. As he walks away it is clear that they are now too small on him. Friedrich has grown physically as well as mentally.
Although Before the Fall has many of the genre's cliches, like the cruel upper classman and the cute cafeteria girl, it still has much to offer. Not only does it show a boy become a man, but it shows how someone can be seduced into evil, and how rare it is for someone to stand up against it.
Photos © Copyright Constantin Film (2005)