Movie Review
Before Sunset
What if you had a second chance with the one that got away?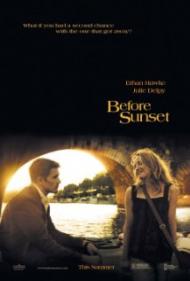 US Release Date: 06-02-2004
Directed by: Richard Linklater
Starring
▸
▾
Ethan Hawke

,

as

Jesse
Julie Delpy

,

as

Celine
Vernon Dobtcheff

,

as

Bookstore Manager
Louise Lemoine Torres

,

as

Journalist #1
Rodolphe Pauly

,

as

Journalist #2
Mariane Plasteig

,

as

Waitress
Diabolo

,

as

Philippe
Denis Evrard

,

as

Boat Attendant
Albert Delpy

,

as

Man at Grill
Marie Pillet

as

Woman in Courtyard

Reviewed on:
March 13th, 2014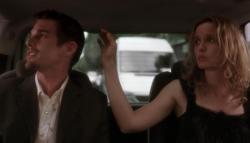 Ethan Hawke and Julie Delpy in Before Sunset.
Nine years have passed since Jesse and Céline spent that magical night together in Vienna. Now in their early thirties, both have become disillusioned by life and romance. Jesse is in an unhappy marriage that he's stayed in only because of his young son. Céline has become an environmental activist with a boyfriend who travels all the time. Their paths cross once again in a Paris book shop where Jesse is doing a reading from his bestselling novel, based on their one night together in 1994.
Before Sunset is the shortest of the three movies in the Before series. It runs a mere 80 minutes and plays out in real time. Jesse has just a few hours to kill before catching a flight back to the states and he and Céline spend them walking around Paris, getting reacquainted, and discussing the many changes in their lives over the past decade.
Hawke and Delpy are once again terrific. They slip back into these characters with ease, inhabiting them with a palpable veracity. The dialogue seems even more natural than in Before Sunrise. In part because it is more banal and less overtly romantic. This gives the few romantic flourishes even more weight. One of the most touching of these moments happens when they are talking in the backseat of a car. Jesse looks away for a second and Céline tentatively reaches out her hand to gently caress his hair only to pull it away just as Jesse turns his head back towards her (see photo).
The conversations this time around are much less philosophical. They discuss their careers and politics. And we learn why they didn't reunite as planned back in December of 94. They tiptoe around the subject of any possible relationship between them. As Jesse keeps putting off heading to the airport in order to spend as much time with Céline as possible, the idea of a rekindling of their romance seems more and more likely until the final scene in Céline's apartment where the issue is settled once and for all.
These movies are also part travelogues as they were all filmed on location. This time around we see many famous landmarks in the City of Lights (although the entire movie takes place during the daytime). It begins at a Left Bank book shop and continues on a tourist boat ride down the Seine as Jesse marvels at the architectural splendor of the Cathedral of Notre Dame.
A sequel to Before Sunset had originally been planned years earlier. It was intended to be a bigger budgeted traditional style romantic comedy. Thankfully the funding fell through and when a sequel finally happened it remained faithful to the original movie's concept. A third Before movie appeared in 2013 (as with all the movies in the series thus far, the events depicted in it take place during the previous summer) continuing the tradition of revisiting Jesse and Céline every nine years. If they stick with this format we will next meet them as they cross the half century mark in the summer of 2021. I look forward to the reunion.

Reviewed on:
March 24th, 2014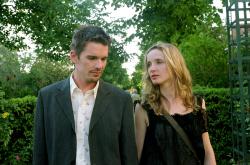 Julie Delpy and Ethan Hawke in Before Sunset
The greatest accomplishment of this series of films is the realistic portrayal of the two characters at these particular points in their lives. As Patrick wrote, their conversations are more pragmatic this time around. As both have now left college and entered the real world, life has become less about what may be and more about what is.
I overwhelmingly agree with Patrick about the touching scene in the backseat of the car. In fact, the entire film leads to that moment. Celine struggles the entire film trying to hide just how affected she was by that one night nine years before. She lies about what she remembered. When Jesse asks if she loves her boyfriend, she responds, "Yeah, of course." She says it with all the conviction of someone answering if they want cream in their coffee.
To emphasize the point of things going unsaid, Jesse tells her a story about a Nazi soldier who was instructed to blow up Notre Dame but when it was time he could not bring himself to do it. This is Celine's time to tell Jesse what she really thinks of him but will she be able to do it?
Delpy's emotional outburst in the car allows her to demonstrate how good an actress she is. Not only does Delpy get the showier part, she is much easier on the eyes. She has a face that at first glance is wholly unremarkable, yet the more you look at her the more attractive she becomes. Hawke, on the other hand, has the opposite effect. Closeups are not his friend. With his goatee, cheek bones and distracting teeth, he could play a demonic character without wearing any makeup.
Before Sunset does not so much have a plot as it is merely two characters catching up since they last met. Both are in relationships that have put love into perspective. Both look back to that night in Vienna as the highlight of their romantic lives.
Jesse and Celine get along well the entire time but had Celine not gotten into that car on the bank of the river, they would have likely never seen each other again. The conversation escalates in the car where they communicate much deeper feelings. It is at this point that we know these two have a very solid connection that cannot be denied.
Although it has a short running time, Before Sunset requires some patience as everything is dialogue driven. Listen close as so much is revealed as these two people try to discover what the other truly thinks and feels.
Photos © Copyright Warner Independent Pictures (WIP) Castle Rock Entertainment (2004)
Related Reviews