Movie Review
Bee Movie
On November 2 Hold on to your honey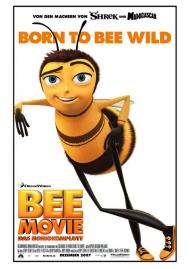 US Release Date: 11-02-2007
Directed by: Steve Hickner
Starring
▸
▾
Jerry Seinfeld

,

as

Barry B. Benson (voice)
Renee Zellweger

,

as

Vanessa Bloome (voice)
Matthew Broderick

,

as

Adam Flayman (voice)
Patrick Warburton

,

as

Ken (voice)
John Goodman

,

as

Layton T. Montgomery (voice)
Chris Rock

,

as

Mooseblood (voice)
Kathy Bates

,

as

Janet Benson (voice)
Barry Levinson

,

as

Martin Benson (voice)
Larry King

,

as

Bee Larry King (voice)
Ray Liotta

,

as

Ray Liotta (voice)
Sting

,

as

Sting (voice)
Oprah Winfrey

,

as

Judge Bumbleton (voice)
Larry Miller

,

as

Buzzwell (voice)
Megan Mullally

,

as

Trudy (voice)
Rip Torn

,

as

Lou Lo Duca (voice)
Michael Richards

as

Bud Ditchwater (voice)


Reviewed on:
November 5th, 2007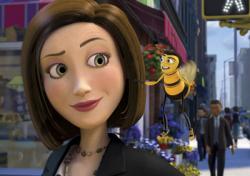 Renee Zellwegger and Jerry Seinfeld provide the voices of Vanessa and Barry in Bee Movie.
Jerry Seinfeld finds himself in familiar territory with the Bee Movie. Okay, so he is an animated bumble bee, but he is still very much his same character from his famous television show.
Jerry plays Barry who lives with his stereotypical Jewish parents. He and his best friend are about to start their new jobs in the hive, but Barry has an urge to do other things. So he flies out of the hive meets a human girl and becomes a lawyer. What else?
That is the easiest plot synopsis I have ever had to write. The movie actually plays out in sitcom format. The first episode is Barry and friend deciding on a new job. The second episode is Barry flying free of the hive and meeting a florist. The third episode is Barry going to court against Ray Liotta.
The animation is gorgeous and very kind to the eyes. Although this is not an action filled movie it has enough scenes of Barry flying around New York, especially Central Park, to keep your attention whether you like Seinfeld's jokes or not.
Seinfeld co-wrote this movie and it is surprisingly full of stereotypes. Barry's parents act just like the folks on Seinfeld. The lawyer Barry goes up against in court is a fat southern accented blowhard. Barry even makes a joke about it being the white man's fault as he points to a bunch of white men in suits as a black man in a suit slides over.
Bee Movie is loaded with the Seinfeld charm but it is saddled with some ridiculous situations such as Barry and the florists falling in love? But hey, this is a cartoon and every character, no matter how small, has a recognizable voice. Bee Movie is more of a series of events than a movie with a plot arc, but there are much worse ways to spend your afternoon than watching this.
Reviewed on:
March 18th, 2008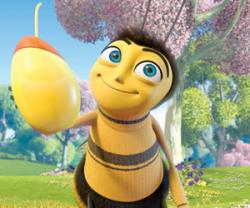 Jerry Seinfeld provides the voice of Barry in Bee Movie.
I don't understand the buzz about this movie. It's strictly a B-Movie. Parts of it are overly sweet, like too much honey. The visuals though, really are something to behold, you can believe me on that one, but beware that the jokes leave a little something to be desired. They won't bewilder you, but some of them are a bit beneath you. And some of them do drone on a bit.
Ok, now that I got the bee puns out of my system, I can move on.
Personally I was disapointed with this movie. The plot starts out as a rip off of Antz; both featuring an insect who wants more than to just be a drone. Both feature iconic New York actors and both of the bugs live in Central Park. Sure, once they leave the hive/hill, the stories do diverge, but there's definite similarities here.
I agree with Eric that the movie has an episodic feel to it. And some of the bits are funnier than others. I did laugh a few times, but not as much as I had hoped I would. I actually thought the beginning of the film was the best, before Barry ends up in the human world where everyone accepts quite readily that bees can talk. Although not everything in the hive makes sense either. I mean, if everyone in the hive only works in the honey business, then who makes the bee cars, furniture and clothes that they all drive, sit on and wear? Earwigs?
Of all the supporting characters, Patrick Warburton as the exasperated boyfriend is the funniest. He's just a guy with a flair and the perfect voice for cartoons.
I had hopes for this cartoon, I was a big fan of Seinfeld, but in the end there's just not enough sting to this one.
Photos © Copyright DreamWorks SKG (2007)