Movie Review
Because of Winn Dixie
Discover what happens when you go looking for a miracle and a miracle comes looking for you.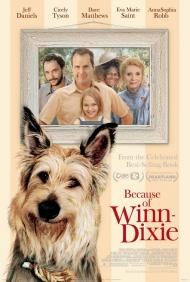 US Release Date: 02-18-2005
Directed by: Wayne Wang
Starring
▸
▾
Annasophia Robb

,

as

Opal
Jeff Daniels

,

as

Preacher
Cicely Tyson

,

as

Gloria
Dave Matthews

,

as

Otis
Eva Marie Saint

,

as

Miss Franny
Courtney Jines

,

as

Amanda Wilkinson
Nick Price

,

as

Dunlap Dewberry
Luke Benward

,

as

Stevie Dewberry
Elle Fanning

as

Sweetie Pie Thomas

Reviewed on:
February 18th, 2005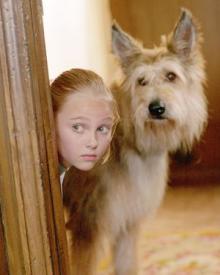 Annasophia Robb in Because of Winn Dixie.
Because of Winn Dixie, I lost over an hour and half of my life that I will never see again. Somehow, somewhere, someone thought the idea of making a sickly sweet movie about a sad little girl and her near magical dog would make for an entertaining movie. They were wrong.
The movie stars Annasophia Robb as Opal, the ten-year-old daughter of a preacher (Jeff Daniels). I don't know if it's the only reason she was hired to play the part, but she bears an uncanny resemblance to a young Tatum O'Neal, only this girl didn't have the good fortune to land a part in Paper Moon or The Bad News Bears. She's not bad considering the role she has, which is basically that of the precocious little girl with the heart of gold.
Opal's mom left her and her dad when Opal was very young and since then her father, whom she calls Preacher, and her have been on the move. As the movie opens, they've just arrived in Naomi, Florida, where Opal finds herself friendless and alone. Alone that is, until the day she claims a stray dog that is causing havoc in the local grocery store.
Once the dog, which she names Winn Dixie, after the store in which she found him, enters her life, everything changes. With some kind of psychic bond, the dog knows exactly what Opal needs and proceeds to get it for her. Soon she's making friends with all sorts of people, like the kindly old blind black woman played by Cicely Tyson (To whom she reads Gone With the Wind, cause what black person doesn't want to hear about the good old days of the civil war?) and the ex-con turned pet store employee played by Dave Mathews.
The whole movie is so darn wholesome and good that it goes down like a cold glass of milk and is just about as exciting. Some of the bigger moments of tension come when Winn Dixie chases a mouse through the church and later when he goes missing during a rainstorm.
Apparently, this movie is based upon a beloved children's book, or least that's what the ads keep stressing, but frankly, until this movie came along I'd never heard of it. I can only suggest, that if the book really is beloved, you'd be better off reading it than watching this "dull as watching the grass grow" movie version.

Reviewed on:
August 20th, 2005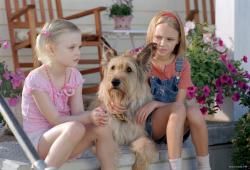 Elle Fanning and Annasophia Robb in Because of Winn Dixie.
My family and I went to rent a DVD that we could all watch together. Against my eleven year old's warning, we rented Because of Winn Dixie. I learned two lessons. The first lesson is that I should listen to my son more. The second is that some animal movies can be so bad that even an animal lover won't like it.
I am not an animal lover, but my wife is. She got bored with this movie faster than my sons did. Not even half way through it I found myself watching it alone as the rest of my family had scattered to pursue other interests.
This story is so utterly clichéd that there is little to do but notice them. Here is a few: 1. Child of single parent. (Nearly every Disney movie) 2. Child befriends a dog (Old Yeller, Lassie etc...) 3. Wise old black character (Song of the South, The Shining etc...) 4. Little girl charms everyone in town (Pollyanna, Prancer every Shirley Temple movie) 5. New kid in town (Casper, The Sandlot, Lassie)
My son said he read this book in school and was bored silly with it. I completely owe him an apology for not taking his opinion to heart.
Reviewed on:
June 12th, 2013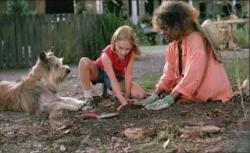 Annasophia Robb and Cicely Tyson in Because of Winn Dixie.
Watching Because of Winn Dixie is like eating spoonfuls of granulated sugar smothered in high fructose corn syrup. It's that gooey sweet. I mean this is a movie that features a candy that makes people sadly sentimental for god's sake. And that's its only original idea.
As Eric wrote, it is filled with family movie tropes and cliches. Like Scott I found it somewhat awkward for an old white lady in the south to recommend the novel Gone with the Wind for an old black woman, especially when you consider that the old librarian's great-grandfather was supposed to have fought for the Confederacy in the Civil War. The fact that Eva Marie Saint's character's family may have owned Cicily Tyson's character's ancestors only adds to its inappropriateness.
The dog is cute but way too much trouble. Everything he does, no matter how disruptive or destructive, is met with, at most, a mildly chastising word but more often, a laugh and a shake of the head. The humor is pretty bad. Take the stupid police officer who has this to say when a goat starts ramming his police car, "You are in violation of ordinance 29, the ramming with horny head of a police vehicle!" Hilarious it's not.
Let's see, we have an adorable sad little girl and her equally adorable dog, not one but two wise old ladies to guide her, and an oddball musician ex-con pet-store owner for her to befriend. And just think it was all Because of Winn (barf) Dixie.
Photos © Copyright 20th Century Fox (2005)