Movie Review
Beasts of No Nation
Child. Captive. Killer.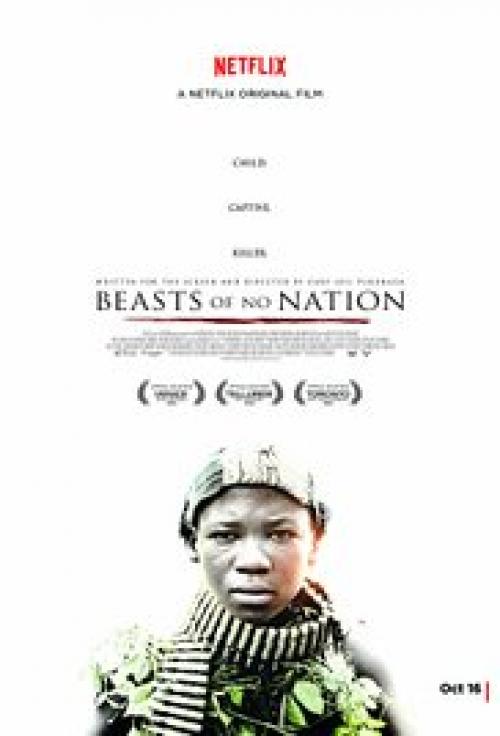 US Release Date: 10-16-2015
Directed by: Cary Joji Fukunaga
Starring
▸
▾
Abraham Attah

,

as

Agu
Idris Elba

,

as

Commandant
Ama K. Abebrese

,

as

Mother
Kobina Amissa-Sam

,

as

Father
Emmanuel Nii Adom Quaye

,

as

Strika
Grace Nortey

,

as

Old Witch Woman
David Dontoh

,

as

Linguist
Opeyemi Fagbohungbe

,

as

Sergeant Gaz
Teibu Owusu Achcampong

,

as

Preacher
Annointed Wesseh

,

as

Tripod
Emmary Brown

as

Grandfather

Reviewed on:
December 11th, 2015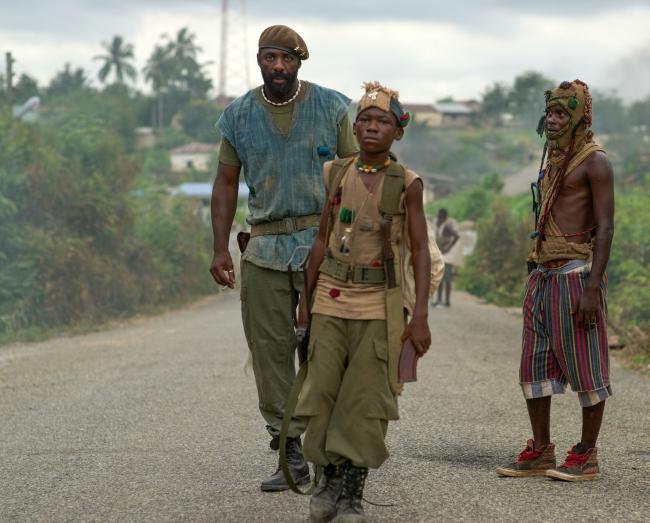 Idris Elba and Abraham Attah in Beasts of No Nation.
Based on the 2005 novel of the same name, Beasts of No Nation takes a horrifying look at civil war in an unnamed West African country (it was filmed in Ghana); specifically in terms of the toll it takes on young boys forced into being soldiers. Young Agu lives with his mother, father, older brother, baby sister and grandfather. He spends his time going to school and playing until war comes to his village. His life is instantly torn apart and it will never be the same.
He runs away into the bush as his father instructs him, only to be found by a group of guerrilla soldiers led by a man calling himself the Commandant (Idris Elba playing a completely despicable man). Agu's initiation includes killing an unarmed man with a machete. Agu narrates his story in English. He is confused by what is happening. His childhood innocence and belief in God are challenged by the horrors of his daily existence, which includes being raped by the Commandant and given a form of cocaine mixed with gunpowder called "brown-brown". He becomes friends with a mute boy called Strika.
I was reminded of 2012's War Witch. Like that movie, Beasts of No Nation takes an unflinching look at the plight of children forced to carry guns and kill. In both cases the central character endures unimaginable hardships but somehow survives. And in both movies you see that in some ways children remain children. Regardless of their environment, they still like to play. Also both films feature very talented child actors. Rachel Mwanza was wonderful in War Witch and Abraham Attah gives a remarkable performance here as Agu.
The movie opens with Agu -along with the help of several other boys- trying to sell a television set that is missing its screen and insides. Agu calls it an "Imagination TV". He demonstrates it by having his friends act out whatever scene he calls out, such as "soap opera", "dancing" or "kung fu". They even show that it has 3D by sticking their heads through the opening. The movie ends with Agu joining other boys playing in the ocean, finally safely removed from the war. In between are some of the most horrific events any child ever had to endure.
Agu talks to a counselor near the end of the movie. He cannot tell her everything he has seen, experienced and done. Instead he says this, "I saw terrible things... and I did terrible things. So if I'm talking to you, it will make me sad and it will make you too sad. In this life... I just want to be happy in this life. If I'm telling this to you... you will think that... I am some sort of beast... or devil. I am all of these things... but I also having mother... father... brother and sister once. They loved me."
Beasts of No Nation is not an easy movie to watch. It features acts of terror and cruelty. It turns a spotlight on the ugliness of war and the evil that men are capable of perpetrating on their fellow human beings. On a more uplifting note, it also demonstrates the incredible resilience of the human spirit.

Reviewed on:
January 12th, 2016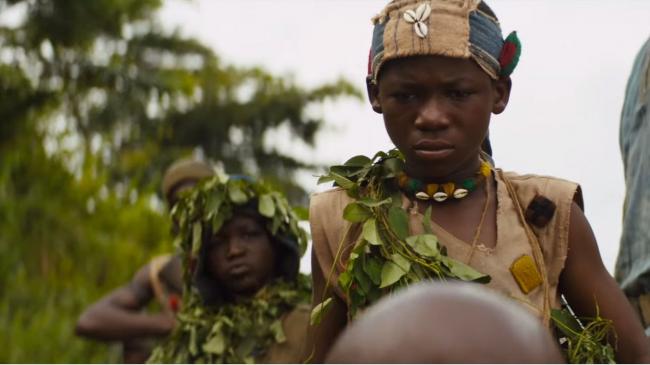 Abraham Attah in Beasts of No Nation
Patrick wrote about how Beasts of No Nation opens with Agu and his friends playing with an empty shell of a television set. They are using their imagination as all children do. Agu has parents, a sister and an older brother whom he admires as well as puts up with. The first quarter of the film is intended to show that Agu could be any boy you have ever known. He just happened to be born in a place that has marauding militia fighting for power.
These militia groups force young men and boys into being soldiers on threat of death. The killing, gore and rape that Agu experiences could scar anyone. Although Agu walks through hell and participates in horrendous acts of violence, he maintains an angelic quality. He puts a human face on someone who could justifiably be called a monster. He commits violent acts not normally associated with someone so young.
It is because of his age that we can even begin to forgive his actions. If he were an adult forced to do these things we would think of him as dishonorable and cowardly. It is also because he is a child that he is able to come through such hardships less scathed than an adult who would anguish over the events and let them eat away at his conscience. Agu sees the world through a child's eyes and narrates as such, "Bullet is just eating everything, leaves, trees, ground, person. Eating them. Just making person to bleed everywhere."
Beasts of No Nation is a jarring look at ugly events that have, unfortunately, happened in real life. It is sometimes hard to watch as we concern ourselves with Agu and the life he is forced into but we can take some comfort in that children have a wonderful inner safety mechanism that allows them to switch channels quite easily and move on in ways that adults cannot always do. Agu is trained and brainwashed to become a beast and although he sometimes seems to act like one, he maintains the heart of a human who just wants to be happy in this life.
Photos © Copyright Netflix (2015)
Related Review