Movie Review
Beaches
Some Friendships Last Forever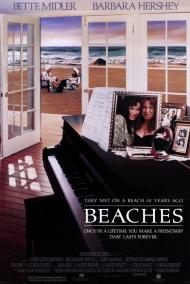 US Release Date: 12-21-1988
Directed by: Garry Marshall
Starring
▸
▾
Bette Midler

,

as

Cecilia 'CC' Carol Bloom
Barbara Hershey

,

as

Hillary Whitney Essex
John Heard

,

as

John Pierce
Spalding Gray

,

as

Dr. Richard Milstein
Lainie Kazan

,

as

Leona Bloom
James Read

,

as

Michael Essex
Grace Johnston

,

as

Victoria Cecilia Essex
Mayim Bialik

,

as

Cecilia 'CC' Carol Bloom (age 11)
Marcie Leeds

as

Hillary Whitney Essex (age 11)

Reviewed on:
November 21st, 2011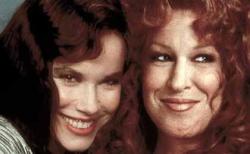 Barbara Hershey and Bette Midler in Beaches.
Beaches became an immediate gay classic upon its release in 1988. To be fair this story about the lifelong friendship between two very different women resonated with all types of audiences and gave Bette Midler the biggest hit song of her career. By 1997's In & Out however it had already become a punch-line as evidence someone is gay. Watching it today, it remains solidly entertaining but definitely dramatically over-the-top and campy.
It opens with CC Bloom (Midler) rehearsing for a concert at The Hollywood Bowl. She gets a phone call and rushes off in her car. The movie then flashes back 25 years or so to the Atlantic City boardwalk, where an 11-year-old CC, in garish make-up and wearing a feather boa, crosses paths with the 11-year-old Hillary Whitney Essex, the privileged daughter of a wealthy family. An unlikely friendship is born.
The movie then jumps ahead to their college years where CC and Hillary reunite after many years as pen pals. In New York City they share an apartment as well as their dreams for the future. Hillary is now a successful attorney while CC is an aspiring singer/actress. They (of course) have a falling out over (what else?) a man. But when tragedy strikes they are always there for each other.
The movie features several musical numbers by Midler who was then at the peak of her popularity. "Wind Beneath My Wings" became a number one hit on the Billboard charts and earned Midler a Grammy for Record of the Year. She does a decent rendition of "Under the Boardwalk" and the song "Glory of Love" becomes the duos unofficial theme.
The supporting cast includes John Heard as the man both women love, a hilarious turn by Lainie Kazan as CC's tacky Jersey stage-mother Leona and Mayim Bialik as the young CC. But as good as the rest of the cast is Beaches is really a two woman show. The chemistry between Barbara Hershey and Bette Midler is palpable from beginning to end.
This is one of those movies that fans love to quote lines from, both humorous and tragic.
Here are a few of my favorite funny lines... CC telling Hillary, "But enough about me, let's talk about you... what do YOU think of me?" Or when a drunk named Marge faints Hillary thinks she might be dead. CC says, "No. If she was dead she would've dropped the bottle."
Here are a few of my favorite dramatic lines… Hillary arguing with CC tells her, "I was jealous. I was so jealous of you I couldn't see straight! You did everything you said you were going to do, everything! And your talent, this incredible talent! I can't even yodel!" And CC admonishing Hillary for feeling sorry for herself, "You're not dead yet: so stop living as if you are!"
SPOILER ALERT: The final act turns into one of the screen's great tear-jerkers as Hillary gets sick with a rare (and fatal) heart disease, leaving her best friend to care for her young daughter. The title of the movie refers to the fact that Hillary and CC met on a beach as kids and now spend their last quality time together on a beach, as Hillary is dying.
This Garry Marshall directed weeper is anything but subtle. Beaches is pure soap opera with some songs tossed in for good measure. It is both campy fun and ridiculously tragic and as such has earned its place as a gay classic.


Reviewed on:
February 12th, 2013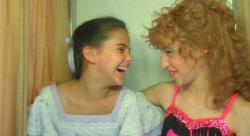 Marcie Leads and Mayim Bialik in Beaches
I always thought the title was not only in reference to the beaches that bookend the story, but also a play on words, as in "bitches". I also always thought of this as a chick flick more than a, "gay classic," but considering Bette Midler stars...
Beaches is not exactly a favorite film of mine, but I do recognize that it was put together very well, with everyone giving a fine performance. For the record, I think this is Midler's finest screen role. I found her acting here to be much more sincere than her high octane acting in The Rose.
Patrick wrote that, "Beaches is really a two woman show" but I disagree. Midler so dominates this film that Hershey barely gets noticed. Even when a scene only features Hershey we often have a Midler song in the back ground or her narrating a letter. It almost becomes too much. Midler was a producer on this film and we are never allowed to forget it. At least six different times someone in the film tells her how talented she is, in some form or another. All that Hershey gets is a scene where Midler tells her she is beautiful and smart.
The only other cast member to truly shine is Mayim Bialik in a spot on performance portraying a young Midler. She has Midler's mannerisms down pat. The San Diego born actress convincingly plays a New Yorker with plenty of chutzpah. This is an example of great casting.
As far as the soundtrack goes, I have to mention one thing. As both my brothers know, I had a mad crush on Sheena Easton throughout high school. And for the record, she recorded "Wind Beneath My Wings" before Bette Midler and is still the version I prefer.
Photos © Copyright Touchstone Pictures (1988)