Movie Review
Barnyard
What happens in the barn stays in the barn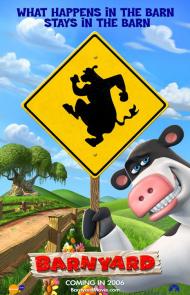 US Release Date: 08-04-2006
Directed by: Steve Oedekerk
Starring
▸
▾
Kevin James

,

as

Otis (voice)
Courteney Cox

,

as

Daisy (voice)
Danny Glover

,

as

Miles (voice)
Andie MacDowell

,

as

Etta the hen (voice)
Wanda Sykes

,

as

Bessy the cow (voice)
Sam Elliott

,

as

Ben the cow (voice)
Maria Bamford

,

as

Mrs. Beady (voice)
S. Scott Bullock

as

Eddie the Jersey Cow

Reviewed on:
August 9th, 2006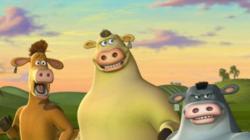 The animated animals of The Barnyard.
The most important aspect to any movie is script and plot. Barnyard has little plot and the script is completely unoriginal. It generates a few chuckles with some animal antics, but the movie is less entertaining than a Foghorn Leghorn cartoon and more politically correct than a Democrats campaign speech.
The movie introduces Otis, the irresponsible, adopted (for some reason) cow of barnyard leader Ben. The movie shows Otis having a good time partying and slacking off with his friends for the first half hour of the movie. Ben gets killed by some coyotes and Otis has a Lion King moment and wants to run away out of guilt and fear of having to take over as leader of the barn. Of course, he eventually steps up and ends up beating up the coyotes.
Liberal, Hollywood, political correctness stops Otis from seriously hurting, let alone killing, the coyotes even though they killed Ben and were going to kill several chickens. Sure, it's a kids movie so only bad guys kill. The movie even stops to mention that the farmer who owns them is a vegan. Huh?
Once again, Hollywood's screwed up morality strikes. In this movie Otis and some friends steal and destroy a neighbor's car. The get into a high speed car chase with police. They steal and joy ride on some motorcycles. They break and enter. However, they never get into any trouble what so ever for any of their law breaking. So remember kids, as you watch this movie, it's okay to steal and break the law but you shouldn't eat meat or be mean to your enemies, even if they kill your family and friends.
The one and only scene I truly laughed at was when the loved "vegan" farmer discovers that the animals can all walk upright and talk. A mule knocks him out cold several times by kicking him several times. They then prop him up against a tree with a copy of Charlottes Web. So the second moral, kids, is that it is okay to do bodily harm to the person taking care of you but not your life threatening enemies.
Barnyard is occasionally cute but it offers nothing new or any realistic moral lesson.
Photos © Copyright Paramount Pictures (2006)