Movie Review
Barefoot in the Park
Break the rules! Make love! Fall over laughing!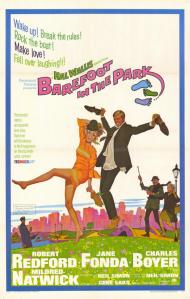 US Release Date: 05-25-1967
Directed by: Gene Saks
Starring
▸
▾
Robert Redford

,

as

Paul Bratter
Jane Fonda

,

as

Corie Bratter
Charles Boyer

,

as

Victor Velasco
Mildred Natwick

,

as

Mrs. Ethel Banks
Herb Edelman

,

as

Harry Pepper
Mabel Albertson

,

as

Aunt Harriet
Fritz Feld

,

as

Restaurant Owner
Doris Roberts

as

Hotel Maid


Reviewed on:
October 5th, 2003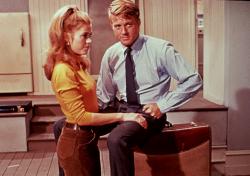 Jane Fonda and Robert Redford in Barefoot in the Park.
Barefoot in the Park is at first glance a silly little movie. Take a closer look and you find an interesting study on couple hood. What at first appears to be a sitcom type set up, turns into a thought provoking lesson on who we choose as a mate.
Robert Redford and Jane Fonda play newlyweds, Paul and Corie Bratter. After a brief honeymoon, they move into a tiny Manhattan apartment with a strange neighbor living in the attic above them, Victor Velasco played by Charles Boyer. The roof has a hole and snow falls in their living room. The bedroom is so small that there is barely any standing room.
Paul works as a lawyer and Corie sets to making the house a home. Their initial marital bliss quickly dissolves as they come to see each other in ways they had not. Paul is straight laced. He is a professional who never likes to let his guard down. Corie is more of a free spirit. Victor Velasco unnerves Paul, but intrigues Corie. He takes the couple, and Corie's mother, out for a night on the town. Paul gets sick and Corie has a great time. Not as good as her mom though, because her mom begins a relationship with Victor Velasco.
Paul and Corie then get into a fight that threatens to destroy their infant marriage. Corie tells Paul that 'You are incapable of having fun.' She brings up the fact that he, at one time, would not go barefoot in the park with her. He responds that it was too cold and they probably would have gotten sick. Paul gets drunk and Corie seeks solace with her mother. Paul, in a drunken stupor, goes barefoot in the park. Corie finds him there sick as a dog.
The couple, of course, gets back together. The point of this story is both simple and old. Opposites attract. If Paul and Corie were both straight-laced nothing would ever happen. If they were both as free spirited as Corie, they would probably be too irresponsible to accomplish anything. As a couple, they compliment each other. They are different, and that is not only okay, it is the beauty and foundation of their relationship. How many couples can relate to this?
Redford and Fonda make a very attractive couple. Their charm, however, is not enough to make up for the lack of jokes. Part of this movie's tag line is 'Fall over laughing.' Neil Simon is a great writer, but the jokes are just not that effective.
Before my wife and I got married we were required by the minister, that was marrying us, to have a couple of counseling sessions with him. He yakked about insects and tried to make some symbolic point. He should have just showed us this movie and then we could have discussed it afterwards. It really is a simple lesson, but one worth being reminded of.
Reviewed on:
September 2nd, 2004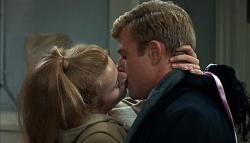 Jane Fonda and Robert Redford in Barefoot in the Park.
Yes, Redford and Fonda make a charming couple but in my book Charles Boyer steals the movie out from under them. His aging Lothario, Victor Velasco, is a nostalgic relic and a poignant reminder of vanished youth. The night on the town scene is easily the most enjoyable section of the movie. Victor takes them on the Staten Island ferry - in February - to eat at a colorful Lithuanian restaurant. Once there Victor and Corie dance, laugh and have a great time while Paul is completely miserable.
Although Eric's comments about relationships are accurate he makes the movie sound far more profound than it actually is. This is a simple Neil Simon farce. And like virtually all his plays it hasn't aged all that well.
On a trivia note several famous faces have small roles. Mabel Albertson plays Corie's Aunt Harriet. She is most famous for her role as the rich woman whose jewels are stolen in What's Up Doc. Fans of The Golden Girls will recognize Herb Edelman, "It's me Stan." He plays Harry Pepper the guy who installs the Bratter's phone. Doris Roberts from Everybody Loves Raymond has one scene as a hotel maid in the opening sequence at The Plaza.
Redford, Fonda and Boyer make this one much better than it should be.
Reviewed on:
February 8th, 2009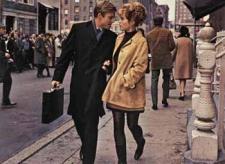 Paul and Corie make a cute couple.
I not only think this movie has aged well, I also think that it is very funny and charming. Redford and Fonda make a great couple. I think most people who have ever been married should be able to relate to their story.
Eric, I don't see the point of this movie being so much that opposites attract, but rather that marriage involves compromise. Paul gets drunk and lets his hair down at the end and Corie realizes that actions have consequences. As Corie's mom says, you have to let a little bit of yourself go, which might sound bad at first, but is really just what it takes to share your life with someone. It can't all be about you, it has to be about both of you.
As for the jokes, there are far too many lines for me to quote, but here's just a sampling of ones I love that might not seem hilarious out of context, but always make me laugh.
"You can't just dig into a black salad. You have to play with it first."
"I was watching my coat because I saw someone else watching my coat."
"If I'd known the people on the third floor I'd have visited them."
"If you're joining me, we'll be sleeping left to right."
"My teeth feel soft."
I mean c'mon Patrick, you live in a walk-up too, maybe not the 6th floor, but don't some of the jokes about that seem familiar?
The thoughts this movie provokes in me are silly ones. It is making a point about young relationships, but not in an overly deep manner. To me it's more of a pure romantic comedy. And the lessons it teaches are easier to see in hindsight as part of a couple who's been together for a few years. In any case this is one to watch with person you love.
Photos © Copyright Paramount (1967)