Movie Review
The Bank Dick
Was His Face Red . . . And His Nose, Too ! when the bandits took the money . . . and the SAFE !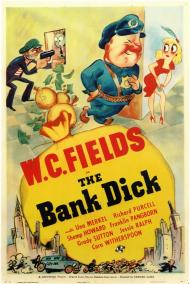 US Release Date: 11-29-1940
Directed by: Edward F. Cline
Starring
▸
▾
W.C. Fields

,

as

Egbert Souse
Cora Witherspoon

,

as

Agatha Souse
Una Merkel

,

as

Myrtle Souse
Evelyn Del Rio

,

as

Elsie Mae Adele Brunch Souse
Jessie Ralph

,

as

Mrs. Hermisillo Brunch
Franklin Pangborn

,

as

J. Pinkerton Snoopington
Shemp Howard

,

as

Joe Guelpe
Dick Purcell

,

as

Mackley Q. Greene
Grady Sutton

,

as

Og Oggilby
Russell Hicks

,

as

J. Frothingham Waterbury
Pierre Watkin

,

as

Mr. Skinner
Al Hill

,

as

Filthy McNasty
George Moran

as

Cozy Cochran

Reviewed on:
December 14th, 2011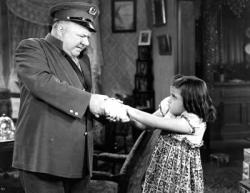 W.C. Fields and Evelyn Del Rio in The Bank Dick.
The Bank Dick has W.C. Fields playing henpecked Egbert Sousè "accent grave over the e". He lives with his wife, two daughters and his mother-in-law. His favorite activity is getting sloshed at the local watering hole. However, as fate would have it, one day he gets hired to replace a drunken film director and then - after being falsely believed to have foiled a bank robbery - gets hired as security for the local bank.
All seems to be going well for Egbert until he talks his daughter's fiancé (a teller at the bank) into "borrowing" $5,000 to invest in some shady stock deal. Of course before he can replace the money a bank examiner shows up. But not to worry. Egbert has a plan to keep the bank examiner out of the way for the next four days until his future son-in-law's bonus arrives, thus enabling him to repay the money. This plan, by the way, includes taking the bank examiner to the local pub and having Egbert's bartender friend slip a Mickey Finn into his drink (the bartender, BTW, is played by Shemp Howard of The Three Stooges). All of these shenanigans take up just over an hour of screen time and the story culminates in a high speed slapstick car chase.
W.C. Fields wrote the screenplay under the pseudonym Mahatma Kane Jeeves ("My hat, my cane, Jeeves!" was a stock stage phrase from the era). The script was at first rejected by Universal's censors but director Edward F. Cline suggested that Fields film it as written, rightly assuming the guys in the front office wouldn't notice the difference.
Fields had a penchant for bathroom humor and sexual innuendo. In one scene he is asked if he frequents a bar called The Black Pussy. He gets hit in the groin by a swinging office gate. When discussing children with the bank examiner he offhandedly remarks, "I'm very fond of children. Girl children, around eighteen and twenty." When Egbert brings J. Pinkerton Snoopington to the Black Pussy Café for a drink during business hours, the bank examiner sheepishly asks, "Can't we, eh, pull the shade?" Egbert replies, "You can pull anything you want in here. It's a regular joint."
Some of the funniest bits involve Field's interaction with children. He nearly strangles a young boy playing with a toy gun at the bank and displays some inappropriate behavior towards his youngest daughter. At one point the little girl asks, "What's the matter, Pop? Don't you love me?" Egbert raises his hand as if to strike the child and answers, "Certainly I love you!" His wife then interjects, "Don't you dare strike that child!" Egbert then defiantly states, "She's not gonna tell ME I don't love her."
This movie is far from politically correct. It has an awkward scene with a black man that nearly made me cringe and at one point Fields mentions getting a knife pulled on him by a "colored midget". Still he created one of the most original and iconic characters of early talking film comedy. W.C. Fields, with his often imitated speaking voice and irascible, curmudgeonly, lush of a personality, was a huge influence on later generations of comics. The Bank Dick is a fine showcase for his unique persona and sublime comic timing.


Reviewed on:
October 9th, 2013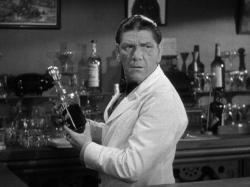 Shemp Howard playing W.C. Fields favorite person, a bar tender, in The Bank Dick
I find it interesting that The Bank Dick is more politically incorrect today than it was in 1940. I seriously doubt the Hayes Code would have let them release a film that used such terms as "pussy" and "dick" if they were as common expressions for male and female parts then as they are now. Some of the most shocking scenes in this movie, from today's current morality perspective, are the moments when Fields threatens to harm a child, including his own. These are also some of the funniest scenes.
We currently live in a world where western children are mollycoddled. We have anti-bullying laws. Dodge ball and Tag have been eliminated from some schools. In the United Kingdom, one school has even forbidden the term, "best friend" as it is exclusive to other children. In 1940, school teachers were allowed to paddle disobedient students. Fields fights with his daughter like he is also a child. He mistreats the boy, Patrick mentioned, in the bank.
Possibly the most offensive scene considered by today's PC police, would be the one where Fields shows a group of young boys some cigarette smoking tricks. In the United States, smokers are often treated like second class citizens, being forced to do their dirty habit in some inconvenient location. Couples divorcing sometimes use their partners smoking habits as leverage for custody. That scene would never appear in a movie today without some group or another protesting it.
As a Buster Keaton fan I have to comment on Edward F. Cline. When bragging of his directing talent, Fields says that he worked with Mack Sennett, Fatty Arbuckle, Charlie Chaplin and Buster Keaton. Cline, in fact, started as a Keystone Kop and worked with all of those guys, most notably Keaton, who he co-directed many films with. The big chase scene at the end was reportedly Cline's idea and it truly looks like it could be in a silent comedy.
The Bank Dick is hilarious from start to finish. It races by with one-liners, innuendoes and slapstick. Although some of the subject matter is a bit wink wink, nudge nudge, the presence of Shemp Howard and all the kids Fields runs into allows this black and white comedy to still appeal to some children. Fields' script may have been going for mature jokes but his humor can be enjoyed by all. You may want to explain though, that Fields' character's name, "Souse" means intoxicated and more importantly, "dick" used to refer to a detective.
Reviewed on:
April 10th, 2015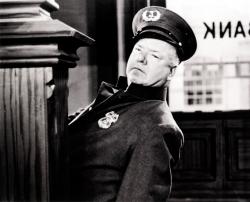 W.C.Fields in The Bank Dick.
Actually, Joe Breen of the Production Code Administration did object to the name "Black Pussy Cafe" as he felt it was a dirty joke. Fields argued that there was a real bar in Santa Monica with the same name, but the censors still complained and so Fields consented to change the name to the "Black Pussy Cat Cafe", however, this altered name only appears on the sign for the building. Whenever Fields mentions the name in the film, he uses the shorter version. Fields ad-libbed so much of his dialogue that he was able to get around the censors simply by changing the script to meet their demands and then, as Patrick mentioned, changing the words on the day of filming back to something closer to what he had at first written.
I agree with my brothers that this is a very funny film. Most fans of Fields consider this one of his very funniest films and I can't dispute them. It is also the film from Fields career over which he had the most creative control. This is 100 proof Fields, you might say. Cline may have directed it, but there's no doubt that Fields had final say over every aspect. Not that Fields had it all his way. Reportedly he wanted Mickey Rooney to play his future son in-law, but MGM refused to loan him out for the part, perhaps in fear that working with Fields would tarnish Andy Hardy's reputation.
With such creative control Fields was able to create some very funny scenes, the best of which are, as my brothers noted, hilariously politically incorrect. However, while there are very funny individual scenes, they don't add up to a great movie. It feels more like several shorts were shoved together to make a feature length film. The scene with Fields directing the movie is funny, but has little to do with the later scenes revolving around the bank. And as Eric wrote, the final chase scene feels like an old silent short. Perhaps it was Fields' vaudeville background that lead to the episodic, sketch feel to the movie, but the narrative is defintely the film's weakest aspect.
However, there are plenty of classic comedy moments. Fields' interaction with his family provides some of the funniest moments, particularly his violent relationship with his youngest daughter. There may be a joke about a father attempting to hit his daughter, but the daughter gives back better than she gets, proving that she is her father's daughter, by hitting back and throwing things at him.
Along with all of the risque (for the time) jokes, Fields also slipped the ending by the censors. While the Production Code traditionally mandated an ending where the bad guys are punished and the righteous prevail, this movie ends with Fields' lying, cheating, and hard drinking character rewarded with millions of dollars and a life of luxury. It would be nice to think that Fields' real life ended in a similar manner, but unfortunately this would be his last big starring part and his drinking would eventually lead to a relatively early grave on Christmas Day in 1946 at the age of 66.
Photos © Copyright Universal Pictures (1940)