Movie Review
Bandolero!
There are Westerns and Westerns. Every now and then comes a NEW kind of Western. This is BANDOLERO!.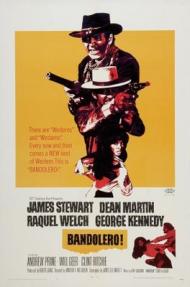 US Release Date: 06-01-1968
Directed by: Andrew V. McLaglen
Starring
▸
▾
James Stewart

,

as

Mace Bishop
Dean Martin

,

as

Dee Bishop
Raquel Welch

,

as

Maria Stoner
George Kennedy

,

as

Sheriff July Johnson
Andrew Prine

,

as

Deputy Sheriff Roscoe Bookbinder
Will Geer

,

as

Pop Chaney
Clint Ritchie

,

as

Babe Jenkins
Denver Pyle

as

Muncie Carter

Reviewed on:
September 9th, 2010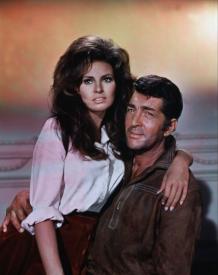 Raquel Welch and Dean Martin in Bandolero!
The most memorable thing about Bandolero! is the cast. James Stewart and Dean Martin, in the twilight of their careers, co-star with Raquel Welch, who just two years earlier exploded into the hearts and groins of the American male wearing a fur bikini in A Million Years B.C. Unfortunately, the best reason for watching this movie is likewise it's largest flaw.
Bandolero! opens with Martin and his gang getting arrested for robbing a bank and the murder of Welch's husband. Martin's older brother, Stewart, poses as the hangman, and rescues them. They abduct Welch and head south of the border into Bandolero (Mexican bandit) territory. Welch, speaking with a Mexican accent, explains to Martin that the Mexican bandits love to kill Gringos. Martin comments that she does not look worried. She smiles, "I am not a gringo."
Along the way, Stewart tries to talk Martin into retiring and moving with him to Montana, while Martin and Welch fall for each other. She understands his dark past as she was not a saint. In the films most memorable line, Welch proudly tells a banker, who questions her ability to run a ranch on her own, "Mr Carter, I was a whore at 13, and my family of twelve never went hungry." With a body like hers, she could support an entire nation!
The town collects a posse and heads out after them. The sheriff is in love with Welch and his motivation has more to do with saving her than arresting Martin and Stewart. They eventually meet up in a tiny abandoned Mexican village where they are forced to join sides to fight a large group of Mexican Bandits.
Bandolero! takes place in 1867, when the average life expectancy was 45. Stewart was 60 and Martin 50 when they made this film. They both fought in the Civil War on opposing sides. I am sure that when this story was written the author pictured much younger actors in the roles. The producers no doubt made exceptions for the star power of Stewart and Martin.
Stewart is supposed to be the voice of reason. He and Martin defend Welch from the other gang members wanting to rape her. Stewart plays his role like he is the good guy. The problem is that he is anything but. Early in the movie he meets up with the real hangman and later is shown riding into town wearing his clothes. The movie never says what happened to him. The film makers wanted the audience to see him as the good brother, when in fact he is no better. He robs the bank while the posse is after his brother.
Bandolero! was filmed mostly on location, moves along well enough, and features some funny lines, such as when Will Geer explains his father's rules. Made in the 1960's, when films were finally maturing, it features some blood and Welch swears at a bandit in Spanish, who just tried to rape her. Although hardly a perfect film, Bandolero! has enough action to keep western fans watching.

Photos © Copyright 20th Century Fox (1968)
Related Reviews