Movie Review
The Band Wagon
Get Aboard!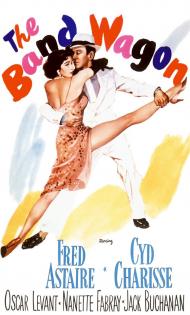 US Release Date: 08-07-1953
Directed by: Vincente Minnelli
Starring
▸
▾
Fred Astaire

,

as

Tony Hunter
Cyd Charisse

,

as

Gabrielle Gerard
Oscar Levant

,

as

Lester Marton
Nanette Fabray

,

as

Lily Marton
Jack Buchanan

,

as

Jeffrey Cordova
James Mitchell

,

as

Paul Byrd
Robert Gist

,

as

Hal
Ava Gardner

,

as

Herself
Julie Newmar

as

Salon Model / Chorine in Girl Hunt Ballet


Reviewed on:
November 8th, 2011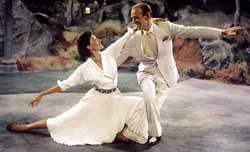 Cyd Charisse and Fred Astaire in The Band Wagon
Fred Astaire starred in many musicals, but nearly all were team ups with equally famous leading ladies, be it Ginger Rogers, Rita Hayworth or Judy Garland. With The Band Wagon, Astaire is paired with Cyd Charisse but Astaire is center stage and at the height of his talent. This may very well be the epitome of his career. He makes his leading lady look good and even gets to perform a number with a top hat and cane.
Astaire plays washed up movie star Tony Hunter. He goes to New York to star in a Broadway musical, in hopes of revitalizing his career. He gets paired with a snobby prima ballerina, Gabrielle. The plays director is a pompous ass, who wants to make a musical version of Faust. The play is a disaster, but Hunter and Gabrielle fall in love, and decide the show must go on.
Besides Astaire, The Band Wagon boasts some prestigious credits. Minnelli directed such musical classics as Meet Me in St. Louis and An American in Paris. Writers Betty Comden and Adolph Green had previously collaborated on Singin' in the Rain. The dances are choreographed by Michael Kidd, who also did Seven Brides for Seven Brothers.
The Band Wagon is a bit similar to Singin' in the Rain in that both poke fun of show business. Instead of Donald O'Connor, we have Nanette Fabray and Oscar Levant as comedy side kicks. Both feature a musical story interlude with Cyd Charisse.
Speaking of Charisse, this was one of her first leading roles. She gave Singin' in the Rain a spark of sex and is amazing here whenever she dances. She was an alright actress, but a truly great dancer, with a nice figure. Reportedly Marilyn Monroe felt threatened by her when they worked briefly together on Somethings Got to Give.
The Band Wagon features some truly memorable songs including it's most famous, "That's Entertainment." It was later used as the theme for the film That's Entertainment. It featured Fred Astaire revisiting the decaying set where he performed my favorite song from The Band Wagon, "By Myself."
The story sometimes seems forced with Fabray's and Levant's hysterics and the, "lets put on a show" theme. It is however, saved by the musical numbers. At one point, Astaire and Charisse walk silently in the park. Without saying a word, they both start to move in poetic harmony. Suddenly the world becomes a beautiful place. The funniest number is when Astaire, Fabray and Buchanan play singing, dancing and bickering babies.
The show stopper is of course "The Girl Hunt" performance, in which Astaire plays a dancing detective who narrates a mystery with Charisse playing two parts, one in blonde wig. When a very sexy brunette Cyd Charisse slinks into a scene, he says. "She came at me in sections. More curves than a scenic railway."
"The Girl Hunt" was the inspiration for Michael Jackson's Smooth Criminal music video. Jackson wears the same white suit and even mimics a few of Astaire's dance moves. His sister Janet was also a fan as she would feature a 69 year old Cyd Charisse, wearing a similar red dress worn here, in Janet's Alright music video.
The Band Wagon is not as solid a film as Singin' in the Rain but it offers some unforgettable moments by one of the greatest musical talents the world has ever known.
Reviewed on:
November 12th, 2011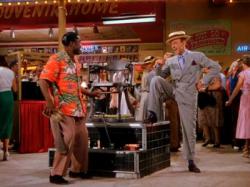 Fred Astaire gets his shoes shined in The Band Wagon.
The Band Wagon is more than a 'bit similar' to Singin' in the Rain. Not only do they both poke fun of show business, they both center on a serious production that flops at its premiere, but is a smash when it's reworked as a musical comedy. They also both feature a fantasy musical number during the finale. I'd say this movie was MGM's way of trying to get musical lightning to strike twice in a row.
While taken as a whole this movie doesn't live up to Singin' in the Rain, parts of it do rival that greatest of movie musicals. Foremost is Astaire in the lead. He glides gracefully through the film with style and class. Charisse, while way too young for him, is also quite good. I was never all that caught up in their romance, but they do make magic together, particularly during their "Dancing in the Dark" number in Central Park.
Nanette Fabray and Oscar Levant are intended to be the comic relief, but I never really found them all that funny. I laughed much harder at Jack Buchanan's over the top director Jeffrey Cordova. He is a pompous ass, but in a very humorous way. He steals the scenes near the beginning of the film when they're putting the musical together.
Of the musical numbers, most of the ones featuring Astaire are great, but there are a few with and without him that could have been cut. "Louisiana Hayride" leaps to mind as one of the first that could have been jettisoned.
"The Girl Hunt" musical sequence is entertaining, but how on earth they would have performed it on stage, I'll never know. It even cuts from one scene to the next right in the middle of it. How do you manage to edit a live performance? This in no way mars its entertainment value and like you Eric, I enjoyed Astaire's hard-boiled narration.
This is an inferior movie musical compared to Singin' in the Rain, but then what movie musical isn't? It's still quite entertaining and worth watching just to see Astaire hoofing it up.
Reviewed on:
November 29th, 2011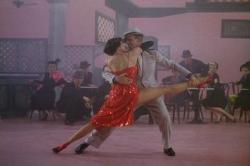 Fred Astaire helps Cyd Charisse stretch out in The Band Wagon.
I can see how The Band Wagon epitomizes Fred Astaire's career. After all he is basically playing himself. Like the fictitious Tony Hunter, Astaire was feeling old and out of date in 1953 (he turned 54 that May). In fact he even considered retirement. The jokes about his age and his insecurities about his leading ladies' height were very real (look closely, Charisse dances only in flats with Astaire). And I'll bet you didn't know The Band Wagon was based on the 1931 Broadway musical that starred Astaire and his sister Adele, before he went to Hollywood.
Scott, I get your comparisons to Singin' in the Rain but the only part that blatantly rips that movie off is "The Girl Hunt" ballet. As good as it is though, it's inferior to Gene Kelly's big number with Charisse in that movie. I agree with Eric that it was influential and Astaire's narration is classic. "She was scared. Scared as a turkey in November." But it too closely copies the sets and choreography from that earlier movie.
Where Astaire really shines (and where he was far better than Kelly (who was at his best in robust athletic routines with another guy)) is in his romantic dances with his leading ladies. The "Dancing in the Dark" number is a perfect example. All he needed was a good song, a romantic setting and a talented leading lady to create movie magic. It is easily the stand-out moment in the movie.
"By Myself" is, like Eric, one of my favorite moments and I love it when Fred and Jack Buchanan put on top hat, white tie and tails for ""I Guess I'll Have to Change My Plan". Scott you are right about "Louisiana Hayride". That song hasn't aged at all well.
I also have to agree that Jack Buchanan gets the most laughs. The scene where the other characters keep opening the door to the room where he is acting out the story in a highly melodramatic fashion is hilarious.
I'm surprised neither of my brothers mentioned the stunningly gorgeous Ava Gardner. In a cute cameo she demonstrates her ability to make an entrance.
Betty Comden and Adolph Green based the characters of Lester and Lily Marton on themselves, although unlike their screen counterparts they weren't husband and wife in real life. Besides Singin' in the Rain they had also written the stage musical (and later screenplay for) On the Town as well as the scripts for Good News and The Barkleys of Broadway which had paired Fred Astaire with Ginger Rogers for the 10th and final time in 1949.
Vincente Minnelli's famous eye for color is evident throughout this Technicolor extravaganza. The Band Wagon, while not entirely original, is still a highly entertaining and classic MGM musical. They sure don't make them like this anymore.

Photos © Copyright Metro-Goldwyn-Mayer (MGM) (1953)