Movie Review
Bambi
Love Comes To The Forest Folk . . . and to you, in one of the world's greatest love stories !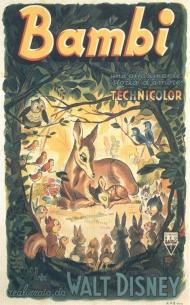 US Release Date: 08-21-1942
Directed by: James Algar, Samuel Armstrong,
Starring
▸
▾
Hardie Albright

,

as

Adolescent Bambi (voice)
Peter Behn

,

as

Young Thumper (voice)
Stan Alexander

,

as

Young Flower (voice)
Tim Davis

,

as

Adult Thumper / Adolescent Flower (voice)
Donnie Dunagan

,

as

Young Bambi (voice)
Sam Edwards

,

as

Adult Thumper (voice)
Ann Gillis

,

as

Adult Faline (voice)
Sterling Holloway

as

Adult Flower (Voice)
Reviewed on:
May 19th, 2011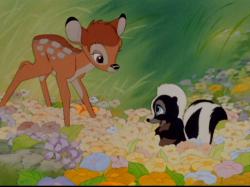 Bambi meets Flower.
Bambi, Walt Disney's fifth animated feature following Snow White, Pinocchio, Fantasia and Dumbo, should be every child's first movie. It is definitely aimed at the preschool set with its dreamy animation, limited dialogue and very basic life lessons. I have vivid memories of seeing it as a young child and although I hadn't watched it in more than 35 years many of the images in it had remained clear in my mind's eye.
The character of Bambi goes from newborn to grown up, hitting many milestones along the way. We join him as he discovers the world around him. He has his mother to protect and guide him and makes friends with a talkative young rabbit (Thumper who provides much of the comic relief) and a bashful skunk that Bambi mistakenly calls "Flower", which becomes his name.
There are many iconic moments in this story based on the book by Felix Salten. These include Bambi's initial visit to the meadow where he encounters other deer for the first time. His first experience with snow, sliding on a frozen pond, is perhaps the movies' most famous scene.
Then comes the heartbreaking moment when Man enters the forest. Bambi's mother is killed in what has become one of the most legendary deaths in cinema history. The young fawn's forlorn cries of, "Mother!" will stay with you long after the movie ends. In fact this is the one scene from any movie that my father admitted to crying over.
Bambi grows up, fights another buck for the affections of the pretty doe Faline and, in the movies' climax, survives a forest fire. The movie ends with the birth of his and Faline's fawns and with Bambi taking his place beside the old stag Prince of the Forest. Bambi is pure water-colored childhood magic.

Photos © Copyright Walt Disney Productions (1942)
Related Reviews