Movie Review
Ball of Fire
The New Year's red-hot comedy!
US Release Date: 12-02-1941
Directed by: Howard Hawks
Starring
▸
▾
Gary Cooper

,

as

Professor Bertram Potts
Barbara Stanwyck

,

as

Katherine "Sugarpuss" O'Shea
Oskar Homolka

,

as

Professor Gurkakoff
Henry Travers

,

as

Professor Jerome
S.Z. Sakall

,

as

Professor Magenbruch
Tully Marshall

,

as

Professor Robinson
Leonid Kinskey

,

as

Professor Quintana
Richard Haydn

,

as

Professor Oddley
Aubrey Mather

,

as

Professor Peagram
Dana Andrews

,

as

Joe Lilac
Dan Duryea

,

as

Duke Pastrami, one of Lilac's henchmen
Ralph Peters

,

as

Asthma Anderson, the other henchman
Kathleen Howard

,

as

Miss Bragg, the housekeeper
Allen Jenkins

,

as

Garbage Man
Mary Field

,

as

Miss Totten, the financial backer
Charles Lane

,

as

Larsen, Miss Totten's assistant
Charles Arnt

,

as

McNeary, Lilac's lawyer
Gene Krupa

,

as

Orchestra Leader
Elisha Cook Jr.

as

a nightclub waiter

Reviewed on:
March 6th, 2013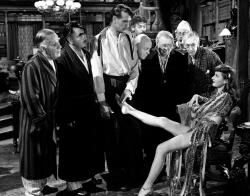 Barbara Stanwyck shows off her assets to Gary Cooper and the seven other professors in Ball of Fire.
Ball of Fire is a screwball comedy gem. Directed by Howard Hawks from a script by Billy Wilder and Charles Brackett, and starring Gary Cooper and Barbara Stanwyck, this is a nearly perfect movie. Loosely inspired by Snow White and the Seven Dwarfs it tells the story of a group of professors living together in New York City while working on an encyclopedia. One day, like a ball of fire, a wise-cracking dame with a dress slit up to there, calling herself Sugarpuss O'Shea enters their humdrum lives and things will never be the same.
Cooper plays against type as a nerdy professor. You just have to accept the rather unlikely fact that this gorgeous specimen of manhood has buried his life in academia and never bothered with romance. He proves himself quite adroit at comedy, playing befuddled and earnest while projecting natural appeal. Stanwyck is a hoot as the showgirl/gangster's moll/burlesque dancer. The witty script is filled with hilarious early 1940's slang.
The plot gets going when Professor Bertram Potts (Cooper) realizes that the slang he has compiled for the encyclopedia is hopelessly out of date. He sets out into the big city to update his information. At a nightclub he crosses paths with Sugarpuss O'Shea after watching her perform a number called "Drum Boogie" (Stanywyck's vocals were dubbed and the accompanying band was Gene Krupa's). She at first declines his offer to stop by and talk slang with him. Until she needs a place to hide out from the cops who are seeking her as a witness to a murder committed by her gangster boyfriend that is. Like Whoopi Goldberg in Sister Act she moves in to this cloistered world where, instead of nuns, she teaches these stuffy professors to lighten up and enjoy life. Within a few minutes she has them all doing a conga line.
The budding romantic relationship between Bertram and Sugarpuss plays out like Felix and Doris in The Owl and the Pussycat. In fact the story was originally called The Professor and the Burlesque Queen. Yes, Sugarpuss O'Shea is a stripper. In one scene she has trouble with a zipper on her gown and remarks casually to the professors, "You know, I had this happen one night in the middle of my act. I couldn't get a thing off. Was I embarrassed!"
The seven supporting professors are all played by familiar faces. They provide the movie with humor and heart. The scenes with them and Sugarpuss are some of the best in the movie. As for Cooper and Stanwyck, (this was their second movie together in 1941 following Meet John Doe) they have crazy chemistry together. Just watch the scene where Stanwyck stands on a couple of thick books and teaches Cooper the meaning of "yum, yum." They really light up the screen together in a classic case of opposites attracting.
Stanwyck got the part after Ginger Rogers, Carole Lombard and Lucille Ball had all been considered. She was Oscar nominated for her troubles. Sugarpuss O'Shea is one of the silver screen's great female characters and this is my favorite Barbara Stanwyck movie. Come to think of it this is my favorite Gary Cooper movie as well. He really proves himself to be a talented comic actor.
In some ways it foreshadows Billy Wilder's later classic Some like it Hot. Ball of Fire contains plot elements that were later used in other memorable movies. Besides the ones I already mentioned it was remade as a musical in 1948 called A Song Is Born, starring Danny Kaye and Virginia Mayo.
Ball of Fire is a book-end to the classic era of screwball comedy that was begun by Howard Hawks with Twentieth Century back in 1934. That movie is often credited with creating the blueprint for the genre, "A dizzy dame, a charming but befuddled hero, dazzling dialogue and a dash of slapstick." That certainly describes this movie as well. Ball of Fire hit theaters a mere five days before the attack on Pearl Harbor. Unfortunately the Second World War would put an end to this particular brand of zany comedy. Thankfully we have movies like this one, and Twentieth Century, to watch whenever we like.
Reviewed on:
December 6th, 2014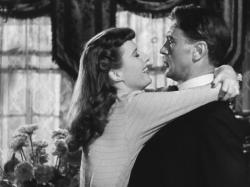 Barbara Stanwyck and Gary Cooper in Ball of Fire.
I too enjoyed this comedy, but not as much as Patrick. This may have been the last screwball comedy, but it certainly wasn't the best example of that genre. It lacks the zany spark of the classic comedies of the 1930s. There's a slower pace and the running time of nearly 2 hours feels long. The laughs are there, but they're more likely to make you say, "That's cute." rather than bust a gut.
Barbara Stanwyck is great. She steals all of her scenes and could only have been better if the script had been written in the pre-code days. This would have allowed her racy stripper character to be even racier. Her musical number could have been trimmed though, particularly since Stanwyck didn't perform her own singing anyway. Reportedly it was Cooper who recommended her for the part because they got on so well together on Meet John Doe. I disagree with Patrick that they share a crazy chemistry together. Cooper's stiff professor never feels like a match for her lively, streetwise gangster's moll and I never really bought into their romance. You can see why he would get hot and bothered over her, but genuine love feels like a stretch and her declaration of love for him is as equally unconvincing.
Cooper didn't possess a great range as an actor and usually stuck to his homespun, yokel persona. He's never very convincing here as the erudite professor. His line readings of the encyclopedia-babble fail to trip naturally off his tongue.
The supporting cast provides a few laughs. The professors, most of whom you will recognize even if you don't know their names, are instantly smitten by Stanwyck's Sugarpuss. Their banter, some of it filled with as much innuendo as allowed by the censors, is often quite funny.
Patrick mentioned the Seven Dwarfs connection and there's a plethora of references to it in articles about this film all across the internet. It really is a loose connection though. You have a woman staying in a house where seven eccentric old men live and that's about it. The plot itself bears no relation to Snow White. It just sounds good and generated publicity at the time of the film's release, with the studio even getting the professors to pose in front of pictures of the dwarfs for publicity photos.
It's not that this is a bad movie at all. I did enjoy it. Perhaps it's just that with a script by Billy Wilder (his last that he didn't direct) and direction by Howard Hawks, I was expecting more from it. It's amusing and lightly entertaining, but I wouldn't call it a classic.

Reviewed on:
May 14th, 2015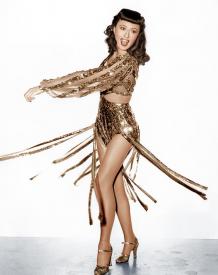 Barbara Stanwyck making like Rita Hayworth in Ball of Fire
I am with Scott on this one. I enjoyed Ball of Fire well enough but felt it runs too long and the pace was a bit slow. Too much time is given to other characters when it needed to focus more on Gary Cooper and Barbara Stanwyck. The jokes are too often simply based on O'Shea surprising the lonely intellectual men with her slang and sexual confidence.
Other than Cooper, the other seven professors are only distinguished by their unique voices. If you watch enough older films, several of them will sound very familiar. I think it was a mistake to cast only older men in the roles of the nerdy professors. There are a few awkward moments of the old men caught in their dressing gowns but come on, old men wouldn't care. It is not as if sex is even an issue. These guys are harmless on sight. Tully Marshall as Prof. Robinson was 76 in 1941.
Intentional or not, television's "The Big Bang Theory" mimicked this set up. A gorgeous sexually advanced girl enters the lives of a group of socially inept intellectuals. The sexual shock and tension works on "The Big Bang Theory" because of everyone's age being closer together. In Ball of Fire it looks like a bunch of grandfathers not knowing how to act around their granddaughter. When she first arrives at their home they stare at her like she is from another planet. Sure, this is a comedy but the set up works better on a contemporary television situation comedy.
My brothers both liked Barbara Stanwyck in the role and I agree she acts street smart very well. Playing common girls was indeed her forte. Where she fails is in playing a cabaret performer. I kept thinking how good Rita Hayworth would have looked performing "Drum Boogie" in that skimpy dress and they could have actually had her dance instead of just standing and sitting as Stanwyck basically does.
Scott mentioned that had this been pre-code the story could have been more risqué and benefitted as such. The film has one moment where it implies that O'Shea is more than just a singer. When she cannot get her zipper to work, she tells the professors, "You know, I had this happen one night in the middle of my act. I couldn't get a thing off. Was I embarrassed!" That line pretty much describes a scene in Gilda (1946) where Rita Hayworth played a stripper.
Ball of Fire works as a dated film about slang of the time. Some of it is enjoyably cute; "Don't tell me the jive session has beat off without baby!" which obviously means, within the context of the story, that O'Shea is late to a meeting. Other lines require some knowledge of the time. When O'Shea calls the telephone, "the Ameche" she explains that it is called that because he invented it in a movie. What she does not explain is that she is referring to actor Don Ameche who starred in The Story of Alexander Graham Bell in 1939.
I found Patrick's note about Ball of Fire coinciding with the attack on Pearl Harbor to be historically fascinating. Screwball comedies worked in the depression era as they often featured nutty characters that audiences could not only laugh with but also at. Economic times were tough and it helped to lift their spirits by allowing them to feel, even slightly, superior to the flawed characters on screen. World War II put things into perspective and united people of economic and intellectual differences.
Photos © Copyright MGM (1941)
Related Review