Movie Review
The Baker
It's a recipe for disaster.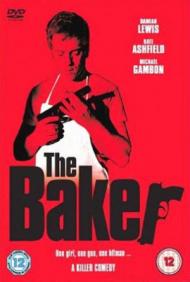 Spain Release Date: 05-26-2008
Directed by: Gareth Lewis
Starring
▸
▾
Damian Lewis

,

as

Milo
Kate Ashfield

,

as

Rhiannon
Nikolaj Coster-Waldau

,

as

Bjorn
Dyfan Dwyfor

,

as

Eggs
Steve Speirs

,

as

Bryn
Michael Gambon

as

Leo


Reviewed on:
September 15th, 2010
Milo learns to bake, as well as deal with an odd assortment of characters.
What is with the fascination of the domesticated spy? From True Lies to Mr and Mrs Smith To Killers, the idea of secret agents living in suburbia as normal folks has been turned into many movies. One such film you may not have heard of, but still worth seeing, is the British comedy, The Baker.
Damian Lewis plays Milo, an assassin on sabbatical in a small English village. He takes up residence in a bakery, making the towns folk think he is there to open the bakery back up. He goes along with it as cover, but soon discovers he likes baking.
A young man, Eggs, finds Milo's gun and figures out his real profession. He gets a job working for Milo in the bakery. Eggs thinks he is an assassin in training, while Milo thinks of him as just bakery help. Milo has no idea that his secret is out, and spreading through the town.
One man orders a chocolate cake from Milo thinking he is ordering a hit on his hideous wife. When his wife ends up dead from a gas explosion, he believes the assassin completed the assignment. Soon other folks in town start showing up at the bakery to order chocolate cakes for someone they want dead. Milo has no idea why his chocolate cakes are suddenly so popular.
Milo has meanwhile fallen in love with a local girl. A fellow assassin is assigned to take Milo out and he comes looking for him for more than one reason. Milo discovers he likes the simple, slow pace of the small town. Everyone else however, seems to want him to stay an assassin.
The Baker is filled with quirky characters and funny moments. Although it features an assassin, it is for the most part very family friendly. Eggs easily steals the movie. He lives in a small trailer, likes to blow up sheep, and read about conspiracies.
Damian Lewis is best known as the level headed American Army officer in HBO's Band of Brothers. The London born actor keeps the film together acting as the straight man as everyone around him acts up. Damian's brother Gareth wrote and directed this for him. It is very British, with its dark humor and quirky characters. My only complaint is that it could have gone slightly darker. Still, The Baker is a nice little British comedy that is definitely worth the watch.
Reviewed on:
October 9th, 2010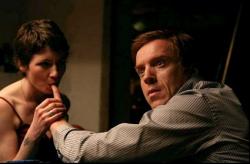 Kate Ashfield and Damian Lewis in The Baker.
The movie you didn't mention Eric, that The Baker reminded me most of, is Grosse Pointe Blank. Both of them are about a burned out hitman who's now starting to question his profession. They both even have a scene where the main character is talking to himself, practicing an introduction where they both describe themselves as killers. While I think Grosse Pointe Blank is still the better movie, like you, I did enjoy The Baker even if it was only in a mild way.
Part of the problem with the movie is that it plays it all very safe and family friendly. A movie starring an assassin needs to be at least a little dark, but the humor here is quirky and mild. There's very little action, but quite a few colorful characters, even if none of them are very fully developed.
The love story angle is equally weak, with Milo and Rhiannon seeming to fall in love based solely on the fact that they're both out-of-towners. They're both likable and the making love in the kitchen scene is funny, but their chemistry isn't enough to elevate this to a romantic comedy.
My biggest problem though is that the script starts strongish with Milo, but when he gets to the small Welsh village, the focus shifts to the secondary characters and away from him. We don't learn anything about him and he's given very little personality.
There are some funny moments. I agree that Eggs is one of the funnier characters. And the Fish and Chips shop owner's wife is disgustingly vile in a funny way. It's just all kept so light and mild that all the jokes feel like they are at the level of a sitcom.
More chuckle-inducing than side-splitting, The Baker is a nice little movie, but it's more of a cupcake than a souffle.
Reviewed on:
April 19th, 2012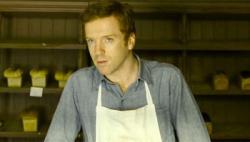 Damian Lewis is The Baker.
"When I bake, I'm Free." So says Milo "The Baker" Shakespeare in this delightfully quirky hit-man-in-the-country farce. Yes the reluctant hitman who's grown a conscience has been done many times before but The Baker produces a fresh crust on a stale loaf.
I agree with most of the criticisms Scott mentioned but I still rather enjoyed this charming bit of cinema. Sure given the premise the humor is kept on the lighthearted side and there really isn't much character development to speak of but the story moves at a brisk pace and the cast is filled with colorful personalities.
I really enjoyed the eclectic variety of music used to underscore many of the scenes. Several of which are delightfully choreographed to fit the music, most notably during the sex-in-the-kitchen scene Scott mentioned. The songs are by such diverse talents as Richard Atkinson, Yma Sumac, Jimmy 'Bo' Horne, and Harry Belafonte.
The cast is excellent. From Damian Lewis on down to the smallest supporting role every performance is spot on. I concur with Eric and Scott that the young actor with the weird moniker of Dyfan Dwyfor steals the movie as Eggs, Milo's wannabe assassin assistant. I didn't suspect the twist in the ulterior motive for Bjorn's vitriol against Milo, although it is played more as an afterthought than an actual plot device. The finale is properly odd with the rival hitmen "jousting" in the ruins of a medieval castle surrounded by the townsfolk dressed in period costume.
Perhaps I appreciated this movie on a deeper level than some as I have been a professional baker for the past 25 years now. It's a very old and noble vocation but not one that is often depicted in movies. Milo discovers his passion for baking after years of killing people for money. While I can't say that baking makes me feel free exactly, it does pay the bills so that I can watch funny movies like this.
Photos © Copyright Grandville Pictures (2008)