Movie Review
The Bad and the Beautiful
I took you out of the gutter . . . I can fling you back!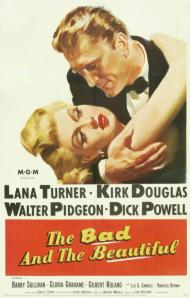 US Release Date: 11-25-1952
Directed by: Vincente Minnelli
Starring
▸
▾
Lana Turner

,

as

Georgia Lorrison
Kirk Douglas

,

as

Jonathan Shields
Walter Pidgeon

,

as

Harry Pebbel
Dick Powell

,

as

James Lee Bartlow
Barry Sullivan

,

as

Fred Amiel
Gloria Grahame

,

as

Rosemary
Gilbert Roland

,

as

Victor 'Gaucho' Ribero
Leo G. Carroll

,

as

Henry Whitfield
Vanessa Brown

,

as

Kay Amiel
Paul Stewart

,

as

Syd
Sammy White

,

as

Gus
Elaine Stewart

,

as

Lila
Ivan Triesault

,

as

Von Ellstein
Barbara Billingsley

,

as

Evelyn Lucien, Costume Designer
Francis X. Bushman

,

as

Eulogist
Louis Calhern

,

as

Georgia Lorrison's Father (voice)
Kathleen Freeman

as

Miss March
Reviewed on:
March 3rd, 2014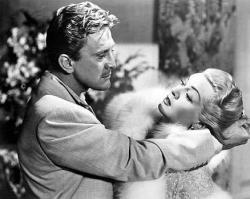 Kirk Douglas and Lana Turner in The Bad and the Beautiful.
This glossy black & white melodrama from MGM in 1952 tells of the rise and fall of a legendary Hollywood producer. It is filled with juicy details about what goes on behind the scenes in the motion picture business. Many of its characters and incidents were based on real people and actual movie productions, easily recognizable to audiences of the early 1950s (and movie buffs of today). Kirk Douglas and Lana Turner both give riveting, highly charged performances under the direction of Vincente Minnelli. To this day The Bad and the Beautiful holds the distinction of being the movie with the most Oscars wins (5) that wasn't nominated for Best Picture.
After director Fred Amiel (Sullivan), movie star Georgia Lorrison (Turner), and screenwriter James Lee Bartlow (Powell) all refuse to speak to producer Jonathan Shields (Douglas) by phone they gather in the office of movie producer Harry Pebbel (Pidgeon). He explains to them that Shields wants the three of them for his new picture. Although once at the top of the heap, Shields has fallen on hard times and cannot get financial backing without their involvement. The movie then tells each of their stories in relation to Jonathan Shields, in flashback, complete with voice-over narration and noir-like camera work.
Each of the three played a significant role in Jonathan Shields' rise up the Hollywood ranks. He, in turn, betrayed each of them, although his actions inadvertently led to their eventual ascension to the top of their fields. Their stories offer an intriguing, if melodramatic, look at the inner workings of classic era Hollywood. Jonathan Shields is a combination of David O. Selznick and Val Lewton (among others). He is shown making movies that are clearly based on Lewton's The Curse of the Cat People, and Selznick's Gone with the Wind.
The best section of the movie deals with the relationship between Shields and Lorrison. She's the daughter of a famous, recently deceased, alcoholic movie star (think John Barrymore - it was widely assumed that Georgia was based on his daughter Diana, who, like Georgia tried her hand at acting around the time of her father's death). Kirk Douglas is very good as Jonathan Shields, a completely selfish man who's consumed with ambition and obsessed with attaining success in the movies at any cost to the lives of those around him. Lana Turner's beauty sometimes overshadowed her acting talents. It's true her range was limited but she was more than just a pretty face and a personality. She is rather unforgettable in the movie's most famous scene where she goes into hysterics while behind the wheel of a car.
The one thing that always strikes me as the most unique aspect of The Bad and the Beautiful is the fact that it never seems to make up its mind about Jonathan Shields. Is he the villain or the hero? He is flawed certainly, but he is also portrayed as a filmmaking genius, who made the careers of these other three characters (even as he wreaked havoc on their personal lives). The slightly ambiguous final scene seems to suggest he gets no comeuppance for his selfish actions. I guess in Hollywood the chance to be part of a great movie outweighs any personal animosity.
The cast includes Gilbert Roland, who seems to be playing a parody of himself as the suave, womanizing, Latin movie star, Gaucho, and Gloria Grahame won an Oscar for Best Supporting Actress for her role as the southern belle wife of Dick Powell. Leo G. Carroll and Kathleen Freeman have small roles as a difficult director and his assistant that were based on Alfred Hitchcock and his wife Alma Reville.
The script for The Bad and the Beautiful may sound a bit dusty to modern ears, but it nevertheless remains a compelling, often sardonic, self-portrait of the golden age of the studio system. The memorable cast and inspired direction add to its luster.
Photos © Copyright Metro-Goldwyn-Mayer (MGM) (1952)