Movie Review
Baby Face
She climbed the ladder of success - wrong by wrong!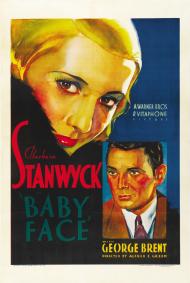 US Release Date: 07-01-1933
Directed by: Alfred E. Green
Starring
▸
▾
Barbara Stanwyck

,

as

Lily Powers
George Brent

,

as

Courtland Trenholm
Donald Cook

,

as

Ned Stevens
Alphonse Ethier

,

as

Adolf Cragg
Henry Kolker

,

as

J.P. Carter
Margaret Lindsay

,

as

Ann Carter
Arthur Hohl

,

as

Ed Sipple
John Wayne

,

as

Jimmy McCoy Jr.
Robert Barrat

,

as

Nick Powers
Douglass Dumbrille

,

as

Brody
Theresa Harris

as

Chico

Reviewed on:
January 4th, 2012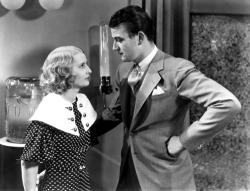 Barbara Stanwyck and a baby-faced John Wayne in Baby Face.
Baby Face is perhaps the most notorious of all the pre-Code movies. It was in fact so shocking that it was rejected by the New York State Board of Censors even before the Hay's Code went into strict enforcement. Several scenes were cut and a less ambiguous ending was tacked on before it was allowed in theaters. After the Code cut its teeth in 1934 (and even with the changes already made) Baby Face was one of the first movies to be banned from public display. The original pre-release version was restored in 2004 and it is easy to see why it caused such a furor.
How's this for starters. Barbara Stanwyck plays the title character, a young woman being pimped-out by her father to customers at his speakeasy in Erie, Pennsylvania. In one early scene she gets her breast groped by a slimy politician and breaks a beer bottle over his head. Her best moment comes when she tells off her revolting father, "Yeah, I'm a tramp, and who's to blame? My Father. A swell start you gave me. Ever since I was fourteen, what's it been? Nothing but men! Dirty rotten men! And you're lower than any of them. I'll hate you as long as I live!"
She leaves for the big city and sneaks aboard an empty train car at night. When she gets caught by a train inspector what's a girl to do but have sex with him to avoid being turned over to the police. After making it to Manhattan she uses her sexuality to get a job at a bank and then proceeds to sleep her way, literally, to the top. The camera shows this progression by filming the exterior of the tall art deco building and then panning up floor by floor. It is a very effective technique.
Lily Powers, AKA Baby Face, leaves a line of brokenhearted men in her wake the likes of which hadn't been seen since Theda Bara's heyday. Much drama and even violence ensues but somehow Lily manages to keep her reputation intact and her hands clean. This is the movie's biggest flaw. These men are idiots that believe every word she utters.
One of the men she meets on her climb up the corporate ladder is played by a young John Wayne. Talk about a baby face, he looks like a cherub. He gets only a few short scenes and his screen presence was not yet fully developed but the voice is unmistakable.
George Brent plays Courtland Trenholm (was he in every pre-Code movie?), the president of the bank where Lily works. Eventually her climb brings her to his summit. SPOILER ALERT: Apparently the original movie ended with Courtland's suicide but it was rejected by the censors. Instead they insisted on a happy ending where Lily and Courtland get together and it suggests she is a changed woman. In my opinion this makes the movie even more powerful as Lily never really pays for her reckless behavior. In the censor approved post-Code version it is explicitly stated (in that tacked on scene) that she has given up all the wealth her body has earned, married Courtland and moved back to Erie!?
Baby Face is rightfully notorious. Women in pre-Code Hollywood movies were allowed to be much more fully developed than after the Codes enforcement. Along with Ruth Chatterton's Alison Drake in Female, Stanwyck's Lily Powers is the type of woman that wouldn't be seen again in films for nearly half a century. In pre-Code movies a female heroine could blatantly use her sexuality to climb to the top and still have a happy ending. Be sure to watch the restored pre-release version.

Reviewed on:
January 8th, 2012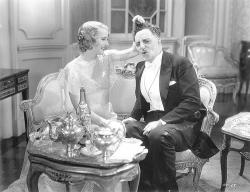 Barbara Stanwyck and Henry Kolker in the notorious Baby Face
Just to make it clear, when Patrick says, "The camera shows this progression by filming the exterior of the tall art deco building and then panning up floor by floor." he's right of course, but don't be mistaken in thinking that he means it's used as mere innuendo to imply that she's sleeping her way to the top as might happen after censorship started. Oh no. This movie is quite explicit in its detailing how she has sex with men to get a raise around the office. This open acknowledgement of sex is part of why I love these pre-code movies. And on that basis, there's plenty to love about this one.
I've never really thought of Stanwyck as beautiful, but she's attractive enough here. Not having her be overly gorgeous actually helps her character to be more believable. She's pretty enough, but there are other women in the office who are prettier, but they're not offering what she's offering. And as far as acting ability goes, she's top notch. She's hard nosed about what she wants and quite cold in one scene, but I still wanted Baby Face to come out on top and that's down to Stanwyck's performance.
The plot is pure soap opera. It's high quality, entertaining and well-acted soap opera, but soap opera nonetheless. The mature attitude toward sex, Stanwyck's habit of not wearing a bra and some of the more shocking elements in the story made it stand out from tamer fare, but now it could be the average plot of any drama on television.
Most of the men are treated as weak willed idiots once they're caught in Baby's charms. Patrick, you mentioned Theda Bera and like in her A Fool There Was, the story here seems to imply that all the fault is on the woman's side. The men were powerless to say no. Not that this is exactly new. What is the story of original sin, if not the same thing, with poor old Adam being unable to say no to Eve.
The John Wayne cameo stands out as a curiosity. I'm sure no one could imagine when they saw him in his brief scenes as one of the first rungs on Baby's ladder that he would someday become one of the most famous men on the planet.
Just out of curiosity I watched the altered ending that the censors demanded. If you're curious, do the same, but as Patrick said, be sure to watch the pre-release version first. The edited/altered version merely weakens the story.
At just an hour and fifteen minutes, this sex filled story speeds right by. Although the big draw is to see one of Hollywood's more notorious films, there is some real entertainment value as well.

Reviewed on:
April 12th, 2012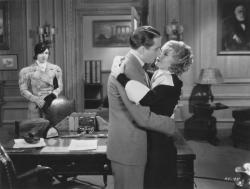 Lily Powers in her favorite position, compromising.
Like my brothers, I watched the prerelease version. Lily Powers has no objection to using her ass to get what she wants. Early on she gets pissed off that it's been used to benefit her disgusting father and not her. An elderly "gentleman" tells her that she can go anywhere and do anything she wants in the world if she just uses men. "Exploit yourself." He tells her and exploit herself she does.
When she first arrives at the employment agency, the man asks her, "Have you had any experience?" She smiles and responds, "Plenty." Not only does she have many experiences but she soon has more as she climbs the ladder. The scenes of her advancement are some of the best parts of the movie. The likes would not be seen again until Madonna played Eva Peron doing the "Goodnight And Thank You" number in Evita. Not only does Lily's job change but so does her hairstyle, wardrobe and apartments.
As a kid I watched Big Valley reruns, in which Barbra Stanwyck played the matriarch of a wealthy family living on a large ranch. Lily Powers is leaps and bounds away from Victoria Barkley. When she gets her breast groped by the politician, in the scene Patrick wrote about, she casually breaks a beer bottle over his head and then keeps on drinking her beer. When one of her lovers kills another, she reacts with indifference. This is one seriously cold bitch.
Like Scott, I did not like how the men were written. She lies to every man she screws and these saps eat it up. When she pretends to have her heart broken by one man, another older man asks her sympathetically if he were her first. She says yes and he believes her. If these men were younger, I would buy their ignorance. Do they think she was born with fellatio skills? These guys are not virgins. Some of them would have noticed her lack of social manners and experience in bed. Her baby face seems to keep her secret well hidden.
It is not until Courtland shows up that a man finally sees through her ruse. She over played her hand when she asked for 5,000 more dollars for her diary to not be published. Lily Power however, does not give up so easily. She and Courtland play a battle of sexual wits that make him her greatest victory.
Photos © Copyright Warner Bros. Pictures (1933)