Movie Review
Babes on Broadway
Youth Has Its Fling !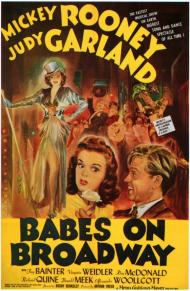 US Release Date: 12-31-1941
Directed by: Busby Berkeley
Starring
▸
▾
Mickey Rooney

,

as

Tommy Williams
Judy Garland

,

as

Penny Morris
Fay Bainter

,

as

Miss Jones
Virginia Weidler

,

as

Barbara Jo
Ray McDonald

,

as

Ray Lambert
Richard Quine

,

as

Morton Hammond
Donald Meek

,

as

Mr. Stone
Alexander Woollcott

,

as

Himself
Luis Alberni

,

as

Nick
James Gleason

,

as

Thornton Reed
Emma Dunn

,

as

Mrs. Williams
Frederick Burton

,

as

Mr. Morris
Cliff Clark

,

as

Inspector Moriarity
William Post Jr.

,

as

Announcer
Donna Reed

,

as

Jonesy's Secretary
Anne Rooney

,

as

Jenny
Margaret O'Brien

as

Maxine, Little Girl at Audition
Reviewed on:
May 10th, 2013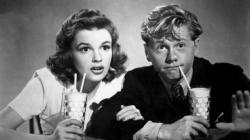 Judy Garland and Mickey Rooney in Babes on Broadway.
Babes on Broadway was the third of the Rooney/Garland backyard musicals. As the title suggests, this one takes place in Manhattan and their "backyard" is a city block. This time the kids put on a show to raise money to send inner-city orphans to summer camp. Sure it's pure hokum but whenever the stars perform it comes magically to life. The plot also involves the gang attempting to get the attention of a big-time producer (the wonderful James Gleason) with the assistance of his faithful girl Friday (the under-appreciated Fay Bainter) who just happened to discover Rooney performing as part of a trio at an out-of-the-way little spaghetti joint.
Rooney memorably meets Garland hiding behind a newspaper in a drug store. He tells her, "I was a failure yesterday, now look at me today!" To which she replies, "You mean you even looked worse yesterday?" Their first song together is one of the simplest yet most enjoyable numbers they ever committed to film. Mickey and Judy introduce the Burton Lane, Ralph Freed standard "How About You" as they sing and dance around a piano in Garland's father's apartment. It is pure musical whimsy.
Other musical highlights include Garland's rousing rendition of "Chin Up! Cheerio! Carry On!" which she sings on the radio being broadcast to England for the parents of British refugee war children who are in the audience in New York. This was one of the first Hollywood musicals to acknowledge WWII. Although it premeired after Pearl Harbor it had been filmed before America's entry into the global conflict.
A big production number in a barnyard setting is called "Hoe Down". The two stars (along with a huge cast of young performers) give one of the most exuberant musical performances ever conceived, choreographed, staged and shot. They are both in constant motion, each seeming to feed off the others' manic energy. Busby Berkeley was known as a director that pushed his stars to their limits and I can only imagine what rehearsals for this number were like. This picture also marked the first time Garland worked with her future husband Vincente Minnelli. He directed a few of her solo numbers. Ironically it was during production of Babes on Broadway that Judy Garland eloped with husband number one, band leader David Rose.
Mickey and Judy show off their seemingly limitless versatility in an extended fantasy sequence that takes place on an old deserted stage. Rooney imitates Richard Mansfield as Cyrano de Bergerac, then does a ripe Scottish accent as Harry Lauder before launching into a George M. Cohan inspired "Yankee Doodle Boy" a year before Cagney snagged an Oscar playing him in Yankee Doodle Dandy. Garland meanwhile channels Fay Templeton to sing another Cohan classic "Mary Is a Grand Old Name", then gives us "La Marseillaise" in French as Sarah Bernhardt! These two oozed talent. As a kicker Rooney dons drag to do a spot-on, hilarious impression of Carmen Miranda singing "Mama Yo Quiero".
The one blemish on the otherwise flawless musical numbers in this movie is the fact that the penultimate number is a minstrel show tribute done in blackface. If you can get past that fact then these are highly enjoyable songs and dances. Judy blows the roof off with "Franklin D. Roosevelt Jones" and "Waiting for the Robert E. Lee" is another show stopper. Thankfully for the finale-finale the stars are out of blackface and into formal wear as they descend steps on a huge stage, with all the lights in the world twinkling in the background, as they belt out the title song. What a finish!
Babes on Broadway features a few famous faces in cameos or bit parts. Famed critic, and member of the legendary Algonquin Round Table, Alexander Woollcott appears as himself. Donna Reed was unbilled as a secretary and a four year old Margaret O'Brien made her movie debut as a little girl auditioning. She gets one of the biggest laughs when she very melodramatically says, "Don't send my brother to the chair! Don't let him burn! Please, please warden please!" while standing on a desk.
Babes on Broadway has a trite plot and the embarrassment of a blackface number but for all its flaws it is a work of pure genius whenever Mickey and Judy are performing on stage. It is what they were both born to do.
Photos © Copyright Metro-Goldwyn-Mayer (MGM) (1941)
Related Reviews