Movie Review
Babes in Arms
The big musical fun show!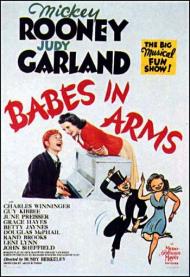 US Release Date: 10-13-1939
Directed by: Busby Berkeley
Starring
▸
▾
Mickey Rooney

,

as

Mickey Moran
Judy Garland

,

as

Patsy Barton
Charles Winninger

,

as

Joe Moran
Guy Kibbee

,

as

Judge John Black
June Preisser

,

as

Rosalie Essex
Grace Hayes

,

as

Florrie Moran
Betty Jaynes

,

as

Molly Moran
Douglas McPhail

,

as

Don Brice
Margaret Hamilton

,

as

Martha Steele
Johnny Sheffield

as

Bobs

Reviewed on:
December 11th, 2010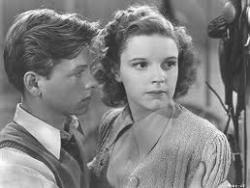 Mickey Rooney and Judy Garland ooze charisma!
Babes in Arms is another memorable movie from the seemingly endless parade of classics to come out of Hollywood in 1939. This was the first of the Mickey Rooney/Judy Garland "Let's put on a show" musicals and the third of ten movies they would both appear in. It was a huge hit both commercially and critically. Rooney even earned himself a Best Actor Oscar nomination.
Rooney and Garland play Mickey Moran and Patsy Barton the children of vaudeville veterans. Not much of a stretch since both of them came from vaudeville stock in real life. With the coming of the talkies and the growing popularity of radio vaudeville began to disappear in the early 1930's.
Mickey and Patsy's parents fall on hard times and are unable to get work in the theater. Soon they face losing their homes when they cannot pay their mortgage notes. On top of this the neighborhood busybody (Margaret Hamilton doing a slight variation on Miss Gulch) threatens to force Mickey, Patsy and their friends into a "work" school for children.
What are these kids to do but roll up their sleeves and put on a show.
Sure the plot is predictable but this movie has plenty of heart. Charles Winninger as Mickey's father Joe is good. He has one especially poignant scene where he gets a job as a rehearsal assistant for a big time Broadway producer. What he doesn't know is that Mickey is hiding under the producer's desk and has put the man up to hiring his father.
Speaking of Rooney, as an already established star he carries the movie, getting quite a bit more screen time than Garland, who was then on the cusp of stardom. During a rehearsal scene for the show they are planning he does spot on impressions of Clark Gable and Lionel Barrymore. He would reprise this hilarious routine 4 years later in Thousands Cheer.
The pedigree behind the talent this movie boasts is quite extraordinary. It was loosely based on a Rodgers and Hart stage hit. It was the legendary Arthur Freed's first movie as producer for MGM and director Busby Berkeley had just defected from Warner Bros.
The score is filled with iconic standards of the day, several of which Arthur Freed would recycle 13 years later for the movie Singin' in the Rain. These include, "Good Morning", "You Are My Lucky Star" and "Broadway Rhythm". Other songs include the title track also "Where or When" and "I Cried for You". This last one is sung plaintively by Garland after Mickey has given her part in the show to another girl.
As was a common practice in those days a minstrel number is included in the big show. Both Rooney and Garland prance around the outdoor stage in blackface until, thankfully and fittingly, a hurricane comes along and stops the show cold.
Babes in Arms may be a product of its time but the talents of Judy Garland and Mickey Rooney are timeless.

Reviewed on:
March 1st, 2015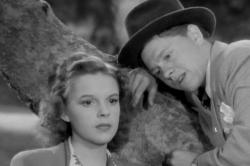 Judy Garland and Mickey Rooney in Babes in Arms.
I've never been a fan of Judy Garland to the degree that Patrick has always been. Sure, she could belt out a tune better than anyone from her era, but her movies never left me enthusiastic. However, seeing her in an early role like this one helps me see her appeal. Before the booze and pills took their toll and made her old before her time, she was able to play the plucky girl next door with charm and self-effacing wit. She wasn't glamorously beautiful, but she was cute as a button. As Patrick indicated, she's playing the co-star to Rooney's star here, but she lights up the screen whenever she's on it. Clearly she was seen as having a bright future as it was at the premiere of this film at Grauman's famous Chinese Theater in Hollywood that she left her hand prints in concrete in the theater's forecourt.
This is Rooney's picture and he runs with it. He was a small man, but he packed a lot of energy into such a small frame. He almost never stops moving. Sure, he's just playing a more confidant and talented Andy Hardy, but he's so likable it doesn't matter. The highlight of his performance and of the entire film is the Gable/Barrymore imitation scene. It's not just that his impersonation is so good, but the way he moves so quickly between the two characters. He's the perfect co-star for Garland. Like her, he's not traditionally good looking and was way too short to be a leading man, but he was just so damn likable. It's impossible not to get caught up in his enthusiasm.
As Patrick mentioned, the plot is based very loosely on a Rodgers and Hart stage musical. However, only 3 songs would survive the transition from stage to screen. The title song, "The Lady is a Tramp", and "Where or When" were the only three to make the cut. The original play had political overtones and featured two African-American characters who are shown as victims of prejudice. How ironic that the film version features a Minstrel number complete with blackface.
The film is produced by Arthur Freed, who worked uncredited on The Wizard of Oz with Garland and Margaret Hamilton, both of whom appear here. Freed is famous for insisting that "Somewhere Over the Rainbow" not be cut from Oz when studio head Louis B. Mayer wanted it removed to speed up the opening. According to legend, Freed told Mayer that, "The song stays or I go." and the rest is history. His reward was being put in charge of his own musical unit. Babes in Arms was that unit's first production.
Seeing Busby Berkeley's name as director lead me to believe I would be seeing some over the top musical numbers that could never actually be performed on a stage. However, the famous choreographer seems to have moved beyond that phase of his career by the time this movie was released as he's content to stay out of the way and let the story and the songs speak for themselves.
I agree that the plot is predictable, but anyone watching this movie expecting plot twists is obviously watching the wrong movie. You don't watch a movie like this because you want to be surprised. You watch a movie like this because you know exactly what to expect. And what you can expect is a pair of old time movie stars in the prime of their youth pouring their talent out all over the screen for your enjoyment. All you have to do is sit back and let these kids do their thing by putting on a show just for you.
Photos © Copyright Metro-Goldwyn-Mayer (MGM) (1939)
Related Reviews