Movie Review
The Awful Truth
The Screwballest Comedy of them All!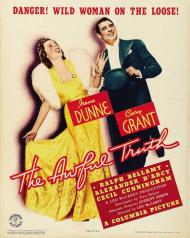 US Release Date: 10-21-1937
Directed by: Leo McCarey
Starring
▸
▾
Irene Dunne

,

as

Lucy Warriner
Cary Grant

,

as

Jerry Warriner
Ralph Bellamy

,

as

Daniel 'Dan' Leeson
Alexander D'Arcy

,

as

Armand Duvalle
Cecil Cunningham

,

as

Aunt Patsy
Molly Lamont

,

as

Barbara Vance
Esther Dale

,

as

Mrs. Leeson
Joyce Compton

,

as

Dixie Belle Lee
Robert Allen

,

as

Frank Randall
Robert Warwick

,

as

Mr. Vance
Mary Forbes

as

Mrs. Vance

Reviewed on:
February 16th, 2006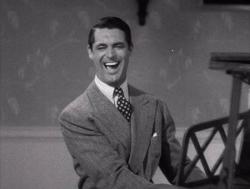 Cary Grant in The Awful Truth.
The Awful Truth is a quintessential 1930's screwball comedy. It also provided a major boost to the rising career of Cary Grant. The plot is light as a feather but will most assuredly tickle your funny bone.
Grant and Dunne are Jerry and Lucy Warriner, a madcap Manhattan society couple bent on divorce. In those days it took 90 days for a divorce to become final. Over the course of those 3 months these 2 each embark on a new relationship and at the same time do whatever they must to sabotage the other's budding romance.
I was never a huge fan of Irene Dunne, that is until I watched this movie. She is funny as hell in it. She has many great moments, from her first impressive entrance sweeping into their apartment in an all white - and oh so glamorous - fur, to my favorite moment of hers', where she pretends to be Jerry's loudmouthed and completely uncouth sister in order to turn off the snotty heiress he's become engaged to. She really shines as a comedienne.
For Cary Grant this is probably the first complete version of his iconic screen persona. The witty, debonair, impossibly handsome man-about-town with a flair for hair-trigger dialogue, but one that could also do a double-take or a pratfall like a silent movie comic. There is one very famous moment where he sits in a chair, leans back against a wall and then falls backwards. It is one of those clips that is always shown on television.
There is a scene where Cary Grant goes to find Irene Dunne, thinking she is with a man, of course she turns out to be singing in front of a room full of people. The Japanese servant at the house (played by Miki Morita) gets in a martial arts scuffle with Cary Grant. It is a brief but hilarious moment and I'm sure it must have influenced a young Peter Sellers since he staged similar scenes in his Pink Panther movies.
Ralph Bellamy was Oscar nominated for his supporting role as Dan Leeson, the wealthy but provincial Oklahoma businessman vying for Irene Dunne's affections (much like he would do for Rosalind Russell's in His Girl Friday, but honestly who would stand a chance against Cary Grant?) And Asta, the famous dog from The Thin Man movies gives an understated performance as "Mr. Smith" the pet that Jerry and Lucy battle for custody of.
This movie is full of little sparkling comic gems. Like the cat holding the door closed against Cary Grant in the final scene. Laugh for laugh The Awful Truth might just be the funniest screwball comedy of them all.

Reviewed on:
September 11th, 2012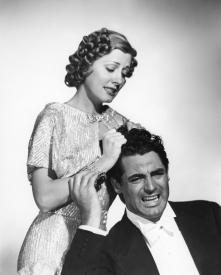 Irene Dunne and Cary Grant in The Awful Truth
Cary Grant and Irene Dunne are both truly great here. They each get to deliver such memorable lines as, "The road to Reno is paved with suspicions." and "I told him the truth, and strange enough, he believed me." They also get to act up. Notice how Dunne introduces Grant to Bellamy or how embarrassed Grant is at the night club when his southern belle girlfriend sings, "...gone with the Wind." and her skirt blows up.
The supporting cast does its best to keep up. I laughed when Dunne's lawyer keeps telling his wife to "Shut up!" while having a telephone conversation with Dunne about how marriage is a beautiful thing. At one point, Bellamy says to Dunne, "I certainly learned a lot about women from you." Her aunt then hands him a Dear John letter from Dunne and says, "Here's your diploma."
My personal favorite line is when Bellamy says to Grant about New York, "It's a nice place to visit..." Grant then finishes the line with him, "...but I wouldn't want to live here." After having visited New York, I used that line countless times, but the joke is that apparently so have lots of people.
The Awful Truth is a perfectly cast delightful romantic comedy. Grant and Dunne share amazing screen chemistry, bouncing one liners off each other. It is funny from start to finish. Like Patrick, I found the most hilarious scene being when Dunne pretends to be Grant's sister. Few actresses could steal a scene from Grant, but Dunne does it throughout the film.
Reviewed on:
October 20th, 2012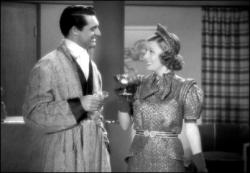 Cary Grant and Irene Dunne in The Awful Truth.
Of all the kinds of movies that they just don't make anymore, I miss screwball comedies the most, of which The Awful Truth is a classic and delightful example. Although even if someone decided to try and make another one, where would they find a couple as talented and charismatic as Cary Grant and Irene Dunne? They couldn't obviously, but I still wouldn't mind seeing someone try. Just watching a comedy aimed at grown-ups would make a nice change.
As Patrick wrote, this is the movie that is credited as being the birth of the sophisticated, charming, comic persona of Cary Grant. Director Leo McCarey has taken credit for helping develop it during the improvisation that took place on this film. Reportedly Grant didn't take to the director's style right away, and asked to be taken off the film halfway through shooting, even offering to pay $5,000 to cover his expenses. Thankfully for movie audiences for decades to come, the studio refused to let him out of the movie. Instead, Grant's nervous tension at the loose style of filming simply adds to his character.
I wholeheartedly agree with my brothers that Dunne is more than a match for Grant. She not only gets as many laughs as he does, they share a great chemistry together. As Ralph Bellamy's character says to her at one point, after watching she and Grant argue, "Back on my ranch, I got a little red rooster and a little brown hen and they fight all the time too, but every once in a while they make up again and they're right friendly." Grant made some very famous, and some very good movies with Katharine Hepburn, with whom he shared a great comic chemistry, but there's an added layer of sexual chemistry here with Dunne.
Dunne is a delight throughout the picture, but I again agree with my brothers that her big moment comes when pretending to be Grant's sister. It's pure farce, but she plays it perfectly. Grant must simply sit back and react with the rest of us.
Although McCarey liked to improvise, the script still contains some very funny and some very well written dialogue. Grant gets this memorable line near the film's climax, "You're wrong about things being different because they're not the same. Things are different, except in a different way. You're still the same, only I've been a fool. Well, I'm not now. So, as long as I'm different, don't you think that, well, maybe things could be the same again? Only a little different, huh?"
Movies made during the days of the production code often had to use symbolism and innuendo to imply sex, which is where we get the overused cliche of panning to a burning fire, or a train going into a tunnel. This movie ends with one of the most unique and charming ways of implying sex that I've yet seen in a classic Hollywood movie. After Grant and Dunne makeup, with her lying in bed and he next to it, the camera pans to the cuckoo clock, which they'd shown in several scenes earlier. The little Dutch Boy and Girl come out when the click chimes, only this time, the Dutch Boy follows the Girl into her side of the clock with a little extra kick in his step.
Is this the funniest screwball comedy of all time? I don't know about that, but it has to be in the running. It's certainly one of the most charming.
Photos © Copyright Columbia Pictures (1937)