Movie Review
The Aviator
Some men dream the future. He built it.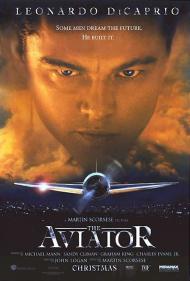 US Release Date: 12-17-2004
Directed by: Martin Scorsese
Starring
▸
▾
Leonardo DiCaprio

,

as

Howard Hughes
Cate Blanchett

,

as

Katharine Hepburn
Kate Beckinsale

,

as

Ava Gardner
John C. Reilly

,

as

Noah Dietrich
Alec Baldwin

,

as

Juan Trippe
Alan Alda

,

as

Sen. Ralph Owen Brewster
Ian Holm

,

as

Prof. Fitz
Willem Dafoe

,

as

Tabloid editor
Gwen Stefani

,

as

Jean Harlow
Jude Law

,

as

Errol Flynn
Kelli Garner

,

as

Faith Domergue
Matt Ross

as

Glenn Odekirk

Reviewed on:
December 8th, 2004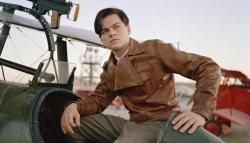 Leonardo DiCaprio in The Aviator.
We all know that the border between genius and madness is paper thin, but rarely has it been shown so well and so entertainingly in a movie. The Aviator shows the larger than life story of millionaire playboy aviator Howard Hughes who became consumed by his compulsive obsessive disorder later in life.
The film covers Hughes golden years, from his arrival in Hollywood at the age of 18 through the one and only flight of his legendary Spruce Goose airplane. It covers the filming of Hell's Angels, the Hughes directed war picture that took nearly four years to film and cost the then unheard of price of $4 million. It shows his passion for flying and his exploits that broke so many records. And it also covers the many loves of his life, including an extended affair with Katharine Hepburn. The climax comes with Hughes last public battle to break the trans-Atlantic flights monopoly held by Pan-am so that his TWA can go international.
Underlying all of Hughes triumphs is his compulsion about germs that was instilled in him by his mother at a young age and which continued to grow throughout his entire life. It was this compulsion that eventually drove him to become a recluse in the final years of his life, although this movie doesn't document his decline. These were the years when he was still able to overcome his disorder when necessary.
DiCaprio, whom I've always considered over-rated as an actor, gives an incredibly impressive performance in the lead role. He inhabits the character completely, shining particularly in the scenes where he is battling to control his disease and keep himself in control. It is truly Academy Award worthy acting.
And Leo isn't alone in delivering the goods. Cate Blanchett as Katharine Hepburn is superb. Her accent is spot on and she provides some of the movie's best moments. Particularly amusing is a scene where she takes Hughes to her family home in Connecticut where he clashes with her elite liberal clan. But all of the small roles are also well done. Kate Beckinsale gets a less splashy role as Ava Gardner – another of Hughes romances – and Alan Alda and Alec Baldwin give nice turns as the 'villains' of the movie.
Scorsese obviously took great care with the look of the film. Each decade from the twenties to the fifties is filmed with its own look and perfectly captures the era as exemplified by the scenes in the Coconut Grove nightclub where Hughes rubs shoulders with the likes of Errol Flynn and Louis B. Mayer.
Although, like most of Scorsese's work, The Aviator is long, clocking it at 2 hours and 45 minutes, it moves very quickly. Hughes life was so full and rich that even at that length you feel as though he must have done just as many exciting things that you don't see as the things you do.
I've seen over one hundred movies so far this year and while quite a few of them were very good, I hesitated to call them the best movie of the year. With this movie, I have no such hesitation. The Aviator is the best movie of the year.

Reviewed on:
January 29th, 2005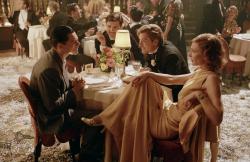 Leonardo DiCaprio, Jude Law and Cate Blanchett in The Aviator.
The hardest thing about watching this movie is that it is impossible to feel any sympathy, whatsoever, for Howard Hughes. He is rich, reckless and dated countless beautiful women.
Although the movie is nearly three hours long, Hughes's character never made sense for me. He is a mass of contradictions. He is so petrified of germs that in one scene he nearly looses his composure because a man has a piece of dirt on his collar. In other scenes, he refuses to shake hands out of fear of germs. However, Hughes had lots of sexually dalliances. So he is scared to shakes hands because he might catch a germ but exchanging body fluids doesn't bother him? He is shown drinking after one of his dates and eating out of the same bowl of ice cream of another, yet he refused to hand a crippled man a towel because he had just washed his hands?
The scenes between DiCaprio and Blanchett are the most vibrant in the movie. It was in Hepburn that Hughes seemed to find his most equaled counterpart. She, like him, was adventurous and unconventional. "Howard, we're not like everyone else. Too many sharp angles. Too many eccentricities. We have to be very careful not to let people in or they'll make us into freaks." She tells him at one point.
For such a long film, Scorsese never lets it drag. Hughes had an exciting life and Scorsese presents it in its entire splendor. However, Hughes remains an enigma. This is not the fault of the director, just the idiosyncrasies of Howard Hughes.
Reviewed on:
March 12th, 2006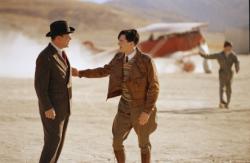 Leonardo DiCaprio in The Aviator.
I'm about 15 months late in seeing this picture, but it was worth the wait. The first half of the movie gets you caught up in the whirlwind successes and triumphs of this exciting and handsome devil-may-care adventurer. The second half is full of drama and equally fascinating but more like watching a train-wreck.
The scene where Hughes crashes his plane into a house is absolutely amazing. If this man hadn't really lived no one would buy it as fiction. Maybe that's why he went crazy, he got too much of all the good things in life and it twisted his mind. As for Eric's comments about his phobia, it was only with the women he was having sex with that he was willing to share germs. Once he slept with them he was comfortable being in contact. That makes sense, sex is a pretty strong motivating factor. But then who understands madness anyway. The guy saved his piss in jars on the floor for Christ's sake.
The directing, acting, cinematography, script, costume and set design are all first rate. It has a level of glamour that is missing from most Scorsese pictures but it retains his customary darkness. DiCaprio gives a flawless performance. There has always been something smart alecky and selfconscious about his work that bugs me, but I think this performance will only grow in stature over time. Blanchett captures Hepburn as well as I imagine anyone ever will. She was such a unique woman.
Hughes golden years coincided with the golden age of the Hollywood studio system. From the dawn of talking pictures in the late 1920's to the birth of television in the late 1940's there was a 20 year space of time that gave us not just some of the best movies ever made, but also an entirely new style, and common language. The Aviator is a wonderful tribute to that era through the life of one of the most fascinating movers and shakers that lived through it.
Photos © Copyright Miramax (2004)