Movie Review
Auntie Mame
Life is a banquet and most poor suckers are starving to death.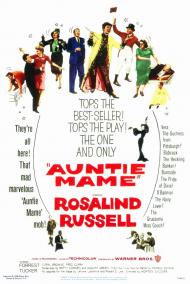 US Release Date: 01-01-1958
Directed by: Morton DaCosta
Starring
▸
▾
Rosalind Russell

,

as

Mame Dennis
Forrest Tucker

,

as

Beauregard Jackson Pickett Burnside
Coral Browne

,

as

Vera Charles
Jan Handzlik

,

as

Patrick Dennis - younger
Joanna Barnes

,

as

Gloria Upson
Fred Clark

,

as

Dwight Babcock
Roger Smith

,

as

Patrick Dennis -older
Patric Knowles

,

as

Lindsay Woolsey
Peggy Cass

,

as

Agnes Gooch
Pippa Scott

,

as

Pegeen Ryan
Lee Patrick

,

as

Doris Upson
Willard Waterman

,

as

Claude Upson
Robin Hughes

,

as

Brian O'Bannion
Connie Gilchrist

,

as

Norah Muldoon
Yuki Shimoda

,

as

Ito
Margaret Dumont

as

Noblewoman in Play

Reviewed on:
January 1st, 2001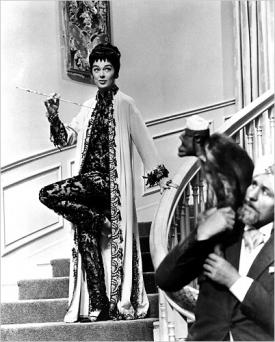 Rosalind Russell in Auntie Mame.
'Life is a banquet and most poor suckers are starving to death'. Certainly that is one of the most famous lines in movie history as well as one of the most descriptive of a title character. The movie and character being of course 'Auntie Mame', exuberantly played by the late, great Rosalind Russell. In her capable hands the role she originated on Broadway has yet to be surpassed. She is at times madcap, sexy, girlish, ditzy, regal, tragic, smart and ultimately brilliant.
The story of young Patrick Dennis; orphaned by the untimely death of his father he is sent to live with his only living relative in a posh Manhattan apartment. The scene where he first arrives there amidst one of Mame's 'affairs' is splendidly conceived and executed. Mame introduces her nephew to a dizzying array of friends and other guests in rapid succession all the while making witty repartee. The scene is done in one long take that would rarely, if ever, be filmed today. At one point she hands him a pencil and paper and instructs him to jot down every word he hears but does not understand. These include libido, id, free love, Marxism and heterosexual.
Released in 1958 this movie is filled with memorable characters and intelligent and very funny dialogue. The focus rarely shifts from the beloved Mame but why should it. She is the reason for watching. Rosalind Russell is one of the screens greatest comediennes; she can deliver tongue-twisting lines with amazing speed and is just as comfortable doing a pratfall. The scene at Peckerwood, the southern plantation owned by her fiancé (Forrest Tucker as Beauregard Picket Burnside) where she rides a crazed horse in a fox hunt is a good example of the latter.
The supporting cast is wonderful and the direction is first rate as is the wonderful screenplay by Betty Comden and Adolph Green.
I get chills every time I watch the final scene as Mame ascends her famous stairway leading the now grown-up Patrick's son all the while telling him about her friend the monk in India where, from his bell tower you can see the Taj Mahal...

Reviewed on:
January 1st, 2002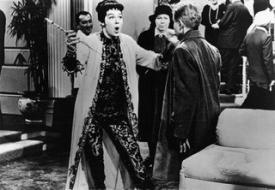 Rosalind Russell in Auntie Mame.
Auntie Mame is this long gay movie about this woman that has no business raising kids. She gets custody of her nephew Patrick after his parents are killed. She introduces him to her hedonistic lifestyle and 'eclectic' group of friends including her drunken best friend whom he has to undress and put to bed because she's passed out. Auntie Mame enrolls him in a school where the teachers as well as the students walk around naked. Mame makes Al and Peg Bundy look like decent parents. Now the fact that Patrick turns out to be a normal, well-adjusted adult only goes to show what a 'fairy' tale this really is.
Reviewed on:
January 1st, 2003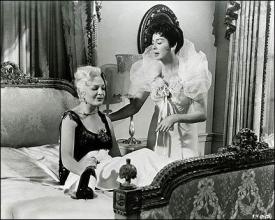 Rosalind Russell as Auntie Mame.
As noted above, the shift of this movie rarely moves from Auntie Mame. This is fine if you like the character of Auntie Mame. Speaking personally, if I was seated next to her on a plane and my choices were to finish the flight listening to her talk, or jump out the window without a parachute, I would be yelling 'Geronimo' in a matter of seconds. Whatever charm she possesses totally passed me by. I found her annoying and grating.
To be fair, this movie is a victim of the times. When this movie was first released, I'm sure that some of the behavior and attitudes were quite shocking, however, forty years later, what once shocked, now falls flat. And since most of the humor depends upon this 'shock' value, most of the jokes are now gone from the movie.
The only scene that I enjoyed was the Christmas right after the stock market crash. Patrick, Mame, and her servants gather together to exchange presents and express genuine emotion. For the first time I felt these were real characters and not just caricatures. Up until this point, Mame acts totally unaffected by the crash, an event which has altered her lifestyle so dramatically that she must now work for a living.
Forrest Tucker's character is a welcome addition to the movie, but perhaps this is simply because his Southern drawl is a relief after Mame's fast, grating speech. After his departure, I found my attention wandering from the film, and praying for its end.
If you somehow find yourself in a situation where you are watching this movie, remember this; if you haven't laughed within five minutes, turn it off. It doesn't get any better.
Photos © Copyright Warner Bros. (1958)