Movie Review
Assassination of a High School President
Politics, popularity, paranoia, pharmaceuticals. Are you in?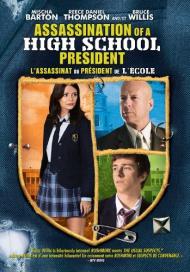 US Release Date: 01-17-2008
Directed by: Brett Simon
Starring
▸
▾
Mischa Barton

,

as

Francesca Fachini
Reece Thompson

,

as

Bobby Funke
Bruce Willis

,

as

Principal Jared T. Kirkpatrick
Michael Rapaport

,

as

Coach Z
Kathryn Morris

,

as

Nurse Platt
Melonie Diaz

,

as

Clara Diaz
Josh Pais

,

as

Padre Newell
Luke Grimes

,

as

Marlon Piazza
Patrick Taylor

,

as

Paul Moore
John Magaro

as

Cipriato

Reviewed on:
June 1st, 2012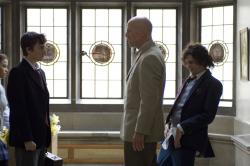 Reece Thompson, Bruce Willis and John Magaro in Assassination of a High School President,
Assassination of a High School President is a hilarious dark comedy, that deserved a wider release than it received. It made its debut in some film festivals and then got lost in DVD obscurity. It deserved better and I highly recommend it.
It plays like a 1940s detective story in a semi-modern setting. The computers look like they are from the 1980s. Bobby Funke is a sophomore reporter for his high school paper. He narrates an inner monolog, "Clara was one tough cookie. All I wanted was a taste." His name constantly gets mispronounced and everyone assumes he is a freshman. He wears a trench coat and wanders the halls of a private school where the school president is a big deal. After getting assigned to do a story on him, Bobby uncovers a school conspiracy, with Bobby imagining himself a Woodward and Bernstein.
The movie takes place in a high school that only exists in movies. Detention is like a prison with lock down and limited time in the yard. It is a school where the principal, a former soldier, talks to his students like they are fellow grunts. When one female student makes a smart remark, he says to her, "Landis do I come down to the strip club where you work and knock the dick out of your mouth?"
It has plenty of stereotypes, such as the unsupervised party where plenty of alcohol is served. Every high school clique is represented, except for minorities. Bobby has to go to a public school before we see more than one minority in a single scene.
Bobby goes about his investigation. He has to bribe a little girl with a stuffed animal and deal with a mentally challenged nurse. "I thought he had diarrhea, but he was limping, soo..." What he discovers leads to a much bigger story where he gets threatened by the student council and laid by the senior hottie. Taking film noire into a private high school was a great idea. It provides such lines as, "Their alibis were like dutch ovens - gamy, but air tight."
Most of the cast is unconvincing as high schoolers, especially Mischa Barton but she goes topless several times so I forgive her. She also has some good lines. She tells Bobby to not get her a wrist corsage, "I don't mind a little prick once in awhile." She also has the film's best line, "Nobody's misunderstood. That's just what people say when they don't like who they are."
I am often perplexed by how Hollywood works. Many horrible films have received wide release and bombed at the box office, while a clever film like this went pretty much unnoticed. Assassination of a High School President is well worth checking out.
Photos © Copyright Yari Film Group (YFG) (2008)