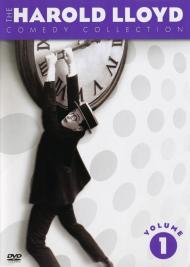 US Release Date: 02-09-1919
Directed by: H.M. Walker
Starring
▸
▾
Harold Lloyd

,

as

The Boy
Bebe Daniels

,

as

Switchboard operator
Snub Pollard

,

as

The Corn-Fed Secretary
Wallace Howe

,

as

The Boss
Bud Jamison

,

as

Guardian at the door
Noah Young

,

as

Large office worker
Sammy Brooks

as

Short office worker

Reviewed on:
November 9th, 2010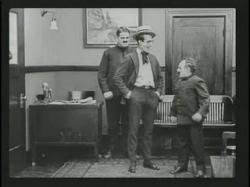 Harold tries to get in to ask father.
This is an early example of the famous Harold Lloyd persona of the earnest young man in glasses and straw hat. The plot of this one reeler is classic Lloyd. He is in love with the daughter of a very busy man who runs his office with an iron fist. Bebe Daniels, who was a frequent costar of Lloyd's from his earlier movie incarnation as Lonesome Luke, plays a switchboard operator at the office where Harold goes to "Ask Father" for his daughter's hand in marriage. Another Lloyd regular, Snub Pollard, plays the father's secretary.
Naturally Harold is denied entrance to speak to the busy man and keeps getting thrown out. There is one running gag where Daniels lays a pillow on the floor in anticipation of where Lloyd will land each time he gets tossed out on his rear end. The resourceful Harold now tries a disguise. He dresses up as a woman (there just happens to be a costume company right next door). Although he doesn't look very convincing in drag he minces across the room and gets the attention of the father and his male secretary. They quickly discover the truth however and this time they get rid of Harold by flipping a switch on the wall that starts the floor moving. This sets up another chance for Harold to get thrown out onto the pillow.
Finally Harold goes in with two revolvers, guns blazing, only to fall through a trap door. He winds up out on the street and then inadvertently holds up two men by the way he is holding the pistols behind his back. Next Harold scales the outside of the building, four years before he would build an entire movie around this stunt in Safety Last. Back to the costume rental, he emerges fully clad as a knight in shining armor. When Harold finally gets the father's attention he learns that the daughter has just gotten married and is off to Brooklyn for a honeymoon. Of course Harold ends up with the switchboard operator with the pillow. Her father, fortunately, died when she was a child.
Harold Lloyd's comedies were incredibly fast-paced. Even his subtitles were amusing. He was much more frenetic than either Chaplin or Keaton. He may never have achieved their level of artistic genius but he certainly packed in the most sight gags per minute. Ask Father runs a mere thirteen minutes but it never lets up for a second.

Reviewed on:
December 15th, 2012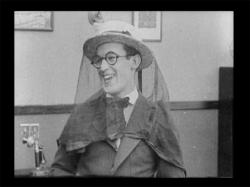 Harold Lloyd in Ask Father.
Although Lloyd spends most of the short trying to get permission from the Boss to marry his daughter, there's a clue from beginning that he won't end up with her. Not only is the Switchboard Operator obviously smitten with him when she uses her pillow to catch him, but she's played by Lloyd's frequent co-star, Bebe Daniels. This was the 109th pairing of Daniels and Lloyd. They made 39 films together in 1919 alone. Anyone familiar with their work just knows that the two of them will end up together.
This isn't a hilarious short, but it is an amusing and charming one. Lloyd had an appealing screen persona. His unflagging optimism keeps you on his side. He never gives up or lets anything get him down for long. No matter what obstacles are thrown in his way, including treadmills and burly secretaries, he just keeps coming back for more.
As Patrick wrote, this is a very fast-paced short. Lloyd rarely stops moving from start to finish. Patrick also used the word "frenetic" to describe his comedy and that is absolutely the perfect word to describe it. The humor comes very fast and makes this short short, feel even shorter.

Reviewed on:
December 15th, 2012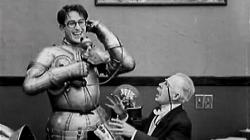 Harold Lloyd trying to Ask Father
Ask Father is a basic little Harold Lloyd short with some nice moments. One of my favorite bits was every time Bebe Daniels put a pillow on the floor knowing that the boss was about to throw Harold out of the office and wanted him to land on something soft. It was also nice seeing Harold climb the outside of a building. No matter how many of his films I see that remains his greatest gimmick.
Scott wrote about how many films Bebe Daniels made with Harold Lloyd. Although she is far more attractive, I have to add that Harry "Snub" Pollard made just as many with Lloyd. He was Harold's stand by supporting actor. After Lloyd retired from film, Pollard continued to work in film right up to his death in 1962 but rarely had a starring role and was mostly reduced to being a film extra. His final film role was as an audience member in The Man Who Shot Liberty Valance, starring Jimmy Stewart and John Wayne.
These Harold Lloyd shorts are like a television show with the same cast of actors in every episode. It was a no brainer to put them on television. We watched them when we were young and enjoyed them. They played a great influence on our interest in silent films.
Photos © Copyright Pathe Exchange (1919)