Movie Review
As You Desire Me
You don't need us to tell you not to miss this film. You couldn't be kept away!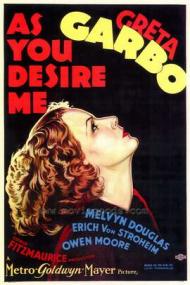 US Release Date: 05-28-1932
Directed by: George Fitzmaurice
Starring
▸
▾
Greta Garbo

,

as

Zara, aka Countess Maria Varelli
Melvyn Douglas

,

as

Count Bruno Varelli
Erich von Stroheim

,

as

Karl Salter
Owen Moore

,

as

Tony Ferrara
Hedda Hopper

,

as

Madame Inez Montari
Rafaela Ottiano

,

as

Lena
Warburton Gamble

,

as

Baron
Albert Conti

,

as

Captain
William Ricciardi

as

Pietro
Reviewed on:
March 29th, 2004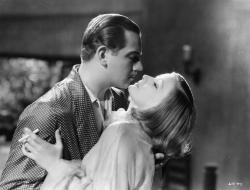 Melvyn Douglas and Greta Garbo in As You Desire Me.
The Great Garbo was the biggest movie star in the world and the highest paid woman in America when As You Desire Me was made in 1932. Running a little over an hour, this highly stylized melodrama represents all that is great about classic Hollywood. It features handsome, sophisticated actors wearing exquisitely tailored clothes as they emote dramatically on extravagant sets. What more could an audience want?
The story opens in Budapest in 1925. Garbo is Zara, a beautiful night club singer with amnesia. She is gay and carefree and swills glass after glass of champagne as she is surrounded by a bevy of male admirerers. She, in fact, takes three of them home with her to continue the party. Her guests are suddenly interrupted and chased away by her cruel lover (Erich von Stroheim playing a famous writer). Suddenly a man shows up who claims to know Garbo. He tells her that she is really an Italian Countess named Maria Varelli who has been missing since the Great War. He is the Count's best friend and has been searching for her these ten years. Doubtful at first, she nevertheless decides to leave with him. In a fit of jeolous rage von Stroheim fires a revolver at her as she makes a quick exit with the stranger.
She arrives at the Italian estate and is met by Melvyn Douglas. He has a huge portrait of her hanging on a wall. She is, of course, unable to accept the fact that the innocent and radiant young woman in the painting is really her. She has been through too much and known too many men. Then just as she is beginning to heal and discover her true self von Stroheim shows up with a deranged woman in tow, claiming she is the real Countess and that Garbo is a golddigging imposter. The final scene is one of the most purely melodramatic moments ever captured on film.
What is most interesting about As You Desire Me (apart from the ethereally beautiful Garbo wearing Adrian's creations as only she could), is the fact that it was made before the Hays Code was put into effect. The scene where she takes three men home with her only to be interrupted by her lover would never have been allowed just a few years later. Also it is quite openly implied that the reason for her memory loss was because she was brutally raped when the estate was attacked during the war.
This is a common theme in a Garbo picture. The strumpet (although always a high class, alluring one) with a heart of gold yearning for one good man to love and to take her away from her life of sin. Both Anna Christie and Camille have similar themes. As You Desire Me may not be in the same league as those classic movies but it is still highly enjoyable cinema that reeks of old-fashioned glamour and romance.
Photos © Copyright Metro-Goldwyn-Mayer (1932)