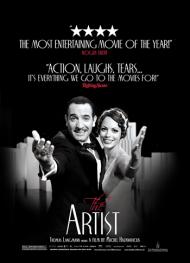 US Release Date: 11-25-2011
Directed by: Michel Hazanavicius
Starring
▸
▾
Jean Dujardin

,

as

George Valentin
Berenice Bejo

,

as

Peppy Miller
John Goodman

,

as

Al Zimmer
James Cromwell

,

as

Clifton
Penelope Ann Miller

,

as

Doris
Missi Pyle

,

as

Constance
Beth Grant

,

as

Peppy's Maid
Ed Lauter

,

as

The Butler
Joel Murray

,

as

Policeman Fire
Bitsie Tulloch

,

as

Norma
Ken Davitian

,

as

Pawnbroker
Malcolm McDowell

,

as

The Butler
Basil Hoffman

as

Auctioneer

Reviewed on:
November 25th, 2011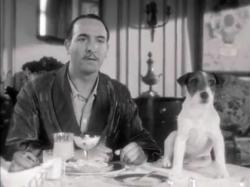 Jean Dujardin and Uggy in The Artist.
As not a huge fan of silent movies, I remained skeptical about the buzz surrounding this movie. Any time there's so much Best Picture buzz before a movie is even released, it immediately makes me suspicious. Especially when the movie features the double gimmick of being shot in black and white and without sound. Having seen it I have to admit that I found it absolutely charming and I certainly believe that Jean Dujardin delivers one of the most beautiful and heartfelt performances of the year.
You can view the plot as a combination of Singin' in the Rain and A Star is Born with just a dash of Sunset Boulevard in the mix. When the movie opens in 1927 George Valentin is on top of the world. He's a silent movie star along the lines of Douglas Fairbanks (one of his films is a direct lift from The Mark of Zorro). He bumps into an aspiring actress Peppy Miller and the two share an instant spark. He even gives her career advice, prompting her to adopt what becomes her trademark beauty spot.
In a few short years however, George and Peppy's positions have changed. The advent of sound and the stock market crash bring George down low in the world while Peppy is soon the fastest rising star in Hollywood. After George's wife leaves him, he is alone in the world with just his sidekick dog Uggy (who won the Palm Dog Award at Cannes and is a total scene stealer) and reels of his silent films. Will this comic melodrama end in despair or will George find happiness once more?
A big reason this movie succeeds is because of Dujardin as George. He is perfectly cast as the silent film star. He has the perfect smile and when he grins he lights up the screen. Were it not for his OSS: 117 spy spoof films I would never have heard of him before now and after seeing him in that role I certainly never would have guessed he was capable of delivering such a heartfelt and touching performance here. Although, given that this part requires over emoting and a touch of hamming it up, perhaps that role wasn't such bad preparation after all. Either way, you care about George because of the human and charming manner of Dujardin's portrayal.
Berenice Bejo is cute as Peppy and a fine actress, but she is completely outshone by Dujardin. Her acting style comes across as more modern than Dujardin's, which may be deliberate, but she's not the silent performer that he is. The fact that she's married to the writer and director of this movie certainly helps to explain her casting.
There are several famous actors in small parts, some of whom add to the film while others just seem odd. John Goodman and James Cromwell do well in their parts, but it was jarring to see Missi Pyle and did Malcolm McDowell just wander on to set one day? His blink or you'll miss it cameo seems strange for such a well known actor.
Obviously this movie was a real labor of love for writer/director Michel Hazanavicius. His script is both touching and funny. Even in its darkest moments there are touches of humor. When George is trapped in a fire at his bleakest point, Uggy runs for help and lightens the mood as he communicates to a policeman.
The script is filled with symbolism, from George sinking in quicksand during his last silent film and the several times that he refuses to speak, among others. There are also moments when the filmmakers play with the silent medium by introducing sounds during a dream sequence and at the very satisfying ending.
Although I enjoyed this movie quite a bit, I certainly hope it doesn't start any kind of trend. The novelty of it certainly plays a part of its charm. And like a lot of long silent movies, I found my attention starting to drift in the third act. It's only an hour and forty minutes long, which is short for a talkie, but feels longer without dialogue.
I don't think I would award this movie Best Picture of the year, but certainly Dujardin is the actor to beat and this is a must see movie for any fan of classic Hollywood.
Reviewed on:
November 26th, 2011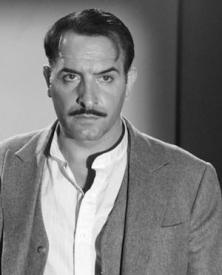 Jean Dujardin in The Artist.
Absolutely a must see for any classic Hollywood fan. The Artist is a brilliantly enchanting homage to the golden age of Tinseltown. The acting, script and direction coalesce into a marvelous whole that produces a completely charming and entertaining time at the movies. I concur with most of what Scott wrote, with a few exceptions. First the cast.
I agree that Jean Dujardin is absolutely mesmerizing as silent matinee idol George Valentin. Whether on top of the world or down on his luck he effortlessly carries the story on his broad movie star shoulders. An Oscar nomination is guaranteed and I hope he wins it.
I don't agree with Scott about Berenice Bejo. She is quite good. The scene where she mimes hugging herself using Valentin's suit coat, while it hangs on a rack, making believe it's him, is cleverly done. It's the type of sight gag that only works in a silent movie. She perfectly embodies the moxie of a flapper turned depression era musical star.
I wasn't bothered by Missi Pyle as Constance. Think Lina Lamont before she speaks in Singin' in the Rain. Uggy seems to be channeling Asta from the popular Thin Man movies of the period. He gives one of the best performances ever by a canine (or any other animal for that matter) in any movie. The presence of Malcolm McDowell is a head-scratcher though. I'm not sure why he wasn't given more to do.
The story superbly balances humor with pathos, about that I'm in complete agreement with my brother. There are many little details to notice. George's neglected wife doodling funny mustaches and blacked-out teeth on his photographs is good for a laugh or two as is the note she writes him on the back of one. And the scene where George fires his loyal chauffer (that he hasn't paid in a year) is quite touching without being at all maudlin.
The Artist includes many tributes to old Hollywood. Several times Hazanavicius very cleverly copies scenes from real movies. Scott mentioned The Mark of Zorro but there is also a moment - and a specific shot - that is nearly identical to one in Citizen Kane and a dance number that emulates Fred Astaire and Eleanor Powell in Broadway Melody of 1940.
He makes good use of movie clichés of the era too. There are several well done montages including one that shows various newspaper headlines that progress the story. And the way the scenes fade in and out gives the movie a very authentic feel. There are shots of Hollywood and Beverly Hills that look as if they were filmed 80 years ago.
The concept of The Artist sounds like a great idea that would be impossible to pull off. Well somehow this French filmmaker did it. He created a truly classic Hollywood movie in a style that hasn't been seen for the better part of a century. And what's more he made it seem fresh while remaining true to the time period. I hope it captures the imagination of the American public and goes all the way to the big win at the Oscars. It certainly has my vote for best picture of the year.


Reviewed on:
February 5th, 2012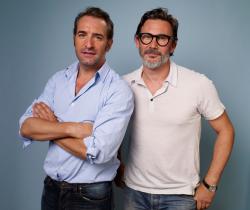 Jean Dujardin and Michel Hazanavicius
As my brothers already noted, The Artist is a wonderful tribute to those old glorious black and white films. Solidly based on the A Star is Born theme, it contains many elements from other films. My brothers mentioned some and I will add another. Peppy uses one of Greta Garbo's most famous lines when she says to her boyfriend, "Take me home. I want to be alone"
Although a noted silent film, some of the dialog cards are quite affective. When at a low point, George stands before a projector, whose film has run out. He looks at his silhouette on the screen and says, "Look what's become of you..." It then becomes a bit surreal as his shadow walks away from him.
My favorite moment, and perhaps the most pivotal is when George and Peppy are at the same restaurant, but at different tables. Peppy is giving an interview where she makes fun of silent film acting. George gets up to leave and bumps into Peppy. He then says, "I've made way for you." With that line he says a mouth full. Literally he means he will let her pass, but figuratively he is saying so much more. There would be no talking stars without silent stars. There would be no Peppy Miller if not for George Valentin.
I enjoyed Jean Dujardin in OSS 117: Cairo, Nest of Spies and it's sequel OSS 117: Lost in Rio. In both of those films he demonstrated a real flair for physical mannerisms as he parodied Sean Connery's James Bond. Here he convincingly makes like Douglas Fairbanks, William Powell and Fred Astaire. Dujardin has classic movie star charm and was perfectly cast.
The most accolades should go to Michel Hazanavicius. His attention to detail is astounding. From the opening credits to the final shot, everything is intended to invoke the look and feel of a classic black and white drama. Hazanavicius takes a bit of liberty with the sound effects, which only add to the experience. I agree with Scott, this should not win best picture, but best director...?
Photos © Copyright The Weinstein Company (2011)