Movie Review
Arthur and the Invisibles
Adventure awaits in your own backyard.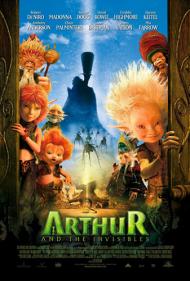 US Release Date: 01-12-2007
Directed by: Luc Besson
Starring
▸
▾
Freddie Highmore

,

as

Arthur
Mia Farrow

,

as

Granny
Madonna

,

as

Princess Selenia (voice)
Jimmy Fallon

,

as

Betameche (voice)
Robert De Niro

,

as

King (voice)
Harvey Keitel

,

as

Miro (voice)
Chazz Palminteri

,

as

The Travel Agent (voice)
Emilio Estevez

,

as

Ferryman (voice)
Snoop Dogg

,

as

Max (voice)
Anthony Anderson

,

as

Koolomassai (voice)
Jason Bateman

,

as

Darkos (voice)
David Bowie

,

as

Maltazard (voice)
Erik Per Sullivan

as

Mino (voice)

Reviewed on:
January 15th, 2007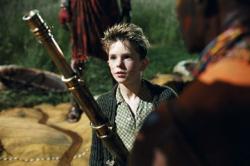 Freddie Highmore in Arthur and the Invisibles.
Arthur and the Invisibles was written, produced and directed by one of France's most successful film makers of the past couple of decades, Luc Besson. La Femme Nikita, The Transporter and Revolver are all on his resume. The movie is based on his book, Arthur et les Minimoys.
Highmore, the biggest child star of the last few years this side of Dakota Fanning, stars as a lonely boy living with his grandma in rural America in 1960. For entertainment, his Granny tells him stories about his long lost Grandfather's travels and inventions. One story involves his grandfather getting a bunch of rubies. Before you can say "bill collectors." Arthur goes in search of the treasure to save his Granny from losing her house.
The Rubies are buried somewhere in the backyard. Thanks to some messages left by his grandfather, Arthur discovers how to shrink himself and visit the Minimoys. The Minimoys are a civilization of tiny people who live in the garden. Once Arthur enters their world the movie goes from live action to animated. He joins forces with Minimoy Princess Selenia, who is a warrior chick on a mission to kill someone.
The action and pace move along very quickly and the animation is very detailed and offers much to look at. Some scenes go by so quickly that I sometimes felt that I may have missed something. The movie starts a fight or a song or introduces a new character, and then quickly moves onto something else. It is as if Besson was worried the audience may get bored so he changed scenes often and abruptly.
Arthur and the Invisibles is a fun enough children's film, but it all seems a bit old and worn out. Tiny people in a movie have been done many times. Ferngully: The Last Rainforest and The Ant Bully both involved a boy turning small and interacting with tiny creatures. The Goonies was about a boy who, with friends, goes on a treasure hunt to save his home. Honey I Shrunk the Kids already did the shrunken kids in the backyard routine. The Pagemaster did the live action to animation stunt way back when Macaulay Culkin was the child star of the day. A boy living in rural America around 1960, with an old relative who tells stories, was done better in Second Hand Lions.
Arthur and the Invisibles may entertain and distract your children for an hour and a half but it will not stay with you for very long afterwards.
Photos © Copyright Europa Corp. (2007)