Movie Review
The Art of War
Do You Know Who Your Enemy Is?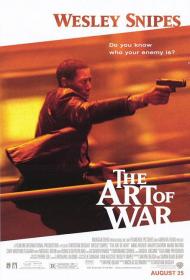 US Release Date: 08-25-2000
Directed by: Christian Duguay
Starring
▸
▾
Wesley Snipes

,

as

Neil Shaw
Anne Archer

,

as

Eleanor Hooks
Michael Biehn

,

as

Robert Bly
Donald Sutherland

,

as

U.N. Sec. Gen. Douglas Thomas
Maury Chaykin

,

as

Capella
Marie Matiko

,

as

Julia Fang
Cary-Hiroyuki Tagawa

,

as

David Chan
Maury Chaykin

,

as

Frank Capella
James Hong

,

as

Ambassador Wu
Paul Hopkins

as

Ray, FBI Agent

Reviewed on:
April 21st, 2012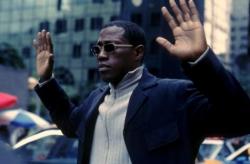 Wesley Snipes in The Art of War.
"The Art of War" is one of the oldest books ever written on military strategy. It was written around 500 BC, by Sun Tzu, a Chinese general. It is composed of 13 chapters, each of which is devoted to one aspect of warfare. The title of this movie is stolen from the book, but the only connection in the plot is that it involves Chinese intelligence and the prospect of war.
The Art of War starts with Wesley Snipes playing an undercover U.S. Government agent named Neil Shaw, who sneaks into a Chinese New Years celebration to steal intelligence and black mail a Chinese General to support negotiations between North and South Korea. Every thing goes to plan except Shaw is a moron. All he has to do when his mission is completed is to walk out of the party and get into the van with his waiting partners. No one knows who he is there. However, Shaw decides to hit some bystander and start a fight, allowing him and some Chinese guy to get into a fight on a bar for all to see. It allows Snipes to show off his martial arts moves and leads to an exciting escape but as he is supposed to be undercover, it makes no sense. Clearly Shaw never read chapter 13 of Sun Tzu's book titled "The Use of Spies".
We then go to the United Nations in New York where we meet the U.N. Secretary General who supports the negotiations for a possible treaty between North and South Korea. The secretary talks to Shaw's boss about getting Shaw a medal for his covert help in pushing the negotiations along. "How do you give a medal to some one who doesn't exist for something that didn't happen?" He asks. Actually, at least 100 people who were in attendance at the party can attest to the fact that he does exist. Shaw is one of the worst covert operatives ever put on film.
In 2000, China was closed off to much of the world's trade. Opening it's borders to foreign companies and customers made it a very potential money making market. During a speech discussing this very thing, the Chinese ambassador is assassinated and Shaw finds himself accused of the murder in an obvious set up. After chasing the bad guy for an extended period of time the police just happen to be waiting for him. Yeah, there is a traitor and it is not hard too guess who it is.
There is plenty of action and lots of blood and death. Shaw twice escapes from a car that he is being transported in by several armed men. The worst scene to watch is when a woman is tortured. The blood on her face is clearly fake but showing her get beat is a bit rough to take. Shaw kills a female assassin soon afterwards, so I guess it all evens out.
Wesley Snipes is in good shape here. He is a mere 5'9" but plays the role big. He had just enough attitude and arrogance to be an adequate action star. He was big in the 1990's, doing comedies like White Men Can't Jump (1992) and dramas such as Waiting to Exhale (1995). He even went drag in To Wong Foo Thanks for Everything, Julie Newmar (1995). In the action film Passenger 57 (1992) his character can be seen reading "The Art of War".
Other than a couple of Blade sequels, The Art of War was Snipes's last notable film. His career came crumbling down on October 17, 2006, when he was indicted on eight counts of tax fraud. He was found guilty and on April 24, 2008, sentenced to three years imprisonment. He had not filed a federal income tax return from 1999 to 2007 and owed the IRS approximately $20,000,000 in back taxes. He was still allowed to make films, so as to make money to pay off his debt. This included a 2008 direct to DVD sequel, The Art of War II: Betrayal.
Snipes and Sylvester Stallone had previously worked together on Demolition Man (1993). Snipes was reportedly Stallones's first choice to play Hale Caesar in The Expendables (2010), Because of his legal issues, Snipes could not leave the United States for location filming and the role went to Terry Crews.
Only time will tell if Snipes will ever regain his former fame and glory. As his resume is filled with a variety of roles, there is a real possibility he could. He may though want to choose a better written film than The Art of War. Just because a movie shares the name of an old famous book and occasionally quotes it, does not raise it above the adequate status it deserves.
Photos © Copyright Warner Bros. (2000)