Movie Review
Around the World in 80 Days
The race begins: June 16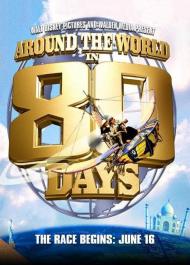 US Release Date: 06-16-2004
Directed by: Frank Coraci
Starring
▸
▾
Jackie Chan

,

as

Passepartout
Steve Coogan

,

as

Phileas Fogg
Cecile De France

,

as

Monique
Jim Broadbent

,

as

Lord Kelvin
Kathy Bates

,

as

Queen Victoria
Arnold Schwarzenegger

,

as

Prince Hapi
John Cleese

,

as

Grizzled sergeant
Owen Wilson

,

as

Wilbur Wright
Ian McNeice

,

as

Col. Kitchener
Luke Wilson

,

as

Orville Wright
Rob Schneider

,

as

Hobo
Mark Addy

,

as

Steamer captain
Ewen Bremner

as

Inspector Fix

Reviewed on:
June 15th, 2004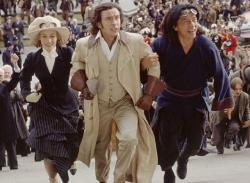 Cecile De France, Steve Coogan and Jackie Chan in Around the World in 80 Days.
This latest adaptation of the Jules Verne novel, Around the World in 80 Days, manages to entertain strictly because of its charming lead actors, and its unwavering dedication to the tone it sets and sticks to throughout the film. It might be a very silly movie, but it knows it's silly and it runs with it. Of course, what it might be remembered for most, if it is remembered, is the near cameo appearance of Arnold Schwarzenegger in his last filmed role before becoming the Governor of California.
The screenwriters took a few liberties with the story this time around. Most notably, Passepartout (Chan) is now the star of the film. The movie begins with his robbery of the Bank of England. He disguises himself as a French (on his father's side) valet, who finds employment with the inventor Phileas Fogg (Coogan), after he test-drives one of Fogg's experiments.
With a little encouragement from Passepartout, Fogg has soon made his bet to circumnavigate the world in 80 days. Passepartout's reasons being that he needs to return the Jade Buddha to his people in China, which was stolen from his village and which he stole back from the bank. Of course the setup is really just to get the traveling in motion.
Along the way, Fogg and Passepartout run into an assortment of odd characters – played by various celebrities, although not as many or of the caliber as in the 1956 version – in exotic locales. Most notably, of course, is Governor Schwarzenegger as Turkish Prince Hapi, who takes a liking to Monique, the French painter that joined the traveling duo in Paris. In a surreal and humorous bit, that runs too long, it is revealed that Prince Hapi was the model for Rodin's "The Thinker".
Coupled with the silly humor, which often takes bizarre turns (Mark Addy's nipple-less Captain, as an example), are the prerequisite, family-friendly fight scenes that you'd expect in any movie starring Jackie Chan. While he's definitely beginning to show his age, Chan is still able to stage an entertaining fight with his cat like moves. Unfortunately, after about the third one, the fights become a little repetitive, and given the two hour running time, you start to wish they'd left a few on the cutting room floor.
The three lead actors, Chan, Coogan, and Cécile De France as Monique, work well together and give the movie its heart. They help keep this mishmash of Jackie Chan antics and surreal humor on track. Chan and Coogan work particularly well, with Chan playing off Coogan's stiff upper lippedness. Their work makes up in some ways for the movies weaker points, when the comedy becomes too cartoonish.
While it may not be remembered in the same way as the vastly over-rated 1956 version, this latest retelling does entertain. It's not a perfect movie, but it is surprisingly better than you're likely to expect.

Reviewed on:
June 21st, 2004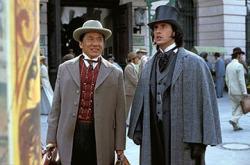 Jackie Chan and Steve Coogan in Around the World in 80 Days.
Ewen Bremner as Inspector Fix is the one and only piece of enjoyment to be found in this otherwise dull fiasco. My son and I laughed out loud, as he was thrown from a building or a train, smashed into walls and otherwise physically hurt. His antics are slapstick comedy at its best.
Scott, who are you referring to when you wrote "...its charming lead actors." Chan is an absolute bore in this film. He is not able to carry a movie by himself. He has to have a comic costar to bounce off of. Without one, Chan is little more than a characterless smile doing karate leaps and kicks.
Steve Coogan is adequate at best. His Fog should have been over-the-top. Coogan raises an eyebrow and looks indignant quite often, but it's not enough to generate a laugh. Fog should be more arrogant and sarcastic.
Cecile De France is dull and uninspired in all ways. Her acting is not impressive. Her looks are average. The only thing she brought to this movie was that I kept thinking she was actually Brittany Murphy with a lousy accent.
The cameos are pointless. Schwarzenegger looks completely stupid. Cleese has such a small cameo it might as well have been left out. Schneider has too much time and does nothing with it. The only Cameos that work are when the Wilson brothers portray the Wright bothers.
Bremner, who has appeared in Trainspotting, Black Hawk Down and The Rundown, does not get much billing or screen time here, but he gives this movie most of its humor and entertainment value.
Photos © Copyright Walt Disney Pictures (2004)
Related Review