Movie Review
The Apartment
Movie-wise, there has never been anything like it - laugh-wise, love-wise, or otherwise-wise!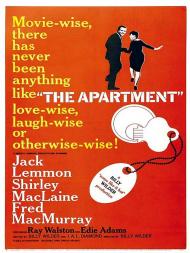 US Release Date: 06-15-1960
Directed by: Billy Wilder
Starring
▸
▾
Jack Lemmon

,

as

C.C. Baxter
Shirley MacLaine

,

as

Fran Kubelik
Fred MacMurray

,

as

Jeff D. Sheldrake
Ray Walston

,

as

Joe Dobisch
Jack Kruschen

,

as

Dr. Dreyfuss
David Lewis

,

as

Al Kirkeby
Hope Holiday

,

as

Mrs. Margie MacDougall
Joan Shawlee

,

as

Sylvia
Naomi Stevens

,

as

Mrs. Mildred Dreyfuss
Johnny Seven

,

as

Karl Matuschka
Joyce Jameson

,

as

The Blonde
Willard Waterman

,

as

Mr. Vanderhoff
David White

,

as

Mr. Eichelberger
Edie Adams

as

Miss Olsen

Reviewed on:
October 17th, 2011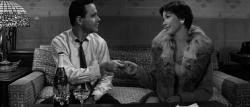 Jack Lemmon and Shirley MacLaine in The Apartment.
After 26 years of censorship the ironclad grip of the Hays Code was finally broken by the one - two punch of Billy Wilder's The Apartment and Alfred Hitchcock's Psycho in 1960. These two movies set the tone for the decade of change to come in Hollywood. By 1969 an X-rated movie, Midnight Cowboy, would win the Best Picture Oscar.
Set during the 1959 holiday season, The Apartment brought an adult attitude towards sex to mainstream Hollywood. Jack Lemmon stars as C.C. Baxter, a man working his way up the corporate ladder at a large New York City insurance company. He gets promoted by allowing higher-ups at the company to use his Upper East Side apartment for sexual trysts.
Despite the many inconveniences of this situation Baxter is scared to complain and so he spends much time wandering the streets and getting caught in the rain while waiting for his apartment to be free. Then he gets stuck with the clean-up. His doctor neighbor thinks Baxter is responsible for all the commotion he hears going on next door. He humorously assumes Baxter to be a sexual dynamo.
Things get complicated when Baxter falls for Fran Kubelik (Shirley MacLaine), a cute-as-a-button elevator operator at his office building. What he doesn't know is that Miss Kubelik is in love and having an affair with his married boss J.D. Sheldrake (Fred MacMurray). The boss asks for the key to bang Miss Kubelik at Baxter's bachelor pad. Baxter, of course, has no idea of the identity of Sheldrake's paramour. The story then takes an unexpected turn for the dramatic before the final resolution.
The Apartment was groundbreaking in its attitude about sex. It features several married men having illicit sexual encounters with gold digging women. One of whom impersonates Marilyn Monroe, reportedly at Wilder's request, as he had bitter feelings towards Monroe after working with, and putting up with, her unprofessional behavior for many years.
One scene features an office Christmas party. Wilder shot it on December 23rd, 1959 to ensure the cast would be properly festive. He later called it one of the easiest scenes he ever directed since he basically just rolled the cameras and filmed the party. The result is an iconic moment of debauchery at the height of the cocktail generation.
Jack Lemmon and Shirley MacLaine were a great team and both get plenty of chances to shine in this wonderful movie. There are many famous moments, one in which Baxter uses a tennis racquet to strain spaghetti and the final scene is classic (see photo above). Baxter confesses, "You hear what I said, Miss Kubelik? I absolutely adore you." "Shut up and deal..."

Reviewed on:
October 22nd, 2011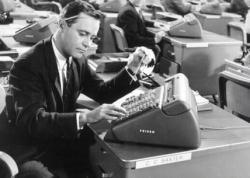 Jack Lemmon in The Apartment.
What was once groundbreaking is now quite dated in parts. What was risque and provocative, is now painfully tame. I'm sure this movie was quite adult for the times and I'm glad it helped pave the way for more modern films, but the change in mores and manners in the intervening years has weakened its impact when watched today.
This was my second time for watching this movie. My first viewing was approximately 20 years ago and I remember being disappointed after watching it. It has been hailed as such a classic and great film comedy and features the combination of Billy Wilder behind the camera and Jack Lemmon in front of it. How could that collaboration not be great? To my surprise though, I found a movie that wasn't nearly as funny as proclaimed and one that runs on a bit too long.
As I sat down to watch it again recently, I wondered if my opinion would be different following the passage of so many years. I have to say that I certainly did enjoy it more today than I did then. Part of the problem I had then and still do today is that if you do any kind of reading about this movie, it is hailed as a comedy, and while it is funny in parts, it's a far cry from Some Like It Hot, Wilder and Lemmon's collaboration before this one. It's a much smaller, adult type of humor and is mixed with drama and pathos. Baxter, played brilliantly by Lemmon, is weak and a brown-noser and so not immediately likable. In many ways the mixture of drama and comedy is as modern, if not more modern, than the sexual situations presented.
I should add that there are some funny moments in the movie, even if they are over shadowed by the drama. The broadest humor comes from Baxter's work chums and their inevitably ditzy girlfriends. Lemmon's broadest moment of humor comes on a drunken New Year's Eve when he meets a girl in a bar and ends up bringing her back to his place. He's best though in the smaller moments, like when he's taken by surprise and squeezes his bottle of nasal drops, sending it squirting across the room.
Patrick, I completely agree with your description of MacLaine as Miss Kubelik. She is quite cute with her bobbed hair and in her elevator operator uniform. It's easy to see why Baxter would fall for her. My only problem with her character is that I never really bought into the idea that she was so in love with stiff and stuffy Mr. Sheldrake. They needed someone more charming in his role. MacMurray is so uptight that he seems as out of place as MacLaine's lover as he does using the phrase, "Do you dig?" in a conversation with Baxter.
Although, as I said, Baxter doesn't start out very admirably, because he's played by Jack Lemmon it's impossible not to like him. He holds the movie together and it's his arc from doormat, ladder-climbing office toady to someone who takes a stand for himself, that holds your attention.
At over two hours, the movie does run long. The pacing is rather slow in parts and could have been edited, especially if they wanted to emphasize the comedy more.
In the history of cinema, this may be an important film. It should be noted if only for the fact that it's the last completely black and white film to win the Best Picture Oscar. However, despite some entertaining moments and a terrific performance by its lead, it's not a perfect film and does have some problems.

Reviewed on:
February 27th, 2012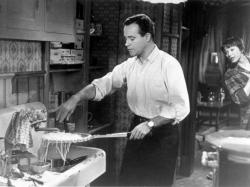 Jack Lemmon and Shirley MacLaine in The Apartment
C.C. Baxter is such a kiss ass, suck up, weak willed wanna be that I had a hard time feeling any empathy for him. It is hard to like someone so lacking in testicles. Even though Baxter is played by one of the most likable of actors, he is too much of a push over to respect. He eventually stands up to Sheldrake, but it takes two hours to get there.
I also liked the Marilyn Monroe impersonation. "Iam getting lonely. Who are you talking to anyway." The neighbor and the Christmas party are worth a few laughs. One of my favorite lines is when a man takes his mistress to the apaprtment and she asks, "You mean you bring other girls up here?" The guy responds, "Certainly not! I'm a happily married man."
Like Scott though, I am a bit bothered by this being called a comedy. The term dramedy definitely would work better here. The Apartment contains a serious suicide attempt. If it had better focused on one or the other, it would have also not been as long.
Considering the limited amount of sets, The Apartment would work very well as a play. It is dialogue driven. I really like Baxter's line, "Ya know, I used to live like Robinson Crusoe; I mean, shipwrecked among 8 million people. And then one day I saw a footprint in the sand, and there you were."
1959/60 was the turning point in movies, sexually speaking. Sex came out of the marital bed. The Apartment was one of several films made at this time to feature sex unsanctioned by marriage. Many of the women in this film are sexually easy, just like Baxter. He was as much a whore as the women who were laid in his apartment. The men in his office screwed him right along with those dames.
Photos © Copyright United Artists (1960)