Movie Review
Another Man's Poison
She Had Everything You Could Give A Woman To Torment A Man!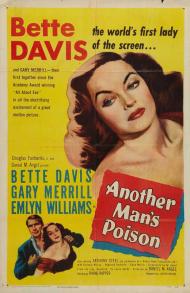 US Release Date: 01-06-1952
Directed by: Irving Rapper
Starring
▸
▾
Bette Davis

,

as

Janet Frobisher
Gary Merrill

,

as

George Bates
Emlyn Williams

,

as

Dr. Henderson
Anthony Steel

,

as

Larry Stevens
Barbara Murray

,

as

Chris Dale
Reginald Beckwith

,

as

Mr. Bigley
Edna Morris

as

Mrs. Bunting
Reviewed on:
April 26th, 2012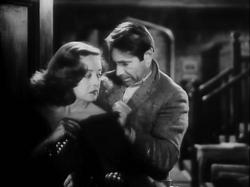 Bette Davis and Gary Merrill in Another Man's Poison.
In Another Man's Poison Bette Davis adds to her career body count as cold blooded mystery writer Janet Frobisher. As the story opens she has already murdered her estranged husband who had shown up unannounced on the doorstep of her elegant country estate on the windswept English moors. The action takes place over one weekend and involves subterfuge, jealousy and murder. The cast features just a handful of players. These include an interfering bank robber that poses as Janet's husband, Janet's secretary and her secretary's fiance (who's secretly having an affair with Janet) and a few local residents including one rather nosy veterinarian.
The cast includes Gary Merrill, Bette's real life husband at the time. They had met while making Bette's previously filmed movie All About Eve and in between film shoots had gone to Mexico to get hitched. Another Man's Poison was based on the play Intent to Murder by Leslie Sands with a screenplay by Val Guest. It was produced by one of Bette's old costars Douglas Fairbanks Jr. It was shot on location in England. Several scenes show off the rugged countryside as well as Bette Davis' seat as a horse rider. Her character owns a beautiful chestnut horse named Fury that plays an integral part in the plot.
Here Irving Rapper directed Miss Davis for the fourth and final time. Their previous collaborations were all big hits for Warner Brothers in the 1940s; Now, Voyager (1942), The Corn is Green (1945) (which was based on the play written by Emlyn Williams, the same man that plays the veterinarian in this movie) and Deception (1946). Bette Davis and Irving Rapper had been friends for years. She had even agreed to make a walk-on cameo appearance in his very first movie as director, 1941's Shining Victory.
During this period in her illustrious and many-phased career Bette began playing caricatures of herself. From 1949's Beyond the Forest through 1952's The Star, including her most celebrated role as Margo Channing in Eve, Bette stormed through her roles, taking no prisoners and out Bette-ing any of her numerous nightclub impersonators. She reached a manic zenith with Janet Frobisher.
Never before or since had she played so shamelessly to the rafters. She smokes what seems like cartons of cigarettes, using them as props by waving them around and exhaling the smoke in as dramatic a fashion as possible while bugging her famous eyes and clipping her consonants in that unmistakable semi-hoarse speaking voice. The final closeup is a giddy exercise in overacting as only Bette Davis could do it.

There is nothing even remotely subtle about Another Man's Poison. The hackneyed melodrama is so thick you could cut it with a knife. I rarely quote other critics in my reviews but Frank Hauser wrote such a great line in his review in New Statesman and Nation that it bears repeating. "No one has ever accused Bette Davis of failing to rise to a good script; what this film shows is how far she can go to meet a bad one."
For the many fans of Bette Davis her histrionic performance as Janet Frobisher remains a cinematic guilty pleasure.
Photos © Copyright United Artists (1952)