Movie Review
Anonymous
Was Shakespeare a Fraud?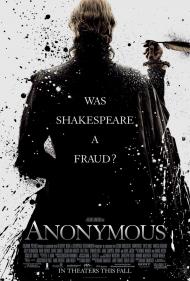 US Release Date: 10-28-2011
Directed by: Roland Emmerich
Starring
▸
▾
Rhys Ifans

,

as

Earl of Oxford
Vanessa Redgrave

,

as

Queen Elizabeth I
Sebastian Armesto

,

as

Ben Jonson
Rafe Spall

,

as

William Shakespeare
David Thewlis

,

as

William Cecil
Edward Hogg

,

as

Robert Cecil
Xavier Samuel

,

as

Earl of Southampton
Sam Reid

,

as

Earl of Essex
Jamie Campbell Bower

,

as

Young Earl of Oxford
Joely Richardson

,

as

Young Queen Elizabeth I
Paolo De Vita

,

as

Francesco
Trystan Gravelle

,

as

Christopher Marlowe
Robert Emms

,

as

Thomas Dekker
Tony Way

,

as

Thomas Nashe
Julian Bleach

,

as

Captain Richard Pole
Derek Jacobi

,

as

Prologue
Alex Hassell

,

as

Spencer
James Garnon

,

as

Heminge
Mark Rylance

,

as

Condell
Jasper Britton

,

as

Pope
Michael Brown

,

as

Sly
Ned Dennehy

,

as

Interrogator
John Keogh

,

as

Philip Henslowe
Lloyd Hutchinson

,

as

Richard Burbage
Vicky Krieps

,

as

Bessie Vavasour
Helen Baxendale

as

Anne De Vere

Reviewed on:
October 31st, 2011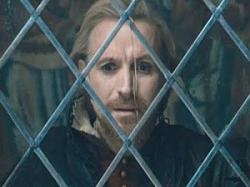 Rhys Ifans as Edward de Vere, the 17th Earl of Oxford in Anonymous.
To Shakespeare scholars the idea that someone else was the author of his 37 play, 154 sonnets and other assorted writings is the equivalent of believing the Apollo moon landings were faked. That hasn't stopped director Roland Emmerich - more known for his big-budget sci-fi disaster films than for being a literary historian - and scriptwriter John Orloff from trotting out the old Oxfordian theory that Edward de Vere, the 17th Earl of Oxford was the true author of the works normally attributed to William Shakespeare. Blasphemy to some, this movie is such a renaissance soap opera that it's not likely to change anyone's mind about who wrote what and is best viewed simply as an alternative history what-if story rather than as anything remotely related to fact.
In this version of history, Edward de Vere is a literary prodigy. He writes A Midsummer's Night's Dream when still just a boy. As a future Earl of course, a playwright's life is far beneath him and any distant hope he has of pursuing that career path is destroyed when his father dies and Edward is placed in the home of William Cecil, advisor to Queen Elizabeth and a Puritan who views plays and poems as the work of the devil. This doesn't stop a young Edward from using his silver tongue to seduce the Queen and even, according to this story, getting her pregnant and producing an illegitimate heir to the throne, although the child's existence is kept a secret from Edward at the time of its birth.
Many years later, a much older Edward, who has continued to write, approaches playwright Ben Johnson with cash and a series of his plays that he wants Johnson to produce under his own name. Johnson however, doesn't want to take credit for someone else's work and instead puts the name Anonymous on the first play, Henry the Fifth. When the play is a hit and the audience is chanting to know the author, an illiterate and uncouth actor named William Shakespeare takes center stage and claims to have written it. At first Johnson is quite happy to have Shakespeare take the credit, but when he becomes known as the greatest playwright of the age, Johnson begins to resent the upstart actor who starts to believe his own press clippings.
While all the literary shenanigans are going on, there are also some political double-dealings concerning the successor to an aging Elizabeth's crown. Edward tries to use his pen to influence politics, pitting himself against his former guardian and current father in-law, William Cecil.
Visually the movie is stunning. Tudor London is brought to life with so much detail you can practically smell it. The Globe theater, the Tower of London, Bankside taverns and various castles are shown in all their grubby finery. The costumes and make-up are also superb. I wouldn't at all be surprised to see this movie's title come up in the technical Oscar categories.
There are also some decent performances. Vanessa Redgrave and real life daughter Joely Richardson play Queen Elizabeth at different stages of her life. Redgrave is quite good. Her Elizabeth is depicted as weaker, paranoid and more reliant on advisors than she is normally shown to be. The film also depicts her as possibly mad and the mother of several illegitimate children.
At over 2 hours the movie is definitely too long. This is in part because of the overly complicated way the story is told. It begins with a pointless modern scene on a Broadway stage where a narrator begins the story and we are then taken back to the end of the story before flashing back five years and then again flashed back 20 years or so before that, with the rest of the story jumping back and forth between the two time periods. This way of revealing the story doesn't do much besides make it more complicated.
The few moments of comic relief are provided by Rafe Spall (Anne Hathaway's failed standup comic boyfriend in One Day) as Shakespeare. He takes to celebrity like a duck to water, living it up while everyone else is quietly miserable around him. When he sees an opportunity he takes it, including blackmailing Edward for cash to build a theater and even, the film implies, murdering fellow playwright Christopher Marlowe when he threatens to reveal that Shakespeare is a fake.
I once read somewhere that Shakespeare, with all the family drama, murder and intrigue in his plays, really just wrote soap operas in iambic pentameter. While obviously there was more to his work than mere soap opera, you can see the point of that statement. This movie though, is pure soap opera with none of the artistry.

Reviewed on:
February 18th, 2012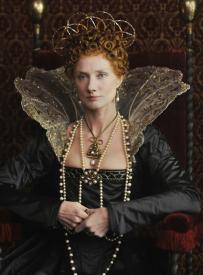 Joely Richardson as Queen Elizabeth I in Anonymous
A quick search online disclosed two things about William Shakespeare. The first is that there has been much speculation on who he was as a person. There are debates about how a man with no known official education could write such plays. There are articles that question his sexuality.
The second thing, is that there are damn few actual facts available to prove anything. Although it is believed he attended a particular grammar school that was near his childhood home, there is no proof that he did. There is no proof that he had any sort of education, let alone a higher one. He married a woman eight years older than himself who was several months pregnant. They stayed married untill his death.
Historians and Shakespeare scholars can tear this film apart for actual and supposed inaccuracies all they want. Since so little is truthfully known about him, this is just another insinuation among so many others. Not only does Anonymous state that William Shakespeare did not write all of those plays, but that some were written as a political commentary on current events.
Is it unthinkable that a man from very humble beginnings and no known education have such a huge vocabulary? Perhaps, or maybe there are exceptional people in the world. Wolfgang Amadeus Mozart is given credit for composing at age five. Stevie Wonder wrote the lyrics to "My Cherie Amour" which describes things that a blind person would have never experienced.
The mystique of Shakespeare is ripe for implications and insinuations. Anonymous however, spends precious little time on Shakespeare himself. Other than making him look like a half wit actor, who never wrote a word in his life, it implies very little about him. It is more interested in implications and insinuations of the goings on behind closed royal doors.
I have never been a fan of Shakespeare's work or had any interest in him as a person. Anonymous however, sparked a curiosity in me to look up information about him. Sadly, there are so few actual facts available, that it proved very uninformative. Watch Anonymous for what it is, a mere suggestion as to who Shakespeare may have been. There is no proof that any of it is true, but it still poses an interesting question.
Reviewed on:
July 17th, 2012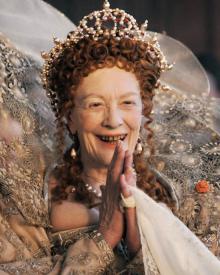 Vanessa Redgrave as Queen Elizabeth I in Anonymous.
Visually, Anonymous is stunning. The period details and cinematography are impressive. Elizabethan England has never been more splendidly recreated. Many of the framed shots look like Renaissance oil paintings come to life. If I were judging this movie solely on its appearance I wouldn't hesitate to give it four stars.
Unfortunately the plot is so incredibly convoluted and the silly decision to hop around chronologically in time so pointlessly confusing that I quickly lost interest in the proceedings. Every now and then a memorable scene emerges from the chaos, most of them involving Vanessa Redgrave as the aging Virgin Queen.
This bloated, historically inaccurate soap opera/thriller seems to care more about swaying the audience into buying its tired conspiracy theory than it is in entertaining.
And since there is no incontrovertible evidence to either prove or disprove whether or not William Shakespeare wrote those 37 plays, 154 sonnets and various other assorted writings that bear his name, it renders this movie a pointless exercise in futility.
The fact that they cast Shakespeare the man in such a negative light adds nothing to their theory except to give it a touch of desperation. Did they really have to make him so uncouth and illiterate? It's not exactly subtle scriptwriting.
This movie proves that all the window dressing and acting talent in the world cannot make up for a poorly conceived and written script. It's unanimous, Anonymous is a gorgeous mess.
Photos © Copyright Columbia Pictures (2011)