Movie Review
Anna Karenina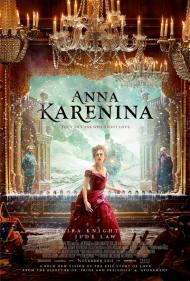 US Release Date: 11-16-2012
Directed by: Joe Wright
Starring
▸
▾
Keira Knightley

,

as

Anna Karenina
Jude Law

,

as

Alexei Karenin
Aaron Taylor-Johnson

,

as

Count Vronsky
Kelly Macdonald

,

as

Dolly
Matthew Macfadyen

,

as

Oblonsky
Domhnall Gleeson

,

as

Konstantin Levin
Ruth Wilson

,

as

Princess Betsy
Alicia Vikander

,

as

Kitty
Olivia Williams

,

as

Countess Vronskaya
Michelle Dockery

,

as

Princess Myagkaya
Emily Watson

,

as

Countess Lydia
Holliday Grainger

,

as

The Baroness
Shirley Henderson

,

as

Meme Kartasov
Bill Skarsgard

as

Captain Machouten

Reviewed on:
November 18th, 2012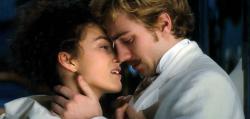 Keira Knightley and Aaron Taylor-Johnson in Anna Karenina.
Anna Karenina has a long screen history dating back to 1910. Greta Garbo played the role twice, in a silent movie called Love, and then most famously in the critically acclaimed 1935 version produced by David O. Selznick, directed by Clarence Brown, and costarring Fredric March. Vivian Leigh gave us her Anna Karenina in 1948 and there have been at least another half dozen versions made in the decades since.
Leo Tolstoy's classic Nineteenth Century Russian novel's latest screen adaptation, by director Joe Wright, is a lush and fanciful feast for the eyes. With a screenplay by Tom Stoppard that sticks faithfully to the author's original story (and beautifully handles its central theme of the consequences (and hypocrisy) of societies' treatment of a woman who dares go against accepted moral behavior), and a talented cast of actors to bring these iconic characters to life, this should have been a great movie.
It isn't, due to two big flaws.
First of all, the director's decision to place half the action on a stage seems odd. Yes it's visually interesting and allows for some creative artistic flair in scene transitions, but juxtaposed as they are with scenes set in the real world, it gives the movie a schizophrenic, disjointed feeling. I would have preferred the movie to be set entirely in the real world, but had the director remained consistent with the stage concept I would have appreciated it more than this bizarre combination of the two.
The sets and costumes are undeniably sumptuous and it's gorgeously filmed. It should garner Oscar nominations in those three categories at least.
The second flaw is the central performance by Keira Knightley. She is an undeniable beauty. Her stunning looks perfectly suit the role. But only on the surface is she a convincing Princess Anna Arkadyevna Karenina. The Anna of the book is a Great Lady. A woman capable of having a passionate, all-consuming affair and behaving in the most selfish manner while retaining her decorum and class. In Knightley's hands she comes across more as a well-dressed tart in serious need of hot sex. Where is the confident, noble woman with perfect manners who knows how to make everyone around her instantly comfortable in any social situation? This Anna seems weaker and more of a victim. But then who could ever surpass the Great Garbo in this role which she was born to play?
The supporting players are well-cast. Matthew Macfadyen provides some levity as Oblonsky. Domhnall Gleeson brings the right combination of noble intelligence and social awkwardness to Konstantin Levin, and Alicia Vikander as Kitty is the picture of gentle womanly innocence. Their happy tale of love (at least by Russian novel standards) contrasts sharply with the tragedy of the central romance between Anna and Vronsky.
Speaking of Count Vronsky, Aaron Taylor-Johnson brings the dashing officer to life. His rakish good looks with his piercing blue eyes, curly blond hair and carefully trimmed mustache combined with that tight white uniform, makes it easy to see why Anna would prefer him to her plainly dressed, and pious husband. Which brings us to Alexei Karenin, skillfully embodied by Jude Law. In what has to be one of his very best performances, Law makes Karenin more sympathetic than he is usually portrayed. In this unassuming (and thankless) role he shines bright and of the entire cast he alone deserves Oscar consideration.
I enjoyed this movie for the most part, particularly in regards to its fairly faithful adaptation of Tolstoy's book. It helps if you've read the novel. The highly artistic style in which it's filmed is both a plus and a minus. At times it helps move the story along quickly from scene to scene, but at other times it seems overly pretentious (the horse race scene for example). I liked the cast with the exception of Knightley as Anna. The pacing could have been swifter, especially during the final 30 minutes. We all know Anna is heading for that fateful final rendezvous with a locomotive but it sure takes a while for Wright to get her there.
This Anna Karenina is a visually interesting attempt to bring a new perspective to the classic story  but I'll stick to the 1935 version, thank you very much.
Reviewed on:
November 18th, 2012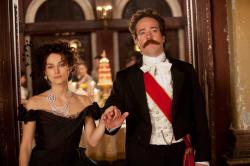 Keira Knightley and Matthew Macfadyen in Anna Karenina.
Unlike Patrick, I have never read the Tolstoy novel nor seen any earlier film version. Therefore this was my first exposure to the story of Anna Karenina. I can't say that I was impressed.
I agree that visually this movie is sumptuous. Costume designer Jacqueline Durran is a lock for an Oscar nomination. Knightley is the perfect mannequin for her dresses with each one more beautiful than the last. Likewise, the set designs are a treat for the eyes. From Moscow mansions to sweeping country vistas, they are all laid out for maximum visual pleasure.
As Patrick said, setting the movie on a stage is an interesting idea that allows for inventive scene transitions. However, apart from making things visually interesting, what's the point of filming it this way? Is it that Anna, living in the eye of high society, must live her life as a performer, in front of everyone, like an actor on a stage? This might be more convincing if the entire movie were filmed this way, but also as Patrick so rightly pointed out, it's not.
My problem with the central character of Anna, as written and performed in this movie, is that she does act as if she were a victim. I guess if you believe that her love for Vronsky is so all encompassing and overpowering that she has no control over it, than maybe she's partly a victim, but everything that happens to her, happens to her because of her own actions. She's the one who cheats on her husband with the man one of her best friends is in love with. Did she really think there wouldn't be consequences? This Anna is a selfish, naive, weak willed, spoiled young woman, whom I ended up feeling no sympathy for.
Patrick also mentioned that Jude Law's portrayal of Alexi is a fairly sympathetic one. This is a mistake on the writer and director's part. Were he more of an asshole, rather than just boringly pious, I might have felt more sympathy for Anna.
The cast does do a fairly good job in general. Of the supporting players, I was most struck by Matthew Macfadyen as Anna's brother. He provides some much needed comic relief in this depressing Russian drama.
I too felt that the story runs too long and too slow, particularly during the third act. The pacing is as glacial as a Siberian winter. It becomes one scene after another of Knightley crying and throwing a tantrum in different beautiful dresses.
Visually, this movie is like a beautiful oil painting, but like an oil painting, I don't want to look at it for over two hours.

Reviewed on:
January 30th, 2013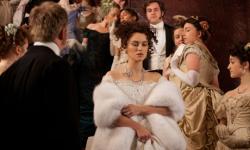 Keira Knightly looking fabulous in Anna Karenina
Asmy brothers wrote, the costumes are undeniably sumptuous. They are so gorgeous as to die for. I could have literally died and gone to heaven only to find paradise pale compared to these scrumptious clothes. Knightly is ravishing, draped in gowns so fabulous they would make Edith Head's nipples erect, if the deceased costume designer were still alive.
The only thing to rival the heavenly attire is the oh so romantic moments. The dance between Anna and Vronsky is passion personified! Her lustful stare and his 70s porn mustache scream for carnal satisfaction. All the catty bitches at the ball take note of their lust and gossip quickly spreads. Karenina cares not for discretion or her marriage, wasting little time in delivering her dripping cunt to Vronsky's bed.
The little whore gets so caught up in Vronsky's mustache rides that she admits to being able to leave her husband and son for him. The horny little tart even compares her orgasms to her appetite, "I am like a starving beggar whose been given food," You go girl!
She becomes a drama queen when Vronsky falls from his horse, going all Garbo screaming for him as all the gossipy hens take note. This shameless tramp knocks her husband's comforting hand away as she continues her hissy fit. On the ride home from the races he tells her to stop acting like a whore and be the wife he expects. It is too late. Karenina has had a proper fuck and her husband's dick no longer does it for her.
Patrick, Anna is by no means a weak victim. I am in total agreement with Scott, She acts the part of victim, but she started the affair that caused all her problems. Falling in love is never an excuse, no matter how outstanding the sex is. After Anna's husband tells Vronsky that he forgives Anna, Vronsky cries like a little bitch on his chest. All the emoting in the world does not excuse the fact that she is an unfaithful harlot. A fabulously dressed harlot mind you, but an unfaithful harlot none-the-less.
Adults acting as if their emotions make them helpless is a pathetic plot device. Children, liberals and religious people use emotions to excuse irrational behavior. Mature people do not. Anna Karenina is nothing more than a day time soap opera in stunning period clothing. At least it had a happy ending on the train platform.
Photos © Copyright Focus Features (2012)
Related Review