Movie Review
Anna Karenina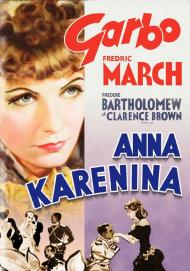 US Release Date: 08-30-1935
Directed by: Clarence Brown
Starring
▸
▾
Greta Garbo

,

as

Anna Karenina
Fredric March

,

as

Count Vronsky
Freddie Bartholomew

,

as

Sergei
Maureen O'Sullivan

,

as

Kitty
May Robson

,

as

Countess Vronsky
Basil Rathbone

,

as

Karenin
Reginald Owen

,

as

Stiva
Phoebe Foster

,

as

Dolly
Reginald Denny

,

as

Yashvin
Gyles Isham

as

Konstantin Dimetrievitch Levin
Reviewed on:
July 27th, 2011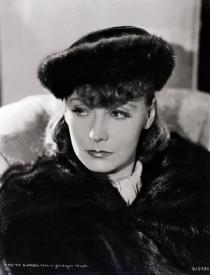 Greta Garbo IS Anna Karenina!
In 1935, 4 years before he released Gone with the Wind, producer David O. Selznick transferred Tolstoy's Anna Karenina from page to screen. He knew how to take an epic novel and concisely whittle it down to its essence, keeping the scenes that work best cinematically and leaving out the ones that don't translate as well. He brilliantly edited Tolstoy's 800-plus page novel into a movie that runs just over 90 minutes.
So successful was this production that many critics consider it the best movie version ever made of Anna Karenina. This becomes even more impressive when you stop to consider that at least 25 different productions of the novel have been brought to the screen around the globe (including television), dating back to 1910. Yet another remake is coming next year with Keira Knightley in the titular role.
Nobody played tragic heroines better than Greta Garbo and Anna Karenina is perhaps the greatest tragic heroine in literary history. Her luminous beauty is just how you picture Anna and her throaty accented speaking voice perfect for the character. She had already played the part in a silent version called simply Love but was eager to replay the role with sound. Also that version had been updated to the modern day while this one would be true to the time period of the book.
For those who aren't familiar with the story, Anna Karenina is about a woman who sacrifices everything for love. Married to a cold, emotionally distant husband she begins an elicit affair with a dashing young officer. Eventually Anna loses her social position and her young son whom her husband forbids her from seeing. All of this is, of course, leading up to that final tragic scene at the train station where Anna meets her cruel fate.
The novel contains several subplots that are excised from this movie version. Unlike the book Selznick keeps the story focused almost entirely on Anna. And he even deletes one major scene involving her near fatal illness. Purists may balk at these changes but trust me it keeps the story moving and hits all the emotional high points.
All of the credit doesn't belong to Selznick however. The very talented Clarence Brown directs with a sure eye. He masterminds several superb tracking shots and photographs his star in the most flattering way possible. Fredric March plays the dashing Count Vronksy. He and Garbo have great romantic chemistry together. Basil Rathbone is very convincing as the cruel socially conservative Karenin. Maureen O'Sullivan and Freddie Bartholomew are both quite good as Kitty and Sergei respectively.
But this movie, like the novel, belongs to Anna and the Great Garbo doesn't disappoint. She conveys Anna's initial joy, her all consuming passion for Vronsky, her dramatic disagreements with Karenin, her boundless love for her son and ultimately her tragic inability to change her destiny. Hollywood's biggest and most enigmatic star was shamelessly snubbed by the Academy that year, not even garnering a nomination for this absolutely magical performance. But don't take my word for it, watch Anna Karenina for yourself and see one of the silver screen's greatest stars at the peak of her powers.

Photos © Copyright Metro-Goldwyn-Mayer (MGM) (1935)
Related Review