Movie Review
Angus, Thongs and Perfect Snogging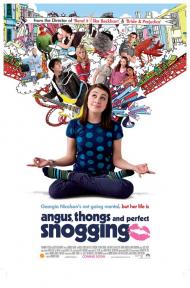 US Release Date: 03-12-2009
Directed by: Gurinder Chadha
Starring
▸
▾
Georgia Groome

,

as

Georgia Nicolson
Eleanor Tomlinson

,

as

Jas
Aaron Taylor-Johnson

,

as

Robbie
Alan Davies

,

as

Bob Nicolson
Karen Taylor

,

as

Connie Nicolson
Tommy Bastow

,

as

Dave
Sean Bourke

,

as

Tom
Liam Hess

as

Peter Dyer

Reviewed on:
August 27th, 2009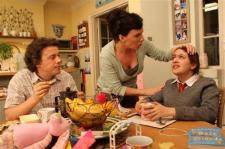 Alan Davies, Karen Taylor and Georgia Groome in Angus, Thongs and Perfect Snogging
Despite being 25 years older and the opposite sex of the main characters, I rather surprisingly enjoyed this movie. Writer/Director Gurinder Chadha (Bend it Like Beckham) knows how to make feel-good movies, of which this definitely is one. She is aided by likable and talented newcomer Georgia Groome in the lead role.
Georgia Nicolson is fourteen years old and obsessed with boys and her upcoming 15th birthday party. Her and her friends spend their time plotting ways to meet the boy of their dreams. When Robbie and his brother Tom start going to the same school as the girls, Georgia and her best friend Jas see their chance for boyfriends and move in quickly. The path to true love never runs smooth of course and Georgia must deal with jealousy, embarrassing parents, a younger sister and other girls with designs on the same boy as her.
It's a sign of the times that the innocence of this movie makes it feel old-fashioned. The girls want boyfriends they can snog (kiss), but certainly nothing more than that. The boys too, are all sweet and innocent. Georgia's family also plays a big part in the movie. She worries that her parents will get divorced (yes Eric, she has a mother and a father in this movie that are married to each other), when her father is offered a job in New Zeland and her mother hires a hot new interior designer. I suspect that this movie isn't so far off from reality, but it is far off from what you see in most Hollywood movies.
It's a young girl's fantasy movie filled as it is with the "average" girl getting the hot guy and getting her revenge over the blonde, big-busted slutty girl. That alone is enough to make this movie an anomaly. There are plenty of movies aimed at young boys (sometimes it seems like all movies), but a movie aimed at young women is fairly rare, probably harkening back to the theory that girls will watch guy films, but guys won't watch chick flicks.
Georgia Groome does a great job in the lead. She's funny and believable in her part. It's mainly due to her performance that I was able to relate to a movie so far from my own circumstances. Everyone's been in embarrassing situations, even if they haven't been a teenage English schoolgirl and thanks to Georgia's performance you can empathize with her even if you're a 40 year old American man.
Since I already told you that this is a feel-good movie, you can probably guess that it has a happy ending. Obviously it would help your enjoyment if you are a teen-age (or younger) girl, but the fact that even I was entertained by it clearly speaks volumes.
Reviewed on:
April 3rd, 2013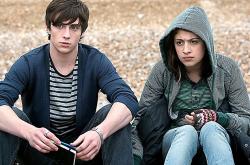 Aaron Taylor-Johnson and Georgia Groome in Angus, Thongs and Perfect Snogging.
Angus, Thongs and Perfect Snogging is a much better movie than it is a title (it doesn't exactly roll off the tongue). It's a charmingly well-written British distaff coming-of-age story. Scott mentioned its old-fashioned innocence yet it was the first Nickelodeon produced motion picture to receive a PG-13 rating (the only other one, to date, was 2012's Fun Size). I guess they felt some of the girls' conversations about boys crossed over into a more mature area? And there's a brief scene of a girl's butt in a thong and she is shown padding her bra. That rating is a bit of a stretch if you ask me.
I agree that newcomer Georgia Groome gives a winning performance. She appears to be a natural in front of the camera. Her average looks suit the role of the slightly oddball character yearning to be cool and popular. The rest of the cast is fine but she deserves special mention since she is in nearly every scene and she has to demonstrate a full range of emotions.
They got two important things right. They cast age appropriately (Groome was 15 and Aaron Taylor-Johnson, who plays Robbie, was 17). Juvenile behavior is much more acceptable and less annoying when it is done by actors that actually look the right age. They also got their personalities right. These kids all look, act and talk like real teenagers. They have that mix of know-it-all confidence and shy social awkwardness that all teens have to varying degrees. Georgia's relationship with her parents is likewise believable. She gets completely embarrassed by them one minute but then cries her eyes out on her mom's shoulder the next.
Of course it is still a movie. And since this is a chick flick fantasy Robbie is the perfect guy and the one exception to what I wrote in the previous paragraph. He's really too perfect and therefore the least believable character in the story. He's cool, nice, talented and hot. While she's merely a cute girl with a quirky personality and average looks. Not a combination I ever saw together in school.
Aaron Taylor-Johnson has become a star since this movie. He played Vronsky in last year's Anna Karenina and he was in Kick-Ass and Albert Nobbs. He was already a decent actor. He almost makes you buy his choosing Georgia at the end. And that's no easy sell. He also gets one of the funniest lines. The first time they speak after an argument...
Robbie: I wrote a song about you.
Georgia: Really?
Robbie: Yeah. It's called "Bitch in Uniform".
Despite its awkward title (Angus is the name of her cat) this movie is a winner. It combines winsome humor with teen angst in an innocuous yet realistic mix. Georgia Groome is terrific as a young girl taking her first steps towards womanhood. Even the title is beginning to grow on me. Angus, Thongs and Perfect Snogging. Why not?

Reviewed on:
November 8th, 2014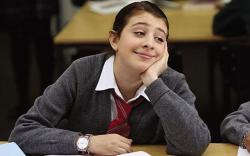 Georgia Groome in Angus, Thongs and Perfect Snogging
As Scott noted. Angus, Thongs and Perfect Snogging is a coming-of-age story about a 14 year old girl taking her first steps towards womanhood. Her tried and true journey has little to do with jealousy, embarrassing parents, a younger sister or other girls with designs on the same boy as her. Those traits merely represent the child's perspective that must be changed by new experiences in order for her to grow.
Georgia is a teenager and by definition is a very self-centered creature. According to her, the world revolves around her friends, the boy she likes and her birthday party. Her father has an opportunity for a huge promotion but it would change her life and so she is, of course, against it. It never even enters her mind how much it means to her father. She dates a class mate, Dave, with the intention of making Robbie jealous, thinking nothing of how Dave feels.
Her parents are a loving middle class couple but she simply sees them as people designed to make her life better. She whines endlessly about how her parents should pay to have her party at a club. She never stops to think about how expensive that might be and that her father may want the promotion so as to make more money so that he can lavish gifts onto his family. No, that would require this teenager to think about someone else's problems.
After hearing from Robbie about his divorced parents, Georgia finally starts to see outside her tiny atmosphere. She hears her parents loudly discussing his trip to New Zealand. While he is gone, she observes her mother flirting continuously with the hunky interior decorator. Notice how her mother suddenly starts to wear low cut blouses around him and how they show more and more of her ample bosom as the movie goes on.
Here is where the growing up occurs. Georgia finally learns to think of others. She has issues with her best friend that is based as much on her jealousy as anything her friend did. She realizes she hurt Dave's feelings. Most of all, she learns that her family is not there simply to benefit or embarrass her.
As Scott noted, this is definitely a young girl's fantasy movie as Georgia gets revenge on the blonde, big-busted slutty snob. What makes it even more of a fantasy is that this, at best, average looking girl ends up having three different guys pursuing her. In my opinion, Dave is a better match for Georgia than Robbie.Georgia certainly has some minor growing pains to suffer through but none of them are in anyway unique and everything ends up so perfectly for her that I almost wanted to gag. Spoiler alert: She even gets to have her party at a club.
As far as the rating goes, I will chalk it up to America's sensitivity to minors talking about anything that has to do with sex. As Patrick noted, the girls talk about their breasts and snogging (making out) with boys continuously. They have one boy teach them how to French kiss. Dave makes a harmlessly juvenile joke about breasts. Sure, this all seems like innocent talk to the middle aged but to 14 year olds, who are trying to figure it all out, it is quite exciting.
Angus, Thongs and Perfect Snogging breaks no new ground into the psyche of the teenage mind but it does represent it very accurately.
Photos © Copyright Nickelodeon Movies (2009)