Movie Review
Angels with Dirty Faces
Sensational Human Drama... Terrific Thrills And Suspense!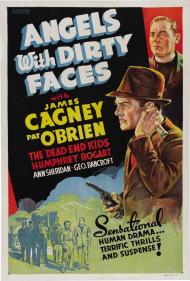 US Release Date: 11-26-1938
Directed by: Michael Curtiz
Starring
▸
▾
James Cagney

,

as

William 'Rocky' Sullivan
Pat O'Brien

,

as

The Rev. Jerry Connolly
Humphrey Bogart

,

as

James Frazier
Ann Sheridan

,

as

Laury Ferguson
George Bancroft

,

as

Mac Keefer
Billy Halop

,

as

Soapy
Bobby Jordan

as

Swing

Reviewed on:
April 13th, 2003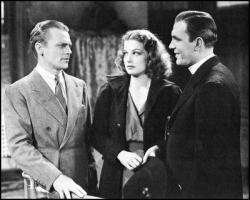 James Cagney, Ann Sheridan and Pat O'Brien in Angels with Dirty Faces.
Angels with Dirty Faces is a prime example of the vast talent that Warner Bros had to offer at the peak of its power. Directed by Michael Curtiz, Starring James Cagney, Pat O'Brien, Humphrey Bogart, Ann Sheridan and the Dead End Kids, music by Max Steiner and gowns by Orry Kelly (admittedly an easy job since there is only one female character in the movie). The story - boyhood friends grow up and find themselves on opposite sides of the law - is similar to MGM's Manhattan Melodrama from a few years earlier. Only in this one there is no love triangle and the D.A. has been changed to a priest, but as good as Manhattan Melodrama is it doesn't hold a candle to Angels with Dirty Faces.
Once again James Cagney proves himself to be one of the most charismatic stars ever to grace the screen. He is more polished here than in Public Enemy but is still young enough to pull off the part, completely justifying the Dead End Kids hero worship.
Cagney is Rocky Sullivan, a street thug just released from prison. He gets a room in his old neighborhood in Hell's Kitchen and looks up his lawyer (Bogart playing a slimy coward) in order to get the hundred thousand semolians the lawyer stashed for Rocky when he was sent up. Bogey tells him he doesn't have the money on him but will get it to him in a few days. On the walk to his room Rocky gets his wallet lifted by several members of the Dead End Kids and he shows up in their basement hideout a few minutes later. They suddenly realize that he is Rocky Sullivan and before you know it they are running errands for him and openly emulating their new hero. Eventually Rocky gets himself in a big political scandal and his best friend Jerry (Pat O'Brien playing one of his many priest roles), goes on a crusade against him. All of this leading up to Rocky's final gun battle with the 'coppers' and then his final moments on death row where Jerry asks him for one last favor. He wants Rocky to die Yellow, to go out pleading for his life and whimpering for mercy so the boys will stop looking up to him. Rocky refuses.
I won't spoil the ending but I will give away the last line. Father Jerry is talking to the Dead End Kids who have just been reading about Rocky in the paper. He tells them, "Let's go and say a prayer for a boy that couldn't run as fast as I could."
Reviewed on:
June 3rd, 2011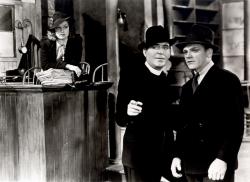 Ann Sheridan, Pat O'Brian and James Cagney in Angels with Dirty Faces
I hadn't watched this movie in many, many years. I enjoyed it as a kid and I wondered if my reaction toward it would be different as an adult. I particularly worried because I didn't really enjoy the similarly themed Manhattan Melodrama that you mentioned Patrick and neither did I particularly care for They Made Me a Criminal, which has echoes of this film. As you can tell by the number of stars I gave this movie, my worries were needless. This is a great and highly entertaining movie that more than lived up to my memory of it.
However, while I enjoyed it as much, if not more, now as I did when I was a kid, I did look at it differently as an adult.
The biggest change in my reactions was that this time I kept thinking what a selfish bastard Jerry turned out to be. For pretty much his whole life Rocky goes out of his way to protect and stand-by Jerry. He goes to jail and keeps Jerry out of it. When Jerry tells Rocky that he's going to try and prosecute him, Rocky doesn't try to stop him. His violent actions at the film's climax are because he wants to protect Jerry. There's not a moment in the film when Rocky doesn't stand by Jerry, but his loyalty is never reciprocated. Jerry doesn't try to stop Rocky from behaving in a criminal manner, he tries to have him exposed and arrested. And Jerry asking Rocky to turn yellow on the electric chair when it's Jerry's actions that have led Rocky to the chair is an astoundingly bold favor to ask.
Another thing I never really remarked upon as a kid, was how cute Ann Sheridan is here. She was a looker. Her part is fairly small and the love story kept very minor, but she brings some nice eye candy to a movie filled with the not so pretty faces of Cagney, Bogie and Pat O'Brien.
The Dead End Kids bring comic relief to the story. Their old school New York accents (calling the priest, 'Faddah', instead of father, for instance) and mispronunciations are fun to hear.
Above all though this is Cagney's movie and this part plays perfectly to his strengths. His cocky machismo is on full display. He struts across the screen and charms Ann Sheridan, the Dead End Kids and the audience effortlessly. The only person who seems unmoved by his charm is Pat O'Brien as Jerry. Maybe jealousy is the real reason why Jerry seems so eager to persecute his "friend".
Because of the Hays Code, we know that Rocky will be made to pay for his crimes. The ending is preordained, but having Jerry ask Rocky to make a final sacrifice, we are still given a moment of suspense at the end. It's an iconic moment in a classic film.

Reviewed on:
June 3rd, 2011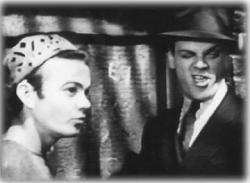 Leo Gorcey and James Cagney in Angels with Dirty Faces.
The pairing of two such iconic actors, Cagney and Bogart, is a wonder to see. At the time of this movie, Cagney was the biggest actor on the Warner Bros lot while Bogart was still up and coming. Cagney has far more charisma than the subtle acting Bogart. Cagney plays it big with his trademark energy, shooting his gun as if he is throwing the bullets. Bogart goes in the opposite direction. He reveals his insecurities and fears with little expressions that pass over his face. They both had tough guy screen personas but they were nothing alike on screen.
One of my favorite scenes is when the Dead End Kids play basketball. These delinquents have no clue how to play by the rules. Cagney knows how to deal with them and steps in He kicks and slaps them to keep them in line. It is the one thing they respond to. Even though he is not that rough on them, this scene could never appear in a movie today. An adult smacking some juveniles, even ones who deserve it, would never make it into a politically correct modern Hollywood film.
The movie has some nice light moments. During the basketball game one kid says to Cagney, "Hey! Call a fair game or I'll slap you right in the kisser!" Cagney responds, "You'll slap me? You slap me in a dream, you better wake up and apologize." Frankie Burke does a great James Cagney impersonation, playing Rocky as a teenager. His mannerisms are vintage Cagney. I liked Sheridan when she slaps Cagney and he just smiles knowingly.
Scott, how can you write that. "...it's Jerry's actions that have led Rocky to the chair..." Rocky chose a life of crime. He walked himself to that chair one step at a time. After his first visit behind bars, he went back and then back again for new crimes he committed. Rocky was a career criminal. Jerry knows he cannot save him, but he may be able to save the angels with dirty faces.
Photos © Copyright Warner Bros. (1938)
Related Reviews