Movie Review
Anacleto: Agente secreto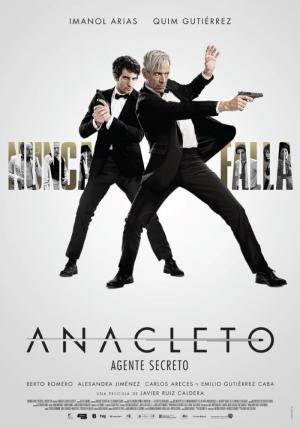 Spain Release Date: 09-04-2015
Directed by: Javier Ruiz Caldera
Starring
▸
▾
Imanol Arias

,

as

Anacleto
Quim Gutiérrez

,

as

Adolfo
Alexandra Jiménez

,

as

Katia
Berto Romero

,

as

Martín
Carlos Areces

,

as

Vázquez
Eduardo Gómez

,

as

Mac el Molécula
Dani El Rojo

,

as

Joe el Carnicero
Emilio Gutiérrez Caba

,

as

Jefe
Rossy de Palma

,

as

Madre de Katia
Sílvia Abril

,

as

Secretaria
José Corbacho

,

as

Agente veterano
Andreu Buenafuente

,

as

Agente veterano
Toni Sevilla

,

as

Padre de Katia
Gilbert Bosch

,

as

O'Hara
Qihui Zhu

as

Chino

Reviewed on:
June 25th, 2016
Imanol Arias and Quim Gutierrez in Spy Time
The character of Spanish secret agent Anacleto was created by Manuel Vázquez in 1964. He was inspired by, and is a parody of, James Bond. Like 007, Analecto always wears a black suit and tie and constantly smokes cigarettes. At one point in the film, Anacleto enters the prison cell of his arch enemy, Vazquez, who has drawings and caricatures of Anacleto all over his walls that depict him as he appeared in the original comics. I am not sure how faithful this film is to its source material, but in the comics, he was never married.

Here, Analecto is nearing retirement age. He is a widower and has an only son, Adolfo, who is a thirty something slacker. The movie opens with Vazquez escaping custody and vowing revenge. Fearing that he will take his vengeance out on Adolfo, Analecto races to protect his son who has no idea that his father is a secret agent.

Adolfo works the night shift at a store as a security guard who sits in a booth with his best friend watching security monitors. After his girlfriend, Katia, picks him up from work, she tells him they are going to break up because he is boring and she needs some excitement in her life. Adolfo is shattered and tries to get her back. Excitement soon shows up in the form of a Chinese man who tries to kill Adolfo. Before you know it, he and Katia are on the run with Analecto as assassins move in.

Anacleto: Agente secreto is a dark comedy with lots of gore and surprises. The laughs come often and usually out of left field. Several times I was shocked into laughter. Such as when Adolfo walks in on his father and discovers he is a cold blooded killer or where Analecto hides one of his guns. Other times I was just shocked by how far this film will go with how it treats some of the characters. I won't give the details away as such scenes need to be experienced without warning.

There is also a surprising amount of heart as Adolfo and Analecto reconnect. In fact, this movie seems to have a interesting take on families. Analecto secretly taught Adolfo how to take care of himself when he was growing up. Katia's brother is Aldofo's best friend, but the less said about their parents and the secrets they reveal during a truth serum drugging the better. Don't get me wrong, it is a hilarious moment but also a dark one.

As I saw Spy Time, the English title, with Spanish subtitles, I may have missed several things but there is so much going on that you will likely find plenty to enjoy, especially if you like your comedy a bit dark and the ever growing spy spoof film genre.


Photos © Copyright Telefonica Studios (2015)