Movie Review
American Reunion
The class of '99 returns for their high school reunion.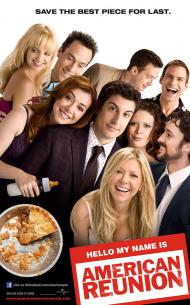 US Release Date: 04-06-2012
Directed by: Jon Hurwitz and Hayden Schlossberg
Starring
▸
▾
Jason Biggs

,

as

Jim Levenstein
Alyson Hannigan

,

as

Michelle
Chris Klein

,

as

Oz
Thomas Ian Nicholas

,

as

Kevin
Tara Reid

,

as

Vicky
Seann William Scott

,

as

Steve Stifler
Mena Suvari

,

as

Heather
Eddie Kaye Thomas

,

as

Finch
John Cho

,

as

MILF Guy #2
Jennifer Coolidge

,

as

Stifler's Mom
Eugene Levy

,

as

Jim's Dad
Natasha Lyonne

,

as

Jessica
Dania Ramirez

,

as

Selena
Katrina Bowden

,

as

Mia
Jay Harrington

,

as

Dr. Ron
Chuck Hittinger

,

as

AJ
Shannon Elizabeth

as

Nadia
Reviewed on:
April 7th, 2012
Jason Biggs and Alyson Hannigan return, along with the rest of the gang, for American Reunion.
One of the biggest problems with American Wedding, the 2003 predecessor to this movie, was that it lacked the full cast of the original two American Pie films. It had some nice moments, but it felt more like a money grab than an adequate end to the original trilogy. This time around though, they were smart to enough to get as many of the original cast members back as possible, which definitely helps and adds to the nostalgia of the story. And it's the nostalgia factor that is the movie's strongest suit. The more you liked the original films, the more you will enjoy this reunion.
As the title implies, the story centers around the high school reunion of the main cast. It's the 13th anniversary of their graduation instead of their tenth, which they get around by saying the organizers couldn't arrange things on time. Although they could have just set the story three years in the past, given how several members of the cast are starting to seriously look their age (Alyson Hannigan and Seann William Scott, I'm looking at you), which is their mid to late 30s, it's probably a good thing that they didn't adjust the years downward.
The gang is now having grown up problems. Jim (Jason Biggs) and Michelle (Alyson Hannigan) have a son, but find that their sex life has died. Oz (a returning Chris Klein) is now a sportscaster with a hot young girlfriend that he's outgrown. Kevin (Thomas Ian Klein) is a stay at home husband who finds feelings rekindled at the reunion when he runs into ex-girlfriend Vicky (Tara Reid). Even Stiffler (Seann William Scott) has a job, only as a temp, but he has to deal with an unlikable boss. They see the reunion as a chance to blow off some steam and relive some good times, which, perhaps not uncoincidentally, is similar to what most audiences who see this movie will be expecting to do.
Shock value still plays a part of the humor here, as it did in the earlier installments. There's nudity, both male and female, with Jason Bigg's penis even making an appearance. Stiffler shits into an ice chest at one point. The original films helped stretch the boundary of what you could show in a comedy and movies over the intervening years have stretched it even further. In any case, the jokes don't seem as shocking or as hard hitting this time around. There are still some very funny parts, but none of it seems quite so shocking as it once did.
Also returning from the earlier films are Stiffler's mom (Jennifer Coolidge) and series mainstay Jim's Dad, played by the reliably funny and scene stealing Eugene Levy. Biggs and Levy still have that great father/son chemistry and their relationship remains at the heart of the series. They share several good scenes together, with Jim trying to convince his dad to get back out into the dating world following the death of his wife three years previously. Be sure to stay to watch the credits to see an amusing scene of Jim's dad and Stiffler's mom on a date at the movies.
Perhaps the movie's biggest problem is its running time. 2 hours is long for a comedy and the pacing and timing could definitely have been kicked up a notch. It does drag a little in the middle.
Clearly this movie was aimed at fans of the series rather than as a serious attempt to woo new ones. For those of us who enjoyed the original films, there are things to enjoy about this installment. It breaks no new ground, but it remains fairly entertaining anyway. It's a series that like its characters, has reached a comfortable, if unexciting, middle age.
Photos © Copyright Universal Pictures (2012)
Related Review