Movie Review
An American in Paris
What a joy! It's M-G-M's Technicolor musical!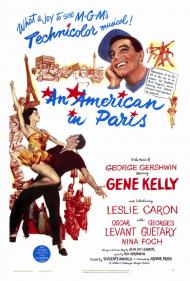 US Release Date: 11-11-1951
Directed by: Vincente Minnelli
Starring
▸
▾
Gene Kelly

,

as

Jerry Mulligan
Leslie Caron

,

as

Lise Bouvier
Oscar Levant

,

as

Adam Cook
Georges Guetary

,

as

Henri Baurel
Nina Foch

,

as

Milo Roberts
Noel Neill

,

as

American Girl
Anna Q. Nilsson

,

as

Kay Jansen
Hayden Rorke

,

as

Tommy Baldwin
Judy Landon

,

as

'Stairway to Paradise' Dancer
Dudley Field Malone

as

Winston Churchill

Reviewed on:
February 20th, 2013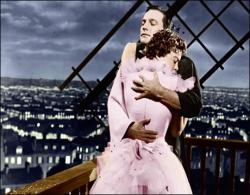 Gene Kelly and Leslie Caron in An American in Paris.
An American in Paris won six Academy Awards including Best Picture of 1951. It was directed by Vincente Minnelli, screenplay by Alan Jay Lerner, stars Gene Kelly, and features a score that includes some of the best known compositions by George and Ira Gershwin. It was hailed as a musical masterpiece at the time of its release but its luster has faded somewhat over the decades.
First of all the story is trite. Kelly plays Jerry, an ex-GI who remained in Paris to paint after WWII. He is discovered by a wealthy patron of the arts (the wonderful Nina Foch) who falls for him, while he falls for a girl (Leslie Caron making her movie debut) he sees in a restaurant one evening. The story also involves Jerry's pianist friend (Oscar Levant providing mild comic relief) who happens to be friends with a singer (Georges Guetary) who happens to be in love with Caron. Got it?
The movie isn't helped by the fact that it was shot on sound stages and MGM's famous backlot. Kelly wanted to shoot on location in Paris but it was considered too expensive by the powers that be. Only a few establishing shots during Kelly's opening voice-over narration were actually filmed in the City of Lights. The sets are quite lovely to look at. Minnelli's exquisite eye for framing shots and his sophisticated color palette are quite visually stunning but it is impossible not to be constantly reminded of the fact that no American actually went to Paris to make An American in Paris.
The rather somber story is also sorely lacking in humor (the one scene that made me chuckle is where Kelly does a double-take as he walks past a man painting on the street that looks exactly like Winston Churchill). The movie only really comes to life during the splendid musical numbers. Although the dancing works better than the singing. In fact none of the songs sung in this movie can be considered definitive versions. These include such well known standards as "Nice Work if You Can Get It" (sung by Guetary), "I Got Rhythm" (danced and sung by Kelly and neighborhood children), "'S Wonderful" (performed by both Kelly and Guetary), "I'll Build a Stairway to Paradise" (performed by Guetary and chorus girls on a huge set of steps that light up).
The three best numbers are "Embraceable You" performed in varying dance styles by a very limber Caron as a charming way of introducing her character to the audience. "Our Love Is Here to Stay", danced by Kelly and Caron in the moonlight along the banks of the Seine, is enchanting and oh so romantic. And then there is, of course, the final 17 minute "An American in Paris Ballet" sequence that remains as impressive today as it did in 1951. I had only ever seen the abbreviated version shown at the end of That's Entertainment! It cost half a million dollars to produce and took a solid month to shoot. Surely this extended dance number earned the movie its Best Picture Oscar as well as all the other accolades it has received over the years. It is one of the most ambitious and whimsical dance numbers ever filmed and one of the high water marks of the movie musical as an art form. It is worth noting that during the final 20 minutes of the movie not a single word of dialogue is spoken.
Leslie Caron was discovered dancing in a ballet company in Paris by a vacationing Gene Kelly. When Cyd Charisse became pregnant Caron was given the part and a new musical star was born. This is the part the very French actress/dancer was born to play. As for Gene Kelly, he was in peak form at this time. He would follow this movie up with his best work ever in Singin' in the Rain the next year. Kelly was not only a great dancer, he was also a great mime. Notice the scene early on where he gets up out of bed and sets about having breakfast in his tiny attic apartment. With no dialogue he makes like a silent movie clown. In some ways dancers replaced the silent clowns as the stars that used movement to tell a story onscreen.
But even these brilliant dance numbers cannot elevate An American in Paris to overall greatness as a movie. The fact that it beat out both A Place in the Sun and A Streetcar Named Desire to win Best Picture proves that the Academy is far from infallible. An American in Paris is romantic and sentimental and it features a few absolutely brilliant musical numbers but overall it's a bit of a letdown.

Reviewed on:
May 12th, 2013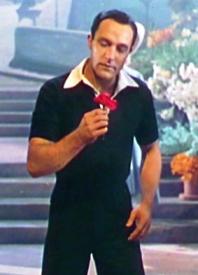 Gene Kelly setting the standard in An American in Paris
I believe that An American in Paris winning the Academy Award for Best picture over A Place in the Sun and A Streetcar Named Desire showed where American hearts were at in 1951. Just six years after the horrors of World War II and the Holocaust, America was in the thick of yet another war. This time in Korea. A Place in the Sun and A Streetcar Named Desire are dark films that showed realistic characters struggling. An American in Paris is the antithesis of them both. It is bright, cheery and a célèbre la vie.
Kelly, Levant and Guetary open the film with several happy little ditties. They smile their way through them all. My favorite song in the film comes fairly early in the movie when Kelly teaches some French children some English by singing and dancing to, "I've Got Rhythm". He performs it to them in front of a vendor stand filled with an abundance of fleurs colorées.
What's more, is that An American in Paris takes a moral high ground. When Nino Foch tries to seduce Kelly by buying his paintings and inviting him to her flat, he becomes upset. He throws her money down and states, "If you're hard up for companionship there are guys in town who do this kind of thing for a living." This film, along with Sunset Blvd, which just came out the year before, are some of the earlier film references to a kept man. Like William Holden, Kelly is more interested in love than a mere rencontre sexuelle.
The characters all dance around each other, figuratively and literally speaking, for the next hour or so. It could have easily been trimmed. We know where it is all headed and who will end up with who. The ballet climax that Patrick wrote so highly of is the single greatest moment of the Hollywood musical. It is not accompanied by a pop song or any contemporary dance. It tells a story and does not play down to the audience. It exposes them to a classic art form and allows them to enjoy it.
An American in Paris is not the most entertaining film but it remains a celebration of the beauty of life. As the French say, "la vie est belle."
Photos © Copyright MGM (1951)