Movie Review
All Night Long
She's got a way with men. And she's getting away with it...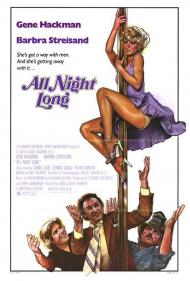 US Release Date: 03-06-1981
Directed by: Jean-Claude Tramont
Starring
▸
▾
Gene Hackman

,

as

George Dupler
Barbra Streisand

,

as

Cheryl Gibbons
Diane Ladd

,

as

Helen Dupler
Dennis Quaid

,

as

Freddie Dupler
Kevin Dobson

,

as

Bobby Gibbons
William Daniels

,

as

Richard H. Copleston
Raleigh Bond

,

as

Ultra-Sav Doctor
Charles Siebert

,

as

Nevins
James Ingersoll

,

as

Hutchinson
Len Lawson

,

as

Barney
Terry Kiser

,

as

Ultra-Save Day Manager
Vernee Watson-Johnson

,

as

Emily
Ann Doran

as

Grandmother Gibbons

Reviewed on:
May 27th, 2010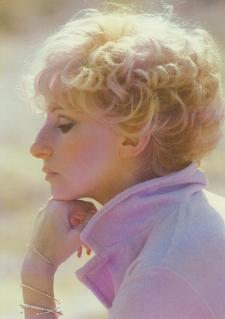 Barbra Streisand as Cheryl Gibbons.
Although the advertising campaign and the DVD cover would have you believe this is another screwball Barbra Streisand comedy by proclaiming, "She's got a way with men. And she's getting away with it… All Night Long." This is actually a fairly low key comedy about a man named George Dupler (Gene Hackman) going through a classic mid-life crisis.
When George is passed over for a promotion at the company he has worked at for 21 years he has a breakdown, which manifests itself as him hitting his boss and then throwing a chair through the office window. He gets demoted to managing an all night store called Ultra Save. Through a series of events he gets involved with a married woman, leaves his wife and eventually his job. He winds up renting a loft and pursuing his dream of becoming an inventor.
The first half of the movie is George's spiral downward. The second half is his finding peace and happiness in his new life.
The script is decent and nearly every character is interesting. The problem with the movie is that the director, Jean-Claude Tramont, tried to make a realistic slice-of-life story and a zany type comedy at the same time. The result is uneven. If he had gone more in the direction of bigger laughs this movie could have worked. Some of the best scenes are the slapstick comedy at the store.
There are several funny lines. When George finds out his teenaged son (Dennis Quaid) is sleeping with Cheryl Gibbons (Streisand) his son protests that they aren't related. George replies, "She is your mothers', sisters', late husbands', brothers' wife." In another scene Streisand, as a dumb blonde, tells a waitress that, "You should never eat fruit with starch."
As for La Streisand this is the most unusual character she has ever portrayed. For one thing Streisand uses a soft-spoken breathy Monroe-ish voice and wears a blonde wig. She dresses in tight tacky clothes. She is also an aspiring country & western singer. In one scene she plays a piano and sings a tune she has written with a broad country twang in her voice.
SPOILER ALERT: The director gives us a classic Hollywood happy ending. Cheryl finally stands up to her abusive husband. George invents a mirror that reflects your image as others see you and not in reverse. He makes up with his son and catches his wife sleeping with her divorce attorney. He gets Cheryl.
My point in spelling out the denouement is that since it is such a "movie" ending the rest of the story needed to be played bigger and faster. There are scenes where the director seems to be going more for drama and character development instead of just letting the laughs tell the story. All in all this is an uneven but still enjoyable movie. I found myself relating to Hackman's George Dupler more than I ever did in the past and it is amusing watching Streisand stretch herself into Cheryl Gibbons.
Reviewed on:
September 15th, 2011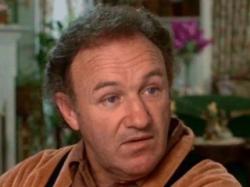 Gene Hackman in All Night Long.
I wouldn't say Streisand is stretching here so much as over stretching. The part of Cheryl Gibbons is very Marilyn Monroe like, but as much as she might want to be, Streisand is no Monroe. She's not sexy, beautiful or air-headed enough for this character to ever really ring true. Her character - because of Streisand's presence no doubt - is also given more screentime than it deserves. This is Hackman's movie, not hers, despite what the promotional material might say.
The scenes in the store are some of the funniest in the movie, I agree. They are slapticky and even have a sitcom feel to it, but they're still funny. In fact, I could almost see someone turning this movie into a sitcom. Someone almost did with the The John Larroquette Show in the mid-90s, although in that he managed a bus terminal on the night shift instead of a drug store, but some of the ideas are similar. There should have been more scenes in the store with the clueless security guard and the under-used cashier.
Like you Patrick, I related more to George this time than I did the first time I saw it, which isn't surprising considering it's been about 30 years since I last saw this movie. Hackman plays him sympathetically enough to keep him likable.
This is a minor little movie that probably wouldn't be remembered at all if not for Streisand fans like Patrick who keep its memory alive. She doesn't ruin the movie, she's far too talented for that, but she certainly doesn't do it any favors.

Reviewed on:
September 26th, 2011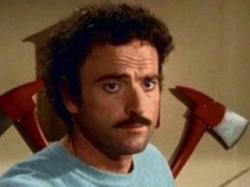 Kevin Dobson in All Night Long
I, as well, related to George. What man has not felt the stress of a job or personal issues? George is a middle aged man whose life, partially due to his own actions, comes crumbling down. The scene where Hackman gives his speech about taking the blame for the breakup of his marriage as well as the economy, inflation, Korea, Iran...etc., could appear in a film made today. As a recent watching of Killer Elite pointed out, 1980 is quite similar to 2011. George reinvents himself and finds happiness. It is a nice little story arc.
Cheryl is married to a man she does not love and acts as a victim. However, the one and only real victim in all of this is her husband, Bobby. His faithless wife has two different affairs on him. He is made to be the bad guy when he has an outburst at a party after discovering her philandering. He is made to look like a jerk when he yells at her to be quiet while he is on the phone. Even when she goes to his place of work and embarrasses him in front of co-workers, she is still playing the part of the victim. She pokes fun of his hobby. She eggs him on. Bobby getting angry is the natural emotion to have in such situations.
Cheryl supposedly grows by standing up to her husband, whose big offense is that he sometimes raises his voice to her. Should it not have been the other way around? He should have been the one to grow by telling her slutty ass to hit the bricks. Patrick called Bobby abusive. Based on what? He never hits her. In one scene, after she makes fun of him in front of other people, he grabs her by the arms and moves her around a corner for privacy. George does the same thing when he grabs Cheryl's arm and pulls her out of a party. How is one man's actions considered abusive and the others not?
The scenes at the store are the funniest in the film but they are limited. The rest of All Night Long is more interesting than entertaining. Dennis Quaid looks so very young here. Who knew he would have such a long career? Streisand's wig does her no favors but she is clearly in great shape. It is the best compliment I can give her performance.
Photos © Copyright Universal Pictures (1981)