Movie Review
All I Want for Christmas
How far would you go to make a wish come true?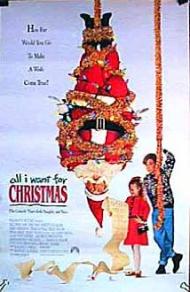 US Release Date: 11-08-1991
Directed by: Robert Lieberman
Starring
▸
▾
Harley Jane Kozak

,

as

Catherine O'Fallon
Jamey Sheridan

,

as

Michael O'Fallon
Ethan Embry

,

as

Ethan O'Fallon
Kevin Nealon

,

as

Tony Boer
Thora Birch

,

as

Hallie O'Fallon
Andrea Martin

,

as

Olivia
Lauren Bacall

,

as

Lillian Brooks
Amy Oberer

,

as

Stephanie
Renee Taylor

,

as

Sylvia
Leslie Nielsen

,

as

Santa
Phil Leeds

as

Mr. Feld


Reviewed on:
November 17th, 2014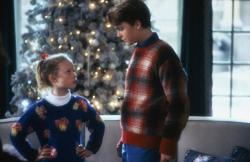 Thora Birch and Ethan Embry in All I Want for Christmas
Although released in 1991, All I Want for Christmas is reminiscent of movies from some 50 years earlier. Set in New York at Christmas time, it could actually take place at any time in the past one hundred years. It is an innocent and charming tale of two children trying to adjust to their changing world.
Ethan and Hallie are two New York City siblings caught in some growing pains. Their parents have recently divorced and this will be their first Christmas without their family being together. Hallie is distraught to find that their mother is about to marry another man, Tony, while Ethan has become infatuated with a girl visiting from Boston.
Hallie asks Macy's Santa, whom she considers the "real" Santa, to bring her parents back together. Played by a nine year old Thora Birch, Hallie is as adorable as a child can be. No one is impervious to her charm. Ethan, played by twelve year old Ethan Embry, is a mature for his age boy who looks out for his little sister. "Hallie, you can ask for toys, parakeets, hair care products, I don't care. But you may not ask for anything to do with interpersonal relationships! Got it? This is Santa Claus, not Dear Abby." Ethan is quick witted, resourceful and comes up with a plan to get their parents to reunite.
Adding to the classic movie feel of the film is the presence of Lauren Bacall. She plays the children's grandmother and former Broadway star, Lillian Brooks. She is likewise, however subtly, rooting for her daughter and ex-son-in-law to get back together. Referring to a recent conversation with Tony, She tells Hallie, "Never use the word "lovely" darling. It's the mark of a real jerk." When she and her daughter meet with Tony's mother to discuss the wedding, his mother suggests the wedding party wear riding crops. With sarcasm dripping from her lips, Bacall responds, "That could be enchanting…in a stable."
Even though All I Want for Christmas steals some ideas from A Miracle On 34th Street and The Parent Trap, it manages to find its own warm way. If you are in a holiday mood, it can provide something for the whole family. The children's scheme involves, among other things, mice, staying up late, getting friends to lie and locking Tony in a freezing ice-cream delivery truck. Ethan's puppy love is nicely innocent and sweet. The parents remembering their history and admitting their flaws is likewise romantic. The entire proceeding feels like a Walt Disney film and I mean that in a good way.
All I Want for Christmas celebrates the love and magical possibilities that Christmas can bring. This may not have become a holiday classic but it has something to offer and is definitely worth watching on a cold December day. My only question is what is up with the Nazi fascinated girl?
Reviewed on:
November 30th, 2014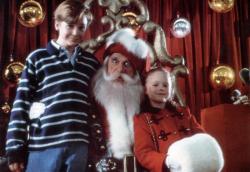 Ethan Embry, Leslie Nielsen, and Thora Birch in All I Want for Christmas.
All I Want for Christmas is sweetly old-fashioned but it's also a bit bland and syrupy for my tastes. Other than the presence of the late great Lauren Bacall there is nothing about it that rises above a Lifetime or Hallmark television movie.
It was made in 1991, at the height of the bad old days of high crime, rampant graffiti, and the crack epidemic in New York City, although you would never know any of that from watching this movie. I get that it's a family holiday movie but this is a very white, upper-class, sanitized version of Manhattan.
The cast is fine. Thora Birch is particularly good as Hallie. She's adorably precocious and handles the comedy and drama equally well. She even gets to duet with Lauren Bacall on "Baby, It's Cold Outside". Ethan Embry is also quite good as the young boy discovering romance for the first time. They work well together and make believable siblings. The cast includes the talents of Kevin Nealon, Leslie Nielsen and Renee Taylor, but the focus of the story never strays far from the children.
As Eric wrote, the plot mixes elements from such family classics as Miracle on 34th Street and The Parent Trap. All I Want for Christmas is far from original but it does have some heartwarming charm. Your enjoyment of it will depend on your tolerance for cheap sentiment and very mild holiday humor. There's nothing particularly wrong with All I Want for Christmas but the reason it hasn't become a holiday classic is because it's just too generic and forgettable. Skip this one and watch Miracle on 34th Street for the 100th time instead. You'll be glad you did.
Photos © Copyright Paramount Pictures (1991)