Movie Review
Alice Doesn't Live Here Anymore
A picture for anyone who has ever dreamed of a second chance!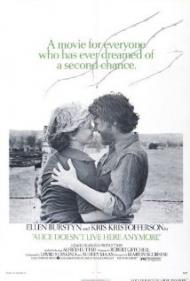 US Release Date: 12-09-1974
Directed by: Martin Scorsese
Starring
▸
▾
Ellen Burstyn

,

as

Alice Hyatt
Alfred Lutter III

,

as

Tommy
Kris Kristofferson

,

as

David
Diane Ladd

,

as

Flo
Vic Tayback

,

as

Mel
Valerie Curtin

,

as

Vera
Harvey Keitel

,

as

Ben
Jodie Foster

,

as

Audrey
Billy Green Bush

,

as

Donald
Lelia Goldoni

,

as

Bea
Harry Northup

,

as

Joe & Jim's Bartender
Murray Moston

,

as

Jacobs
Lane Bradbury

,

as

Rita
Ola Moore

,

as

Old Woman
Mia Bendixsen

,

as

Alice - Age 8
Laura Dern

as

Girl Eating Ice Cream Cone
Reviewed on:
February 24th, 2014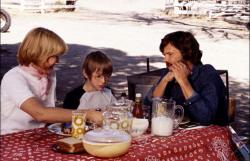 Ellen Burstyn, Alfred Lutter, and Kris Kristofferson in Alice Doesn't Live Here Anymore.
Alice Doesn't Live Here Anymore is quite unlike any other Martin Scorsese film. For starters it's a chick flick. It is also a low key drama with a feminist message and (with the exception of one scene) a noticeable lack of violence. It stars Ellen Burstyn (in her Oscar winning role) as an aspiring lounge singer living in the American Southwest.
After her truck driver husband dies in a freak highway accident, she plans to move from New Mexico to California with her young son Tommy. After a brief stay in Phoenix, where a relationship Alice has with a man (Harvey Keitel) who turns out to be both married and prone to violence ends badly, she eventually finds steady work at a diner in Tuscon (they never do make it to California). She and her son Tommy both begin a tentative relationship with a rancher played by Kris Kristofferson.
This movie launched the hit television sitcom Alice that ran for nine seasons on CBS from 1976 to 1985. Vic Tayback as Mel was the only cast member from the movie to reprise his role for the series, although Diane Ladd did join the show late in its run playing a different character. Whereas the sitcom was played strictly for laughs and focused mostly on the diner, this movie is more about Alice and her son as they struggle to make a life for themselves in a new city. The first scene at the diner doesn't happen until nearly halfway through the movie.
It begins with a whimsical homage to The Wizard of Oz with a young Alice dreaming of becoming another Alice Faye. Ellen Burstyn's singing ability was limited, but this suits the character who isn't supposed to be anywhere near as talented as she thinks she is. Barbra Streisand had originally been offered the part but turned it down because she felt she was not only too young for the role but also doubted that audiences would buy her as a failed lounge singer.
The cast includes a very young, and very boyish, Jodie Foster. She plays a wild young girl who befriends Tommy and gets him into trouble. Just eleven, she already possessed a very interesting and original screen presence. Diane Ladd's seven year old daughter Laura Dern, is in one scene as a little girl eating ice cream at the diner.
Alice Doesn't Live Here Anymore was a hit with critics and audiences in 1974 but it hasn't aged all that well. It remains a product of its time and the rather simple storyline seems a bit dull at times. Ellen Burstyn carries the movie. She plays Alice with a compelling mix of emotional fragility and steely toughness. Her performance is the main reason for watching it today. That and the curiosity factor of seeing where the inspiration for the sitcom came from. As for Martin Scorsese, he would never again make such an unassuming picture, or one told solely from a woman's point of view.
Photos © Copyright Warner Bros. (1974)