Movie Review
Alfie
What's it all about?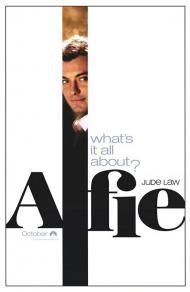 US Release Date: 11-05-2004
Directed by: Charles Shyer
Starring
▸
▾
Jude Law

,

as

Alfie
Omar Epps

,

as

Marlon
Jane Krakowski

,

as

Dorie
Nia Long

,

as

Lonette
Susan Sarandon

,

as

Liz
Marisa Tomei

,

as

Julie
Sienna Miller

,

as

Nikki
Julienne Davis

as

Sascha
Reviewed on:
November 5th, 2004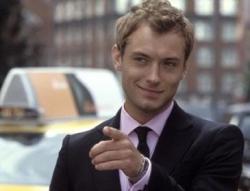 Jude Law in Alfie.
The only real problem with this remake of the 1960s classic is that it is just that; a remake. And the original is so revered that most reviews of this movie aren't reviews at all, but simply blow-by-blow comparisons of the two, which is really unfair to this one. Yes, I agree that it doesn't live up to the original, but I wonder how the critics who lambasted this version would have rated it if they didn't have the original to compare it to?
Jude Law stars as Alfie, a British lothario living in New York City, which he considers one big smorgasbord of women, all there for his enjoyment. The movie begins with him having a fling, in the back of one of the limousines he drives for a living, with a married woman (Jane Krakowski). He then moves along to his semi-girlfriend's apartment, a single mom played by Marisa Tomei. Later in the movie, he also has flings with an older sophisticate (Susan Sarandon), a bipolar party girl (Sienna Miller), and even the girlfriend of his best friend (Nia Long). On the surface at least, Alfie seems to be having a nice – if shallow – little life for himself.
Things begin to sour in the playboy lifestyle when in rapid succession, his single-mom girlfriend dumps him, one of the women in his life turns up pregnant, and Alfie experiences a health scare. Suddenly, Alfie's left to ponder, just what's it all about?
There's no question that Alfie is a bit of a bastard. The only person he looks out for is himself. And yet, with Jude Law's easy charm and good looks, it's easy to see why he is still able to find such success with women. While watching this movie in a theater in which women outnumbered men by about ten to one, it was obvious from the audience's reaction that there were few of them, despite his behavior, who would turn him down if he asked them out for a date.
And that's part of the movie's problem. Alfie is such a bastard and having such an obviously good time, that when he starts to reconsider his lifestyle, it just doesn't ring true. That the man who would sleep with his best friend's girlfriend with only the slightest of hesitation, doesn't seem to be the kind of guy who will shortly start feeling guilty about it. Because of this, the movie lacks real emotional resonance. Alfie's so superficial, that our feelings for him are equally superficial.
As a fan of the original, I never expected this remake to be an improvement and it wasn't. However, on its own, it's an enjoyable, if overly lightweight, film that gives Law a chance to display his many charms.
Photos © Copyright Paramount Pictures (2004)