Movie Review
Alexander and the Terrible, Horrible, No Good, Very Bad Day
So then that happened...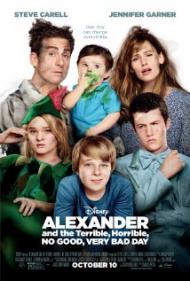 US Release Date: 10-10-2014
Directed by: Miguel Arteta
Starring
▸
▾
Steve Carell

,

as

Ben Cooper
Jennifer Garner

,

as

Kelly Cooper
Ed Oxenbould

,

as

Alexander Cooper
Dylan Minnette

,

as

Anthony Cooper
Kerris Dorsey

,

as

Emily Cooper
Elise Vargas

,

as

Baby Trevor
Zoey Vargas

,

as

Baby Trevor
Sidney Fullmer

,

as

Becky Gibson
Bella Thorne

,

as

Celia
Megan Mullally

,

as

Nina
Donald Glover

,

as

Greg
Burn Gorman

,

as

Mr. Brand
Jennifer Coolidge

,

as

Ms. Suggs
Rizwan Manji

,

as

Mr. Cellars
Dick Van Dyke

as

Himself

Reviewed on:
October 15th, 2014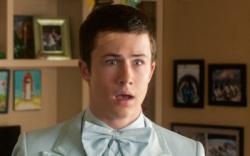 Dylan Minnette in Alexander and the Terrible, Horrible, No Good, Very Bad Day
Alexander and the Terrible, Horrible, No Good, Very Bad Day is one of the best family films I have seen in a very long time. It celebrates the traditional family unit with all of its united and individual problems and triumphs. Although the title would have you believe otherwise, it actually takes place in a two day period.
As the movie starts, Alex is a day away from turning twelve. His parents are planning a party for him that none of his friends or classmates are attending as they will be going to a popular boy's party instead. Alex feels that his family is not giving him his due pity and so makes a wish that night on an ice cream sundae with a birthday candle on it that his family will better understand his plight.
The next day, almost everything that can go wrong for his family, does. His older brother, Anthony, fails his driving test and has problems with his prom date. His thespian sister, Emily, gets sick on opening night of the school's production of Peter Pan, in which she plays the title role. His mother has problems at work and his father's job interview does not go well as he has to bring Alex's baby brother along.
This family is so likable that their problems are more endearing than heart breaking. The father has been out of work for seven months. Lucky! It has allowed him to spend an incredible amount of time with his children. He has been looking for a job but it is not as if they need the income. With only their mother working, they are still able to maintain a nice large house with a pool, have two vehicles, provide a cell phone and lap top for everyone in the household. They are even able to afford an Australian petting zoo, which includes, among other exotic animals, a crocodile and a kangaroo, for Alex's birthday party.
The humor is mostly very gentle and harmless. Small roles are filled by familiar faces. Dick Van Dyke, playing himself, reads a misprinted book to some children, resulting in a few chuckles. The sister becomes intoxicated after over doing some cold medicine. Some humor is squarely aimed at children, such as when Steve Carell takes a kick to the chest from said kangaroo. One joke misses entirely. Three members from the all-male Australian review, "The Thunder Down Under" were accidentally hired to perform at Alex's birthday party. Just as they start to dance and remove their clothes, Carell catches on and yells for them to, "Keep it PG." Did these grown men really think it was appropriate to strip and gyrate in front of a bunch of middle school children unless told not to?
Anthony getting into an accident during his driving test is easily the best sequence in the film. In fact, Anthony has the best story arc in the movie. He is caught up in getting his license to impress the hottest girl in school and take her to junior prom so as to make out with her afterwards. He later learns that she is all looks and no substance. He eventually turns her down to be with his family. As a father of two grown sons, I am not sure mine would have acted the same way but it is nice to think they may.
The real selling point is that here is a family that has problems just like all of us. They have good days and bad, just as we all do. They sometimes get along and sometimes do not, again making them very relatable. They come through for each other as much as they can, just as we hope our family would. Alexander and the Terrible, Horrible, No Good, Very Bad Day is a light hearted, feel great family film.
Photos © Copyright Walt Disney Pictures (2014)