Movie Review
Aladdin
A diamond in the rough.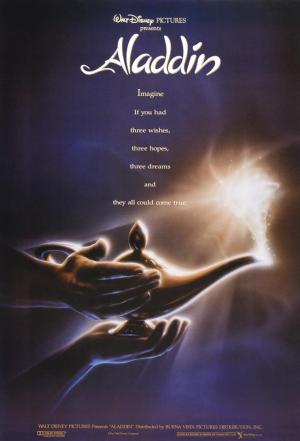 US Release Date: 11-25-1992
Directed by: Ron Clements, John Musker
Starring
▸
▾
Scott Weinger

,

as

Aladdin (voice)
Robin Williams

,

as

Genie / Peddler (voice)
Linda Larkin

,

as

Jasmine (voice)
Jonathan Freeman

,

as

Jafar (voice)
Frank Welker

,

as

Abu / Cave of Wonders / Rajah (voice)
Gilbert Gottfried

,

as

Iago (voice)
Douglas Seale

,

as

Sultan (voice)
Charles Adler

,

as

Gazeem / Melon Merchant / Nut Merchant (voice) (as Charlie Adler)
Jim Cummings

as

Razoul / Farouk (voice)

Reviewed on:
May 16th, 2016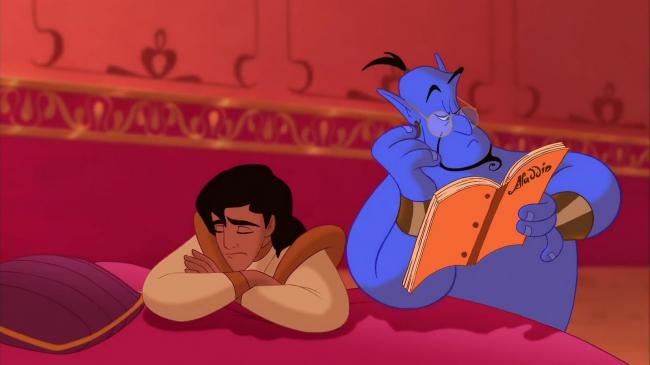 Aladdin and Genie try to figure out how to steal Jasmine's heart.
Aladdin was a huge success for Walt Disney films. Hot on the trail of Beauty and the Beast, it re-cemented Disney's presence in the movie making marketand is still going strong today. It has become a true powerhouse in the movie industry, thanks in great part to their three animated hits, that started with The Little Mermaid.
This film is a quick paced fantasy yarn filled with catchy tunes and humor to spare. Aladdin has often been described as a street urchin, which is a polite way of saying bum. He steals to survive and generally harasses those in the market place with his monkey, Abu, and him constantly stealing what ever they want. Luckily, the ladies mostly find him cute so he gets away with almost everything. One day he spies a beautiful girl in distress and saves her. She turns out to be Jasmine, the sheltered daughter of the Sultan. They have a quick afternoon of fun and G-rated romance.
Meanwhile, the Sultan's evil adviser, Jaffar, is working on a plan to retrieve a genie's lamp from a magical cave. He discovers that only one pure of heart may enter it and that person is the petty thief, Aladdin? Hmmm? Things happen and Aladdin ends up with the lamp and three wishes. He decides to use those wishes to impress Jasmine, in order to marry her. Jaffar is, of course, out to stop him but Aladdin has an all powerful genie, a magic carpet, a resourceful monkey and the most powerful man in the kingdom's daughter on his side.
The movie is as entertaining as they come but two things stand out above all else. The first are the songs. "A Whole New World" became a hit song and is now considered a Disney classic. It has become a wedding reception standard and has been called the song most often performed at American Idol auditions. There is also the catchy "Prince Ali" and the up tempo showstopper, "Friend Like Me", both performed by Robin Williams.
Speaking of Robin Williams, he is the other thing you will remember most from this movie. As soon as he bursts forth from that lamp, the film becomes his and, pretty much, his alone. "Phenomenal cosmic powers!...Itty bitty living space!" Sure, we want Aladdin and Jasmine to live happily ever after but his friendship with Aladdin is just as touching if not more. "I'm free. I'm free. Quick. Quick. Wish for something outrageous. Say, "I, I want the Nile." Wish for the Nile. Try that!"
Williams is so good in this film that I think they should come up with an Oscar for best vocal work in a feature film. It would be gender neutral and have nothing to do with the animated medium. The only down side of William's performance is that he pretty much steals the film. Of course this is Aladdin's story but when you reflect on this movie, all you will think about is Genie and his fast talking ad libs and songs.
Aladdin inspired sequels and a Saturday morning cartoon but it all started here where lightening struck for the third time for Disney animation studios.
Photos © Copyright Walt Disney Pictures (1992)