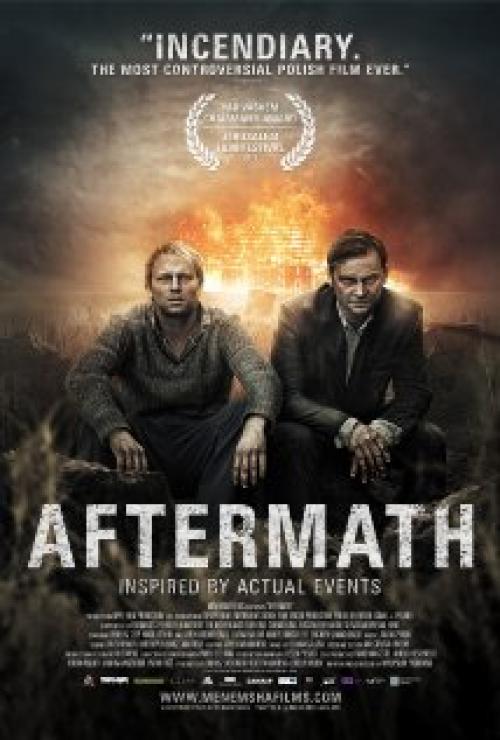 Poland Release Date: 11-09-2012
Directed by: Wladyslaw Pasikowski
Starring
▸
▾
Maciej Stuhr

,

as

Jozef Kalina
Ireneusz Czop

,

as

Franciszek Kalina
Zbigniew Zamachowski

,

as

Wlodzimierz Nowak
Danuta Szaflarska

,

as

Herbalist
Jerzy Radziwilowicz

,

as

Rector
Zuzana Fialova

,

as

Justyna
Wojciech Zielinski

as

Antek

Reviewed on:
September 18th, 2015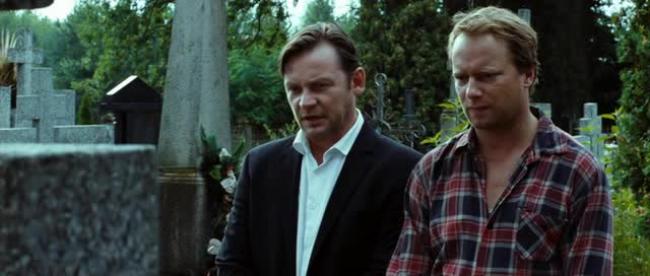 Ireneusz Czop and Maciej Stuhr in Poklosie
I have read several articles and reviews on this film since watching it and, in my opinion, most writers gave far too many details away. Aftermath (Poklosie) plays out like a mystery and the less you know going in, the better. Although we can sometimes guess where the story is going, we learn the truth as the characters do.
The story takes place at the turn of the 21st century, with middle aged Franek returning to his native Poland after having lived in Chicago for the past 20 years. He is there to see his brother Joziu, whose wife has recently left him and moved to Chicago with their children. She gave Franek no reason for leaving her husband and Joziu is just as reluctant to talk about it.
Franek is anti-Semitic, complaining to the cab driver that Jews own everything in America. The mystery begins almost immediately when Franek senses he is being followed by an unseen person in the woods on his walk to his brother's home. He loses his suitcase trying to find his stalker in the woods. Franek trying to replace his lost clothes becomes a running joke.
Joziu has bitter feelings for his brother as he never returned for their parents' funerals, leaving Joziu to run the family farm. One of the first things Franek learns about his brother is that he has become the town pariah. The first reason he is given, by the local police, is that Joziu tore up a road. Franek asks his brother about it, "So, what made you do it?" Joziu struggles to explain, "Beats me. So many things aren't right, but we live with them anyway because there's nothing you can do about it. But I think that some things are more wrong than others." Franek keeps asking questions of the local clergy and citizens. People become suspicious of him and he starts to get followed by unknown persons. He eventually discovers devastating secrets that go all the way back to World War II. These are secrets that the locals want to remain as such. I was completely engrossed in every reveal.
A small portion of the movie has a bit of a mystical sense to it. There is a crucifixion and in one scene there is an angel-like character. Even Joziu's motivation for his actions is never rationally explained, "Beats me, I'm telling you I don't know why. It made me feel bad. I kept thinking, "This is wrong."… "I know it's wrong, but I had to do it." It is as if he was given divine inspiration.
Aftermath is a movie that pulled me in almost immediately and kept me engrossed its entire 107 minutes. Franek is not a completely likable person but he is a very real one. Not only was I caught up in his detective work, but also in his and his brothers struggle in dealing with an increasingly impatient local population. The more they learn, the worse they are treated.
Franek went back to Poland to get answers about his brother's marital problems but discovered so much more than he ever intended to. I was reminded of Ezekeil 18:20, "The son shall not bear the iniquity of the father,…" However, some sins are worse than others and can only begin to be forgiven when the hard truth of them is shown.
Although this film is fiction and the town it takes place in made up, the story was inspired by true events. Poklosie was not well received by all in Poland. There were some who spoke out against it and a few theaters even refused to show it. After you watch the movie, you will know why.
Aftermath is an eye opening, emotional discovery of personal truths. It contains many moral lessons while also revealing some of the ugliest, most unspoken aspects of the Nazi occupation in Europe. Some may not have wanted this film made and shown but the only way to deal with harsh truths is to expose them for all to see.
Photos © Copyright Topkapi Films (2012)