Movie Review
After the Sunset
Who will walk away?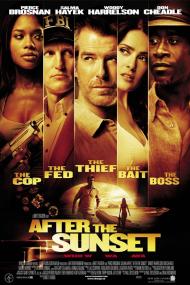 US Release Date: 11-12-2004
Directed by: Brett Ratner
Starring
▸
▾
Pierce Brosnan

,

as

Max Burdett
Salma Hayek

,

as

Lola Cirillo
Woody Harrelson

,

as

Stan Lloyd
Don Cheadle

,

as

Kingpin
Naomie Harris

,

as

Sophie
Kate Walsh

,

as

Sheila
Obba Babatundé

,

as

Police Chief
Chris Penn

,

as

Rowdy Fan
Troy Garity

as

Luc

Reviewed on:
November 7th, 2004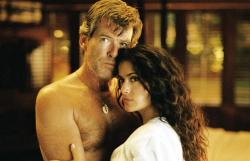 Pierce Brosnan and Salma Hayek in After the Sunset.
What makes After the Sunset work at all is the chemistry between its two leads. They play off each in a comically effective way with sparks flying. And I don't mean between Brosnan and Hayek. I'm talking about Brosnan and Harrelson. Their scenes together are the highlight of what is, despite the initial setup, a pretty standard heist film.
Brosnan stars as Max, a jewel thief. When the movie opens, he and his girlfriend Lola (Hayek) are pulling off one last job, the theft of a Napoleon diamond that is being guarded by FBI agent Stan Lloyd (Harrelson). After successfully liberating the diamond, they retire to an island paradise in the Caribbean, putting (or so they think) their life of crime behind them.
Of course the movie would be pretty short if their retirement ended their careers, and after a few months of uninterrupted paradise, Max is once again itching to get back in the game. An opportunity is presented to him when Stan shows up on the island telling Max that with the arrival of a jewel stocked cruise ship on the island, he knows that Max will be unable to resist going for another heist and that this time he's going to stop him from succeeding.
The plot throws in a few distractions, like Don Cheadle's island mob boss who wants Max to steal the diamond for him and a local female police officer who has a fling with Stan. Salma Hayek has little to do (how far her acting choices have fallen since her Oscar worthy turn in Frida!) apart from looking extremely sexy in a variety of flesh revealing clothes.
It is Brosnan and Harrelson who save this movie. Their banter and playfulness keep the pace and the story moving. Brosnan, as suave as ever, is playing another variation of the character he played in The Thomas Crown Affair. Harrelson is the apparently slow on the uptake FBI agent who always seems to be two steps behind Max. Thrown together, they form an uneasy friendship that provides the movie's best moments.
The surprise ending isn't so surprising, which fits in with the general feeling of having seen all this before, and does weaken the tension of the story. Even Brosnan appears bored at times, during the heist scenes.
After the Sunset is either a comedy that needed more jokes, or a heist movie that needed more tension. Unfortunately, it falls somewhere in the middle, trying to be both at the same time.

Reviewed on:
January 19th, 2006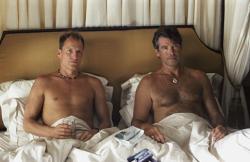 Woody Harrelson and Pierce Brosnan in After the Sunset.
Hayek is one of the best actresses in the business! Early on in the movie she has a truly inspiring scene where she is wearing a tank top and she leans forward over a car's engine. Later she has a scene where she stretches as an actress. It shows off just how well rounded her talents are as she does some stretching for no apparent reason. Throughout the movie she is constantly displaying her amazing assets that have made her such an unforgettable actress. From bathing suits to tight dresses, Salma Hayek proves in this film that she is an actress to be reckoned with, or at least stared at a lot.
Okay besides Hayek there is not much to be found here. The scenery is nice and Brosnan and Harrelson do have nice chemistry. My favorite bit of verbal exchange is when Woody asks Pierce if he is English because he never shows emotion. Brosnan responds, "I'm Irish. We let people know how we feel. Now fuck off."
The movie is book ended with ridiculous scenes of remote controlling a car. They are both played for laughs but neither scene is actually funny and it takes away from the real point of the film which is watching Salma Hayek's hot body.
Photos © Copyright New Line Cinemas (2004)